The Oral History of How Joe Moorhead Created Penn State's Cutting-Edge Offense
Three years ago inside a musty Fordham staff room, an offense was born that would bring Penn State back to national relevance and elevate a Heisman contender. From the Junk Corner to Happy Valley, players and coaches tell the story of the man who built it.
Fordham University isn't exactly a traditional football hotbed—although the school does list Vince Lombardi among its notable alumni—but four years ago, in a room that used to host Jazzercise classes, Rams head coach Joe Moorhead hatched an offensive scheme that would soon unleash a Heisman Trophy frontrunner, reenergize a program idling in the wake of crippling sanctions and elevate its creator as one of this winter's hottest coaching candidates.
The coaches and players who were a part of it tell the story of how the most dynamic attack in college football today was hatched inside an old building in the Bronx by Moorhead, a one-time sportswriter who became Penn State's coveted offensive coordinator.
Miami (Fl.) director of player development Joel Rodriguez (Fordham offensive line coach, 2011-14): Wait, you can't tell this story without including the Junk Corner.
So, we're in this musty-smelling room that was our staff room. Piled up in one of the corners was all of this random junk—a ladder, broken TVs, broken projectors, can openers, old street signs.
Davidson co-offensive coordinator Tim Zetts (Fordham running backs coach, 2011-14): Where the Junk Corner was, was actually my meeting room. One of the freshman running backs, Chase Edmonds, asked me, "What is all this stuff?" You got so immune to it, I didn't even know what to tell him.
The ladder was the first thing. Joe likes to goof around. There was a ladder in the hall for like a week outside our staff room that wasn't moving. So Joe brought it inside and put it in the corner. As time went on, there was a broken weight bench he rolled in there. Then someone put a stop sign in there. Traffic cones. It was kind of crazy. The school moved the student weight room right next to us, and people would bring boomboxes and play loud music. There was a squash court next to us, and you'd have grade school kids from 11 a.m. to 3 p.m. screaming the whole time. It was pure chaos. The best part was the maintenance people would knock and say, "Hey, excuse me, can we use the ladder?" Joe would say, "Sure, just make sure you bring it back."
I don't think there's anybody who can do more with less than Joe. That's him. His big thing was, "It doesn't matter." That ended up being the mindset of our players. They were numb to it.
Rodriguez: We were literally like the Indians in Major League. Give us s----y buses. Give us a s----y weight room. We're gonna figure it out and win 12 games a year.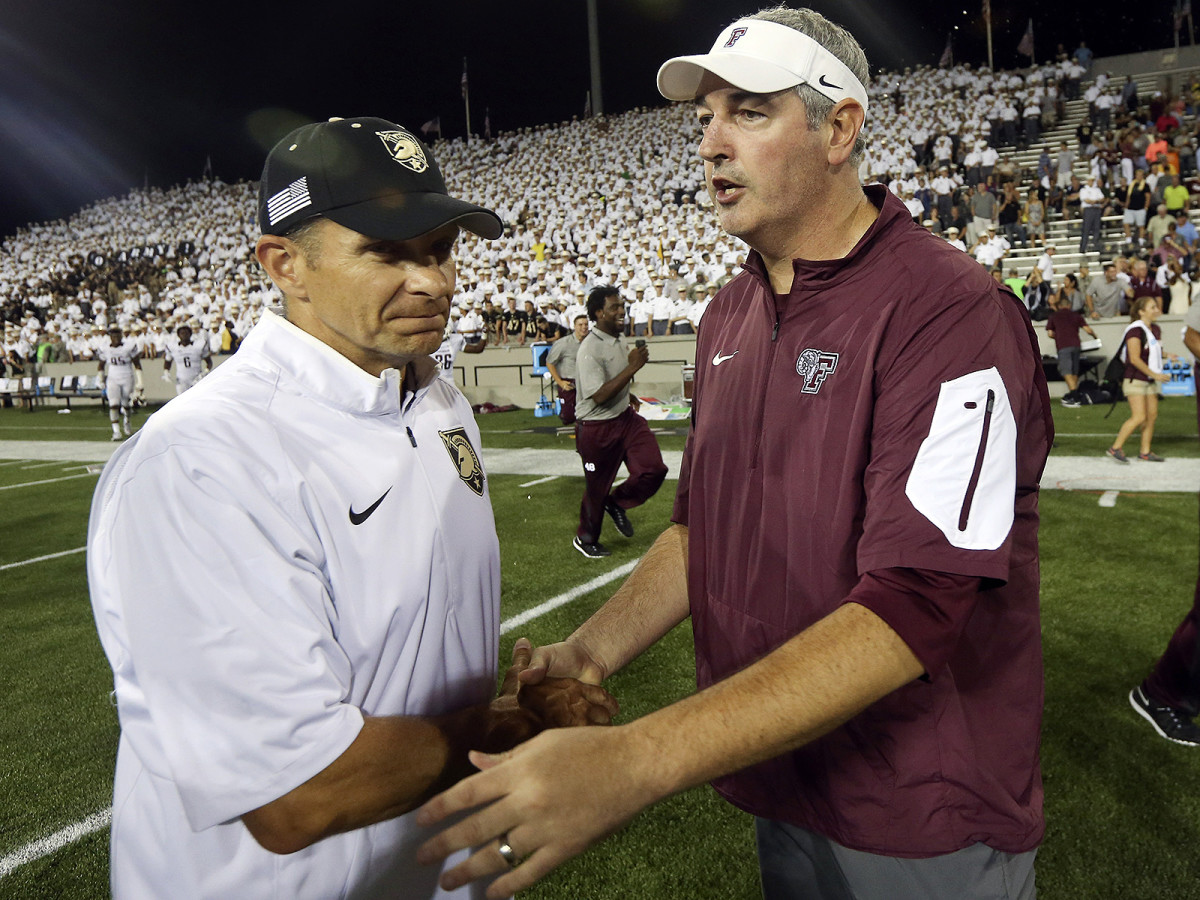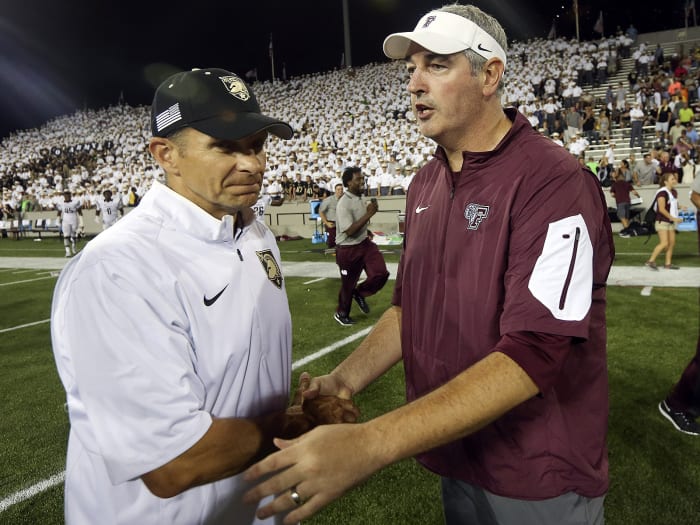 Rodriguez: It happened out of necessity—well, out of opportunity. In the first week of winter conditioning, our quarterback Michael Nebrich tweaks his knee. Then, we find out he tore his ACL. We're thinking, "What can we do to still be explosive but not put him as a runner because he can't run?"
Fordham head coach Andrew Breiner (Fordham offensive coordinator/QB coach, 2011-14): Joe said, "Who do we want to study and who do we want to visit?" I said Eastern Illinois is putting up all these crazy numbers. I think we spent three or four days just on Eastern.
What we got from the film was [reading whether or not the safety came up to defend the run, which would open up the receivers running the posts]. That's stolen straight from [then Eastern Illinois coach, now Syracuse coach] Dino Babers. I can still remember it was Eastern Illinois vs. Northern Illinois. They were on the right hash going into the end zone away from the scoreboard in NIU. We probably watched [EIU QB Jimmy Garoppolo] 15 times. Our staff got into an argument over whether they were actually reading a safety in the run game or not. Joe was saying, "I think they're reading the safety."
I said, "No, how can you ask the QB to read a safety [as a run defender] and make a throw?" We kept going back and forth on it, and the more we watched it, the more I realized Joe was right. The safety was making an immediate movement towards the line of scrimmage, reacting on the run, and then they're bringing the post right behind him from the X-receiver into the boundary.
Zetts: We probably watched that one play for like 10 minutes. Then as the film went on, we kept reverting to it.
Below: Jimmy Garoppolo and the Eastern Illinois offense in action in the 2014 FCS playoffs against Towson.
Zetts: The thing that Joe did which was phenomenal was finding that next thing to be innovative. Before he did that, he was always saying, "If you can't block him, read him. He's too good to block." He was finding ways to cancel [interior] players out.
Breiner: Back then we weren't calling them RPOs (run-pass options). We were calling them "tags". And that's still what we call 'em. We were always getting our hands on the Oregon film. It was that bubble tag with the pre-snap access to the boundary and the post-snap read on the overhang to the field.* We rightfully think we own that. That was unique to us.
*In simpler terms: If the cornerback played 'off man' coverage, giving the receiver a cushion, Fordham would throw the speed out to the boundary side of the play (the short side of the field). If there's no cushion, the Rams would read the outside linebacker to the field side (the wider side of the field). If he blitzes or moves into the box, they'd throw to the bubble; if he stays out of the box, they'd hand the ball off.
Rodriguez: It was a pre-snap [read] on one half of the field and a post-snap for the other half after the snap. Once that door opened, another opened and then another. It became a full-field RPO system. One of our assistants wondered, "How many times would we have thrown the ball to the boundary if we had this in our system last year?" I think one of our guys went through all of the film and said it was about 65. Joe came to me and said, "As the O-line guy, are you O.K. with losing 65 handoffs a year?" I said, "If we get 65 more first downs, I don't give a s---."
That season, 2014, Fordham won its first conference title in seven years, and Nebrich won Patriot League Player of the Year after entering the season just five months removed from tearing his ACL. It was a dramatic shift from the program Moorhead inherited when he took over at his alma mater three years earlier after a 1–10 campaign in 2011.
Penn State offensive coordinator Joe Moorhead (Fordham head coach, 2012-15): My first three years as a player [at Fordham] I think we won four games combined. We felt like, we're good players. It's a good academic institution. We're in the heart of New York City. We had all these things going for us, but we were never able to put it together.
I studied English in college. I ended up playing football in Europe for the Munich Cowboys for one season. Came back. Got into an arena football camp and played one game for the Milwaukee Mustangs. I got cut at the end of preseason. I wrote for the school paper [The Fordham Ram]. I covered squash and baseball. I had a brief stint writing after I got cut [covering high school sports for a small weekly paper in Pittsburgh and an even smaller daily paper in northeast Ohio]. I went to the library and wrote form letters to all the Division I-A and I-AA coaches in the country. The first time through they were all rejections. It was kind of cool getting the stationery back. The second time it was still a bunch of nos.
Right before camp (in 1998), [Pitt recruiting coordinator] Curt Cignetti pulled my name out of a stack of résumés because I was from Pittsburgh and went to Central Catholic High. I literally had no ties. It was completely out of the blue.
Elon head coach Curt Cignetti (Pitt assistant 1993-99): Man, that was a long time ago. I think I probably got 30 to 50 résumés. I called him up. He was really quiet and diligent.
Moorhead worked as a graduate assistant at Pitt for two seasons, then spent four years as an offensive assistant at Georgetown. In 2004, former Pitt assistant J.D. Brookhart became the head coach at Akron and hired Moorhead to become the Zips' wide receivers coach. Two seasons later, he was promoted to offensive coordinator, where he produced one of the MAC's most potent attacks. UConn hired him in 2009 to run the Huskies' offense.
Breiner: Within the first three weeks when we were at UConn, I knew he was special. His greatest skill as a coach is his ability to inspire confidence in the people around him, the coaching staff but more importantly the players. He gets people to buy into what he's asking them to do but also gets them to believe that what they're doing will be successful. He had me hook, line and sinker when he was teaching me the offense.
Moorhead: The first year at UConn, we beat Notre Dame and won the Papa John's Bowl [beating South Carolina]. The next year we weren't quite as good but still won the league and went to the Fiesta Bowl. [Head coach Randy Edsall] left [to take the Maryland job] and a majority of us on staff didn't make the travel roster. Coach [Paul] Pasqualoni took over, and I was fortunate enough to be retained but was demoted to QB coach. I wouldn't say it was a crossroads in my career, but the timing of my alma mater opening up looking for a new head coach was a very serendipitous type of occurrence.
On paper, it sure appears like both Maryland and UConn would've benefited from having Moorhead running the offense. In his two seasons as the Huskies' offensive coordinator, UConn ranked an aggregate 44th in scoring. In the first two seasons after Moorhead left, the Huskies were No. 101. Meanwhile, in Edsall's first two seasons in College Park, Maryland's offense ranked No. 98. Pasqualoni was fired early into his third season at UConn, while Edsall was fired midway through his fifth season at Maryland.
Breiner: At Fordham, we get to start from scratch. We went back to the Akron stuff. Took some of the UConn stuff and melded it, and it's really evolved. Before the RPOs became en vogue, it was really the spread triple option. This passing game is Bill Walsh, true West Coast.
Moorhead: When I became the head coach, because I had 51% of the vote, that's when it took off. At Fordham, we said we're wiping the slate clean. We know what we want to do. We're gonna create our language, create our rules. What you see now [at Penn State] was built from our first year at Fordham.
Breiner: When we first got here, Joe said, 'Why don't we just leave the tight end off the ball so that we could run the split-flow zone, which is really the cornerstone of our offense.' Part of it was for that and part of it was personnel-wise. As we got going, there was no going back. The split-flow zone is who we are.
Edmonds, the running back who first noticed the Junk Corner, became the first Fordham freshman ever to rush for 1,000 yards in 2014 and earned All-America honors in '16 after leading the FCS in rushing yards per game. He has topped 1,600 yards in each of his three seasons, and his head coach Breiner says probably 1,000 of those yards each year came on their split-flow zone play. "We ran a variation of it 314 times last year," he says. At the 0:25 mark of the video below, you can see Edmonds break free on a variation of the play. In 2015, the Philadelphia Eagles made a video breaking down a similar concept they run.
[youtube:https://www.youtube.com/watch?v=bfph_5wSeJk#t=25s​]
Breiner: It's a pretty simplistic scheme. We have our six in the box (five O-Linemen and the tight end) are gonna block your six and then we're going to tag a run-pass option to it, so if you're trying to add the seventh or eighth defender to the box, we're essentially going to make you wrong with a throw. And, because we have run it so much our kids are really confident in it.
As Moorhead and Fordham were piling up wins and eye-popping stats, a Big Ten school 130 miles from where he grew up was sputtering offensively. Penn State, in its second year under head coach James Franklin, ranked No. 100 in scoring and No. 105 in total offense in 2015 on the way to a second consecutive 7–6 season. The Nittany Lions were still digging out from hefty scholarship reductions in the wake of the Jerry Sandusky scandal and were trapped in a Big Ten East division that had become the toughest in college football: Urban Meyer and Jim Harbaugh had conference heavyweights Ohio State and Michigan on the upswing, and Michigan State had just gone to the College Football Playoff after the Spartans' third consecutive top-six finish.
Penn State coach James Franklin: I have a list, where I start tracking [coaches]. The staff always made fun of me. My line coach might see me having breakfast or lunch [at a American Football Coaches Association conference] with line coaches. I've seen other head coaches who, as time went on and they had job openings come up, they had no idea who to hire and they were starting from scratch. To me, I'm always gonna have a plan.
I started following Joe about three years ago. We were at a Nike clinic in Pittsburgh. I spoke, then he spoke. I sat and listened. Everything he said made sense but the way he presented it, like, "This is the only offense anybody should be running, and this is the best offense anybody is running"—to me, all the best offense and defensive coordinators, it's not always that their system is the best, it's that they believe in it, and they get people excited in it.
Moorhead: I think I was extended to 2022 [at Fordham] or something ridiculous like that, so I had job security at my alma mater, had the program rolling, a top-10, top-15 team. It was tough.
Throughout my tenure there I had some opportunities to leave and become a coach at the FBS level. The thing I always came back to with my players was, if I ever leave here, you won't like it but you'll understand it. And when this thing opened up personally and professionally, they didn't like that I was leaving but they were also happy for me because they knew it was also close to home and getting back on the big stage and a chance to do something at a very tradition-rich football program.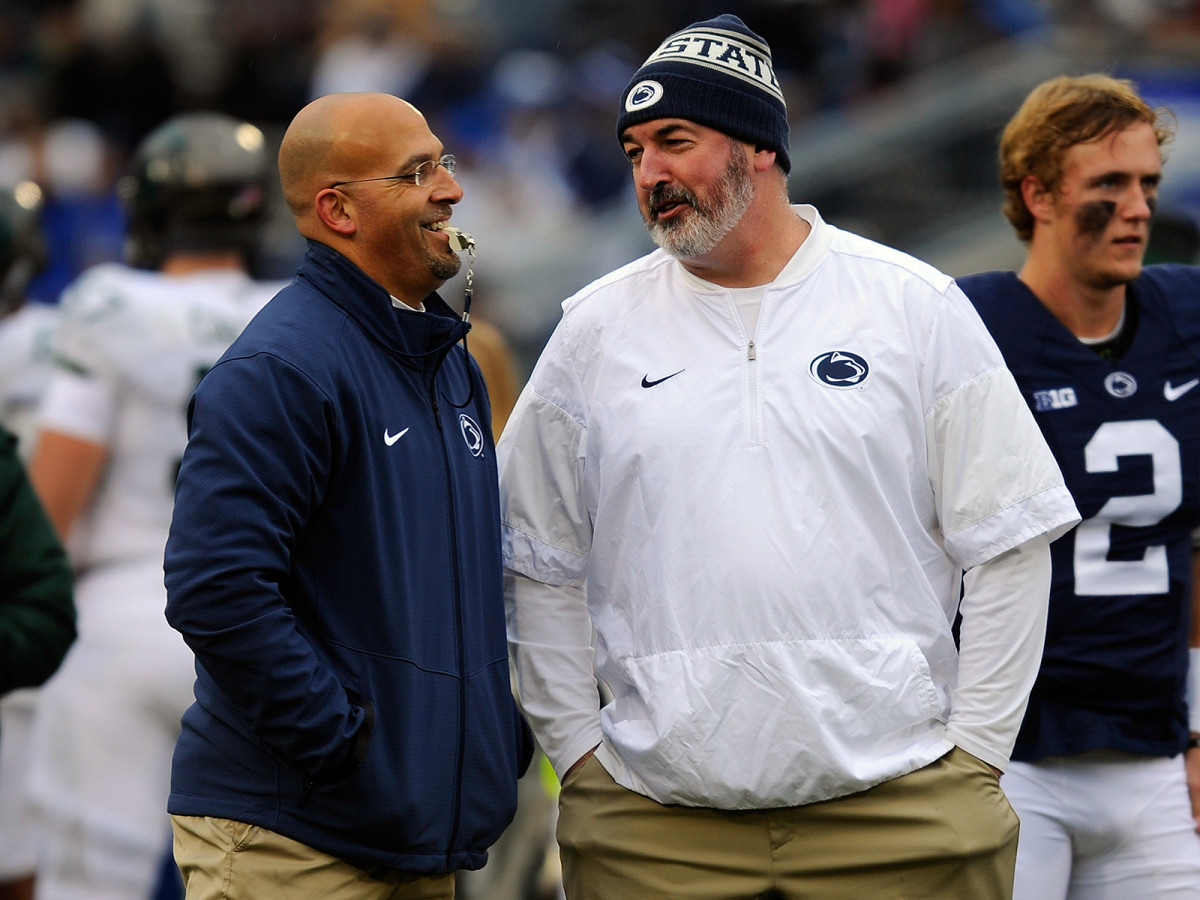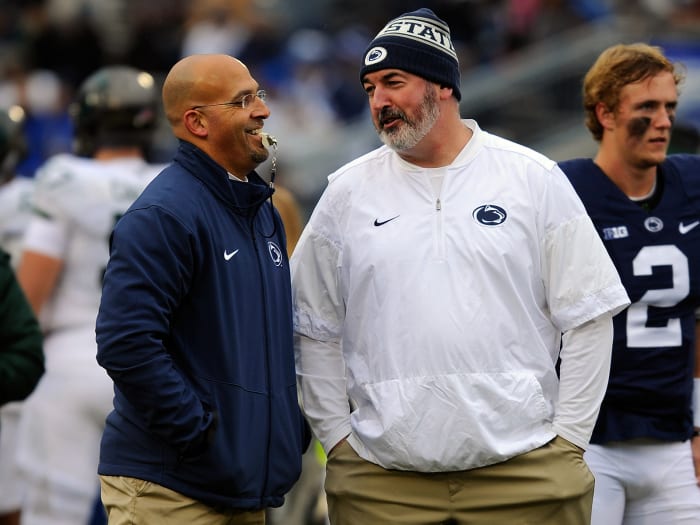 Entering 2016, the Nittany Lions had a gifted running back in Saquon Barkley coming off a standout freshman season, but they had to find a new starting quarterback to replace Christian Hackenberg. It was no stretch to think that if Moorhead struggled early on, the heat on the Franklin regime would crank up in a hurry.
Breiner: I saw what opportunities he had when he was here. He had so much success here as a head coach and as an offensive mind, and then he watched other guys get head coaching jobs without any head coaching experience. In his mind, he was like, 'I've already done the coordinator thing and we went to a Fiesta Bowl but it wasn't enough.' As he really looked at the market and who were getting the jobs, it's like, 'If there was a true Power 5 offensive coordinator job, I'd have to consider it.' You're only hot when you're hot.
Penn State quarterback Trace McSorley: The thing that immediately stood out about him was the passion and intensity that be brought. We had our first team meeting after the TaxSlayer Bowl [a 24–17 loss to Georgia] and he had the offense stay for another 10 minutes. I don't think I've ever heard anyone speak as many words as he fired off.
In 2016, no one in college football heated up more than Penn State did, going from one of the most anemic offenses in football to arguably the most dynamic. Under Moorhead, the offense broke the school records for total yards (6,056) and passing yards (3,650) and tied the school record for points scored (526) en route to the Nittany Lions' first outright Big Ten title in 22 years. Barkley has blossomed into a legit Heisman contender, after he rushed for 1,496 yards and 18 touchdowns to go with over 400 yards receiving and four TD catches in '16.
Penn State running back Saquon Barkley: There are times where he can see the type of the defense they're gonna be in, and he's [predicted] touchdowns multiple times from in our huddles on the sideline. My 80-yard touchdown run against Purdue, he goes, 'Make sure you throw the ball to the ref. You're gonna score on an 80-yard touchdown run.' And that's exactly what happened.
Franklin: His passing concepts I don't look at as spread. It's really West Coast in terms of spacing, timing and rhythm. His run game is very much spread in terms of all the RPOs and things like that. The biggest difference is the check-with-me [looking] back to the sideline rather than the quarterback doing it. One of the other things that's really made him valuable is that he'd been a head coach before. It's not just the scheme and the Xs and Os. It's a mentality, and Joe's done that, and it's really valuable. We have an identity now.
At this point in the season last year, the Nittany Lions' bandwagon was traveling pretty light. They had lost a Week 2 game to rival Pitt and were about to get blown out at Michigan 49–10. Since that loss to the Wolverines, they're averaging over 42 points a game and are 12–1. A proud program that had fallen off the radar now looks like a strong contender to make a run at a playoff spot, while Moorhead has emerged as the hottest coordinator in college football. He will likely be a strong candidate to take the reigns of his own FBS program this winter.
Moorhead: My dad worked in a steel mill for 35 years and worked two jobs to help put three kids through college. Quite frankly, I feel like the only thing that has changed is the logo on my polo.
I'm not in a hurry. This is a great place with great people. I'm close to home, close to my wife's family. If the right opportunity pops and it matches personally and professionally, then we'll consider it. I don't think becoming a head coach again is going to dictate my success in the profession.