Jonathan Taylor Is Wisconsin's 'Diamond', and the Badgers' Opponents Are Paying for It
Wisconsin's patience in recruiting star running back Jonathan Taylor has paid off amid the freshman's stellar season; now Rutgers, Harvard and Big Ten defenses are left rueing what might have been. Plus, how Arizona landed October sensation Khalil Tate, a successful reunion at West Virginia and more Week 9 notes.
The top freshman in the country was rated just a three-star prospect in high school. Wisconsin running back Jonathan Taylor came from a small school in South Jersey, but he's already proven to be a big-time talent, eclipsing the 1,000-yard mark on just his 130th carry of the season. He's now up to 149 carries and 1,112 total yards for the undefeated Badgers, who hold a two-game lead in the Big Ten West after thumping Maryland, 38–13. 
"For a young guy, he's got pretty good patience," head coach Paul Chryst says. "That sticks out that the really good ones have. This is a neat kid. He's got some stuff to him."
That patience doesn't just serve him well on the field. Taylor says he never got too worried about what any of the online recruiting analysts thought of him as a prep prospect, or that he played at too small of a school. (He said there were only about 60 students in his graduating class at Salem High.)
"If you're good, they'll find you," he says. "Just keep playing."
Wisconsin actually held off on offering him until his senior year because the staff had some skepticism about his top-end speed, but that changed after the track season in the spring of his junior year, when his 100-meter dash time jumped from 10.9 to a blazing 10.4 and he began to see the football dividends of increasing his stride frequency and developing his leg strength. Through just seven college games, Taylor has already topped 200 yards three times, but he knows there is a lot he still needs to improve on, starting with the passing game—he has recorded his only two catches of the season (for 41 yards) in the past two weeks.
"The big mistake in recruiting you gotta look at them as seniors," says Maryland defensive coordinator Andy Buh. "He was a great find for them. Very rarely do you find a 215-pound running back that can run like that. He's a diamond."
Taylor, who had a 3.7 in honors classes, had been committed to Rutgers, but as more colleges began to notice him blossoming in his senior season, the number of scholarship offers he received doubled. If not for Wisconsin, he might have gone to Harvard; he took three visits there and was the top player on the Crimson's recruiting board, according to Harvard assistant coach Chris Batti says. But Taylor said he couldn't pass up Wisconsin: "It was such a great balance between great football and great academics." He plans to major in biochemistry.
"The kid is so mature sometimes you want to check his birth certificate to check to see if he's not really 25," says Wisconsin running backs coach John Settle, a former NFL running back who has coached on four pro staffs and worked with backs ranging from Jonathan Stewart and DeAngelo Williams to Willis McGahee. When Taylor does bag drills, his position coach can't even hear the 5' 11", 215-pounder's feet touch the ground. "I've never seen a back like that," Settle says.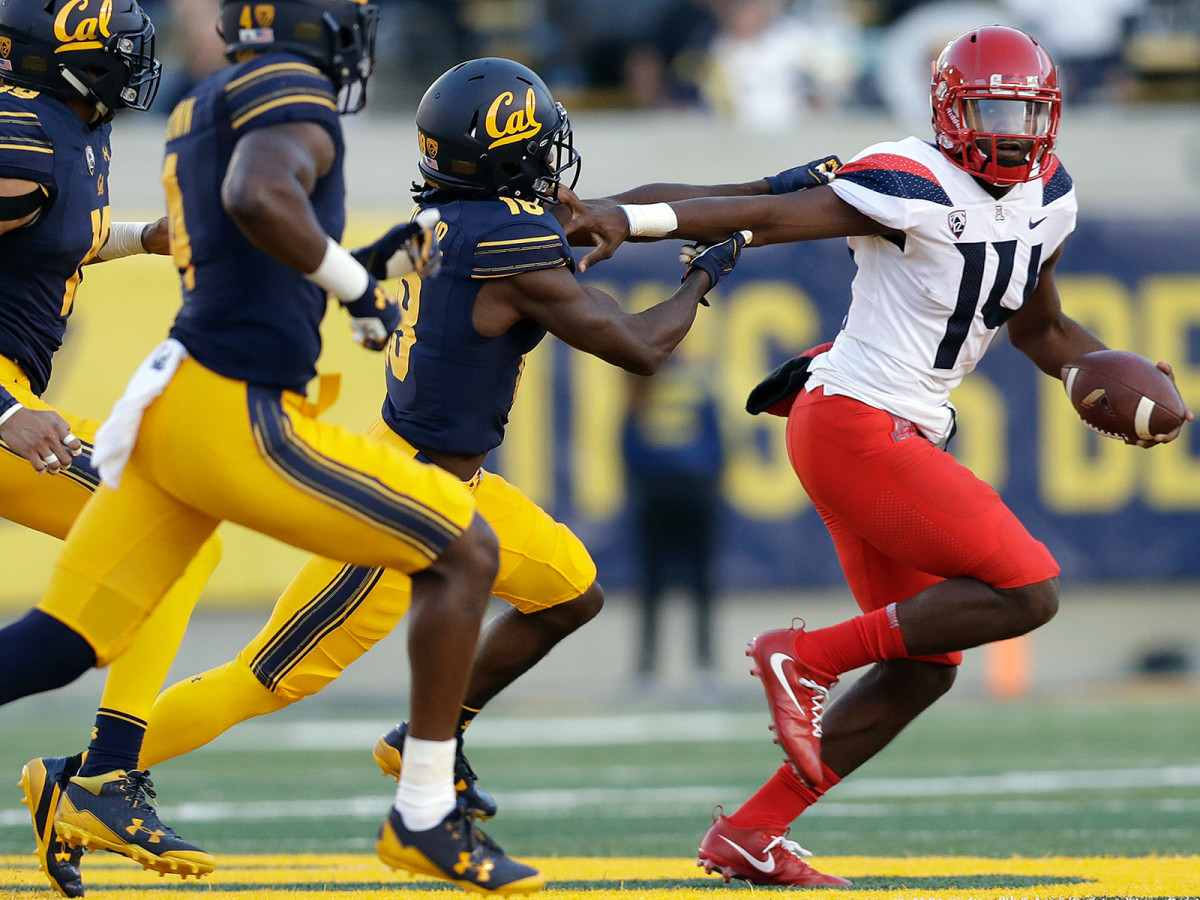 Other Week 9 Notes
• Speaking of Wisconsin, as outstanding as the Badgers' D has been (sixth in the nation in yards per game), imagine how much better it'd probably be if it hadn't lost team captain Jack Cichy, one of the country's top linebackers, to a torn ACL in August. Cichy told me Saturday that his rehab is coming along very well and he expects to begin running again very soon. He says he hasn't made a decision yet on whether he will apply for a sixth season of eligibility.
Cichy had a headset on for the entire game against Maryland and often gave tips to the other Badger linebackers.
"He's gonna find a way to help us win games on Saturdays," Wisconsin defensive coordinator Jim Leonhard says. "He's all in, and it's really cool to see that approach. He cares about the program."
• For years, West Virginia coach Dana Holgorsen has been known as one of the most creative minds in football. This year, he has handed the play-calling reins over to his protégé Jake Spavital, and it has worked well: The Mountaineers sit fifth in the nation in total offense at 539 yards per game, after finishing 17th last year. This week Holgorsen faces one of his old bosses, Oklahoma State's Mike Gundy, in a reunion game of sorts.
Spavital, second-year O-Line coach Joe Wickline and Holgorsen last worked together back in 2010, when the Cowboys had the Big 12's most prolific offense. "I feel like Gundy, and I'm sure Jake feels like me [when he was Gundy's OC]," Holgorsen says. "I'm comfortable doing it. I feel like I'm managing things better, focusing on game management, time management, recruiting more, doing all of the personnel decisions, working with all the special teams." Another similarity between that Oklahoma State team and this West Virginia one: The 2010 Cowboys had an older, mature, married quarterback in Brandon Weeden, just as the Mountaineers have with Will Grier.
• No league has a deeper pool of gifted quarterbacks than the Pac-12, but the guy making the best run for first team all-conference honors was completely off the radar in September as all the hype was heaped on Sam Darnold (USC), Josh Rosen (UCLA), Luke Falk (Washington State) and Jake Browning (Washington). Even Oregon's Justin Herbert generated some strong buzz in September. But everything has changed over the course of a month for Arizona's Khalil Tate.
Tate's numbers in the Wildcats' first three games of October: 46 carries for 694 yards (15.1 yards per carry); a 76% completion rate, 468 yards, four touchdowns and an interception through the air. He doesn't show up on the Pac-12's official leaderboards because he hasn't played in enough games, but his 780 yards this season still would rank fourth in rushing behind three running backs, and his 13.9 yard-per carry average dwarfs the numbers of everyone else in the conference, including Bryce Love. Tate would rank ninth in passing yards and first in completion percentage, and his QB rating of 175.9 is significantly higher than Browning's 154.7, which is officially tops in the conference.
The sophomore's evolution in Rich Rodriguez's offense is going to be a lot of fun to watch. A while back, I spoke with Tate's coach at Junipero Serra (Calif.) High, Scott Altenberg, who said Tate probably could be an NFL wide receiver if he wanted and that he might be the most competitive guy he's ever had. Notable recent Serra products include Adoree' Jackson, Marqise Lee and Robert Woods. "Every play is like the last play of the Super Bowl to him," Altenberg says. According to him, UCLA, USC and Texas A&M all came in hard late to try and pry Tate away from Arizona, but Rodriguez's offense appeared to be the perfect fit.
• Kelsey Patterson, the wife of TCU coach Gary Patterson, has come up with a way to help the relief efforts going on in Texas, Florida and Puerto Rico in the wake of Hurricanes Harvey, Irma and Maria. She has teamed with more than 20 other college coaches' wives to organize a fundraising campaign called Giving Beyond the Game, which will take donations online through Dec. 9 and auction off signed helmets from Nov. 1 to Nov. 15. Patterson told me she's had great support from the other coaches' wives. Nobody they reached out to said no, and they're continuing to add people as they go. You can donate here.
• Don't be shocked if three coaches on this year's Navy staff are FBS head coaches in 2018. As we mentioned recently, Ken Niumatalolo is a strong candidate for the Oregon State vacancy. He could be replaced in Annapolis by offensive coordinator Ivin Jasper, and run game coordinator Ashley Ingram is in the mix for the Georgia Southern job that opened when Tyson Summers was fired Sunday. 
• Lane Kiffin and Florida Atlantic have drawn a lot of attention during their current three-game winning streak, highlighted by a 69–31 romp over North Texas, one of the top teams in Conference USA, last weekend. The Owls are averaging 677 yards and 64 points in thier first two games this month. But the other new head coach down in South Florida also deserves some credit. Butch Davis's first Florida International team is 4–2 and coming off a nice win over Tulane. The Panthers are one win away from matching their most victories in a season since 2011.
• Stat of the Week: Texas A&M, which had the first pick of the NFL draft Myles Garrett and another gifted DE Daeshon Hall go pro last year, has gone from averaging 3.0 sacks per game in 2016 to 4.0 this season, which leads the country.