Nobody Loses From the Expansion of College Basketball's Pumped-Up Preseason
Making the case for extra exhibitions games benefitting charities to be added to the schedule for good, plus five sleeper teams, players to watch, a Q&A with South Dakota State forward Mike Daum and more from around the college hoops world.
Some unexpected news has made regular headlines in the lead-up to this college basketball season. It's the kind of far-reaching story that includes a number of the sport's most prominent teams and, in retrospect, shouldn't have been such a surprising development. Some might say this was long overdue.
I speak, of course, of the spate of impromptu exhibition games staged by many schools to raise funds for hurricane relief. Were you thinking of something else?
The biggest among these games was Kansas vs. Missouri, a low-stakes renewal of the Border War rivalry dubbed the "Showdown for Relief" that streamed on a pay-per-view basis and generated a whopping $1.75 million. Michigan State played Georgia and raised $339,000. Baylor and Houston brought in $20,000. Tens of thousands more were raised when Villanova played Drexel, LSU took on Tulane, UConn hosted Providence, Nebraska visited Mississippi State, and on and on. Out of nowhere, a sport whose exhibition games are typically low-profile tune-ups against lower-level cannon fodder suddenly had a higher purpose.
One of the most prominent talking points to emerge from these games was the call for Kansas and Mizzou to resume their annual series, which ended when the Tigers left the Big 12 for the SEC in 2012. While that's a quality sentiment, there is a much more important lesson to be gleaned: These games should be happening every year.
In order to play these exhibitions, teams needed an NCAA waiver allowing them to add an extra preseason game and exempting them from the NCAA rule that Division I teams can only play one another in exhibition games if it is in what's commonly called a "secret scrimmage," closed to the public. This restriction is silly, and this year's hurricane relief games—which grew from a proposal from the National Association of Basketball Coaches—showed the kind of opportunity college basketball is missing out on.
There is, for starters, the basketball benefit of playing a true dress rehearsal that combines the atmospheric preparation of the usual public exhibitions with the heightened on-court competition of the closed D-I scrimmages. ("We got more out of this game than we probably would've out of two weeks of practice," Georgia coach Mark Fox told reporters after his team played the Spartans.) There is also the bonus of offering fans appetizers to excite them for a sport whose early season begins in the shadows of the NFL, NBA and college football. But most importantly, there is the greater good being done. Hurricane relief was a tremendously worthwhile cause, but it shouldn't take such a timely and specific disaster to realize the potential of playing such games. There is no shortage of causes that can use the support every year. Even though many of this year's games did not send charities eye-popping sums, any amount helps, and using games already beneficial to teams and their fans to help people in need should be a layup.
And at the risk of getting greedy, here's a secondary proposal: let the players have a say in what causes these games support. Perhaps each team could pick a single charity. Or maybe each player could even pick a cause of their own, with the game's revenue being divvied up among them all. After all, college sports was built on athletics being part of schools' educational mission. Researching and selecting their own charities would provide students with a hands-on opportunity to engage with the world around them, express themselves on issues they find important and potentially support programs with which they have already been personally involved. Plus, if college athletes are to be given no rights to profit off their own likeness and image—and virtually no cut of the revenue they generate—the NCAA can at least let them use this money to make constructive contributions to society and their respective communities.
Right now the NCAA has plenty of other issues to worry about, such as the sustainability of its business model, and none of what's being proposed here would have any effect until a year from now. But it would be a shame if this trend of intra-D-I games benefitting charities were allowed to be a passing one. Even for the NCAA, this one should be too hard to screw up.
Hello and welcome to the new column that will be posted on SI.com each Monday for the next ... what is it, 18 weeks? However long the college basketball season is. Anyway, each Monday we will share a variety of notes and thoughts and items from the hoops world. They will be our little Monday morning quips on basketball. Perhaps we should have called it the MMQB.
We are very much still figuring out what this column will entail. There will be regular sections, and maybe some irregular ones, so if there is anything in particular you like or dislike or would like to see more of, don't hesitate to let us know. Especially if it's stuff you like.
As the scandal turns...
About that other thing. As you may have heard, in late September the FBI announced that it had made 10 arrests in connection with an FBI probe into bribery and fraud in college basketball recruiting. Four assistant coaches (Arizona's Book Richardson, USC's Tony Bland, Auburn's Chuck Person and Oklahoma State's Lamont Evans) were among those charged. Revelations regarding Adidas paying a recruit $100,000 led to the dismissal of Louisville coach Rick Pitino and athletic director Tom Jurich. It was a whole big thing.
It's also not going anywhere. Indictments are expected this week, and many expect the other shoe—or a bunch of other shoes—to drop eventually. (After the arrests were announced, the FBI reportedly raided the offices of top NBA agent Andy Miller's ASM Sports agency and subpoenas were issued for records from Nike's youth basketball program, which seemingly suggests the direction the investigation will take.) While the legal case for criminality is somewhat confusing, if law enforcement does indeed have the industry's "playbook," as the FBI's William Sweeney put it—and if evidence seized in those raids or from those arrested contains the sort of communications investigators were looking for—it would not be surprising for more NCAA violations to be revealed during the season, potentially bringing down more players and coaches.
Thus, the feeling of entering this season is akin to that of entering a haunted house: you know things are going to pop out, but you don't know where or when or just what they will be.
Imagining the effects this will have on teams already connected to it is hard enough to predict. Louisville has the talent for a deep tournament run, but will David Padgett, a 32-year-old with no head coaching experience, be able to get the Cardinals to the Big Dance amid the distractions? How will Richardson's arrest impact Arizona, our projected No. 1 team? Will there be any eligibility complications on its roster? And what of fellow Pac-12 contender USC, which saw its own staffer (Bland) arrested? How long will Auburn, a likely at-large candidate, hold Austin Wiley and Danjel Purifoy out of action?
Any set of predictions about this season come with grains of salt. There are even more intangible factors to consider than usual. We like college basketball for its unpredictability, but not like this.
ICYMI
One of the most reliable preseason traditions in college hoops is the NCAA bungling an eligibility case, and this fall proved no exception. This year's face of college sports' byzantine bizarreness is Braxton Beverly, a freshman guard at N.C. State. Beverly had initially committed to play for Thad Matta at Ohio State, where he enrolled in classes (and received athletic-based tuition aid) this summer to get a head start on earning academic credits, as is common. Then Matta was fired in June, at which point Beverly was granted his release to transfer, which led to him joining the Wolfpack for his freshman season.
Except now, thanks to NCAA transfer rules, that freshman season won't be happening. See, because Beverly had begun classes at Ohio State before Matta's firing, the NCAA has categorized him as an undergraduate transfer, meaning he would have to sit out a full season before being eligible to play at his new school. N.C. State appealed for a waiver to allow him to play this season, but last week that waiver was denied. Debbie Yow, the school's athletic director, has said it will exhaust every option in further appealing. Unless the NCAA reverses a course, on which it has now doubled down, Beverly won't be playing this season.
The shortest summary of this saga reveals its absurdity: Braxton Beverly is ineligible to play basketball because he got a head start on classes. Whatever logic the NCAA may employ to justify its wrongheaded transfer rules has no reason to apply here. A kid went to a school to play for a coach. The school fired the coach, so it let the kid go play elsewhere. Now the NCAA should do the same.
(And yes, don't worry, once the season starts much more of this column will be about actual basketball.)
High Five
Each week, we'll be highlighting five teams on the rise. For this preseason edition, here are five noteworthy teams that SI's proprietary projection system—explained here—likes more than most.
1. Cincinnati: The Bearcats are already 11th in KenPom.com's projections and 12th in the AP poll, but we're especially bullish on them as our No. 6 team because of their elite defense (projected third nationally in efficiency) and the impact of transfer Cane Broome, a combo guard who averaged 23.1 points for Sacred Heart as a sophomore.
2. Saint Mary's: The Gaels will likely be carried by their offense, but it's a unit we believe is good enough to put them No. 14 in the country, eight spots higher than the AP poll picked them and 16 spots ahead of their preseason Kenpom.com placement. Standout center Jock Landale, projected to come a hair short of averaging a double-double, is one (literally) big reason why.
3. UCF: What's not to love about a 7'6" computer science major named Tacko Fall? Our system is certainly a big fan of his efficiency on offense (71.8% shooting, seventh nationally in offensive rebound rate) and the potential for his shot-blocking (he swatted 11.0% of opponents' two-point attempts last season) to anchor the nation's projected No. 2 defense. We've got the Knights at No. 28.
4. Maryland: The Terrapins received a few votes in each of the Top 25 polls, but we've got them practically knocking at the door from the No. 27 spot. With Melo Trimble gone, sophomore Anthony Cowan will grow into his larger role.
5. Creighton: The Bluejays were not among the 48 teams to receive votes in the AP poll, which our system sees as a slight on its 34th-best team, a projected No. 9 seed in the NCAA tournament. As important as star guard Marcus Foster will be the arrival of ex-Syracuse guard Kaleb Joseph, who we see as a double-figure scorer.
Top of the Classes
While this spot will be used to highlight standout weekly performances during the season, for this preseason edition, here is one not-quite-household-name from each year in school that you should keep an eye on in 2017-18.
Senior: Angel Delgado, Seton Hall forward
The Dominican-born big man was the only player in the country to rank in the top-15 nationally in both offensive (sixth) and defensive (14th) rebounding rate.
Junior: Tyler Hall, Montana State guard
An NBA prospect? In the Big Sky? It's more likely than you think. The league's best guard since Damian Lillard, Hall shot 42.9% from outside last season and averaged 23.1 points.
Sophomore: Landry Shamet, Wichita State guard
He's working his way back from a broken foot, but Gregg Marshall's highest-rated recruit will be the key playmaker on a Shockers team that should take well to its new AAC digs.
Freshman: Brandon McCoy, UNLV forward
The 6' 11" five-star San Diegan chose UNLV over Arizona and Michigan State and will help second-year coach Marvin Menzies get his Runnin' Rebels going in the right direction.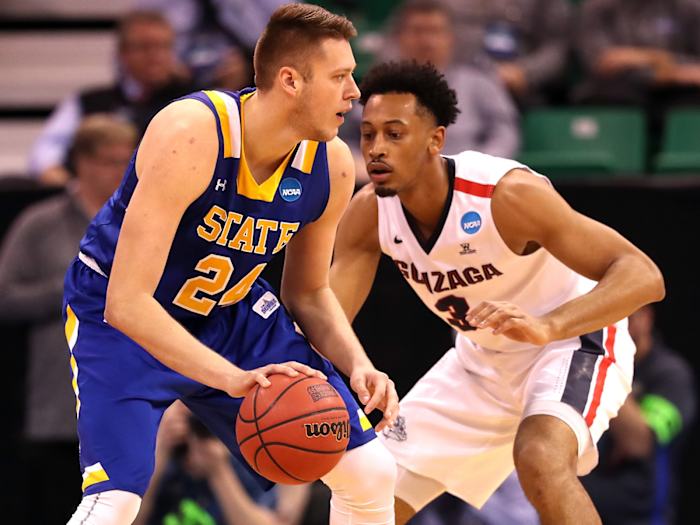 Bests of the Best
Each week, we'll get to know a standout player a little better by asking them about some of the best things in the world. For our first edition, we welcome South Dakota State forward Mike Daum, a 6'9" junior forward who was last season's Summit League Player of the Year while averaging 25.1 points per game and shooting 41.8% from three. He's also an honorable mention among SI's All-America selections. So, Mike, tell us about the best...
...you've ever felt on a basketball court: "Last year during the Summit League championship game, right after the buzzer went off. I just remember that feeling of all our guys raising their hands and knowing that we won. I remember our entire fans and student section running onto the court and my dad jumping the railing and sprinting out onto the court in the middle where everybody was jumping around. That was pretty cool. He said he had to bargain with the security guy standing right there so he could jump over and run out. He told him he was my dad and wanted to run out there so they kinda let him do it."
...place to eat on or around campus: "That'd probably have to be Cubby's. It's our sports bar and grill downtown. It's got a little bit of everything. I always go with the nachos—they're money. They have this special kind of chipotle sauce they give you with it and then the meat on top is pretty amazing. It seems like I go there once a week. That's the place. And they have really good chicken parmesan sandwiches."
...class you've taken in college: "I took this army leadership class my freshman year. We have this old army building on campus. It's definitely the funnest class I've ever taken. We get to repel down the side of the building and we got to go downstairs [where] there's actually a gun range underneath the building. We got to shoot blanks in target practice."
...condiment on a hot dog: "This one's gonna throw everyone off a little bit. It's not really a condiment, but I gotta go with mac and cheese. That makes it taste a ton better. I think I was a kid one day and I was just making mac and cheese and hot dogs. I had some buns so I just layered the mac and cheese on it, threw the hot dog on, and it's been my go-to ever since."
...Halloween costume you've had: "When I dressed up as Thor my senior year of high school. I had the full costume—it was an adult-sized costume, but with me being 6'9" it still was pretty tight. It probably rode some areas that didn't look very appealing. But I had a nice wig and the big hammer to go with it. I'm an all-around Marvel fan. I love all those movies, action figures, and guys. I'd have to go with Superman [as my favorite]. He's just the man: super strength, can fly around, indestructible."
Social Media Post of the Week
Assigned Viewing
Texas A&M vs. West Virginia, Friday at 6 p.m. EST, ESPN
The opening weekend's most compelling game comes from the Ramstein Air Base in Germany, where teams that SI projects as No. 8 and No. 3 seeds, respectively, in the NCAA tournament meet in a non-Big 12/SEC Challenge game that is nonetheless between Big 12 and SEC schools and should be plenty challenging. With Aggies point guard JJ Caldwell suspended, Jevon Carter and the Mountaineers' Press Virginia defense could give A&M fits.
Before You're Dismissed...
• If you haven't already, you should check out the college basketball preview of SI that came out last week, featuring a fantastic cover story by Michael Rosenberg on why Miles Bridges came back to school and why it means so much to him to be there. Bridges is a favorite for national player of the year honors, but there's a lot more you should get to know than his game.
• We've got projections on projections on projections. (Here is ours for all 351 teams in D-I.) But the most interesting ones might be Chris Johnson and Dan Hanner running some intriguing what-if scenarios and seeing what our system would have predicted in these alternate realities. My favorite? A Caleb Swanigan return would have put Purdue No. 2 in the country.
• If you're a women's hoops fan, check out our preseason top 10 and my conversation with UConn coach Geno Auriemma, who despite his 11 national titles told me why defining seasons by championships is not "a happy way to live your life."
• Last week the Knight Commission, a reform-minded panel on college athletics, held its annual conference in Washington, D.C. The group hosted NCAA president Mark Emmert for a "conversation" on issues facing college sports, during which Emmert said the essential question at hand was: "What kind of enterprise are we in in higher education, and how do we govern it?" In the same breath, he lamented the "sort of salacious headlines" plaguing college basketball right now. Well, when it comes to revenue sports, those headlines are the beginning of your answer.
Later, while lamenting those who see college sports as a "skill development" business rather than a "human development" one—meaning many aspiring pro athletes—Emmert lamented how "only in America do we force someone to go to a university to pursue a professional sports career." But that's because nowhere else in the world have universities volunteered themselves as feeder systems for pro sports leagues. Why would these leagues take on the burden for skill development you're already providing them? In his opening remarks, Emmert had seemed to hold up the uniqueness of American intercollegiate sports as some kind of virtue or proof of power. But it takes a degree of cognitive dissonance to not realize that such an arrangement was the sowing of this kind of predicament.
• This New Yorker piece exploring how and why humans judge the likelihood of various mythological creatures is fun and thought-provoking, with the bonus of an interesting history lesson on how Walt Disney made realism a staple of even the most whimsical animation.
• An interesting preseason development out of Georgia Tech, where self-reported NCAA violations (receiving less than $750 in goods and travel) have prompted the Yellow Jackets to withhold guards Josh Okogie and Tadric Jackson from games indefinitely. (Okogie was already going to miss time after suffering a gruesome compound finger fracture in an exhibition game.) Both players are key to Georgia Tech's potential NCAA hopes. In the sport's current climate, all such violations are going to draw a little extra scrutiny, but these are said to be unrelated to the FBI's probe.
• One of the more intriguing teams entering the college season: TCU. In alumnus Jamie Dixon's first year, the Horned Frogs had a four-game losing streak in January, a seven-game skid that straddled February and March and closed its regular season, and then got hot and won the NIT. With the key pieces back, TCU should push for its first NCAA tournament bid in 20 years and second in the last 30. Maybe Dixon leaving Pitt wasn't such a strange move after all.
• When is a Kentucky team ever not intriguing? This year John Calipari has his least experienced team ever, with eight freshmen, no seniors, and no scholarship juniors to boot. And while the Wildcats are loaded with talent (and boast this season's No. 2 recruiting class), they do not have any players currently expected to be at the top of next year's NBA draft (though those things can change) and will begin the season without the services of forward and top-20 recruit Jarred Vanderbilt. Cal's got a project on his hands, but plenty with which to work.
• Then there's Arizona. We've got them No. 1 in our projections, and on a less objective note I look forward to watching the duo of junior guard Allonzo Trier and freshman big man DeAndre Ayton. This is Sean Miller's best chance to reach his first Final Four and Arizona's first since 2001, but with an assistant coach arrested in the FBI probe, this won't be a normal season.
• My preseason Final Four picks, by which I mean four teams I think are very good but not necessarily the four best because it never works out that way, and who knows if they'll even all be in different regions: Duke, Michigan State, Wichita State, and Florida.
• One final note: The last time there was a college hoops season that Luke Winn wasn't writing about, this year's class of freshmen was just learning to read. For those that missed the news, Luke was scooped up by the Toronto Raptors a few months ago to serve as their director of prospect strategy, the kind of opportunity that finds you when you know the sport as thoroughly and deeply as he does. Over his years at SI, Luke has been not only the best college hoops writer in the country but also a tremendously helpful and encouraging colleague to those of us breaking into our careers. He will be missed by SI and readers as much as he will be an asset to the Raptors. Here's wishing him the good luck he won't need.