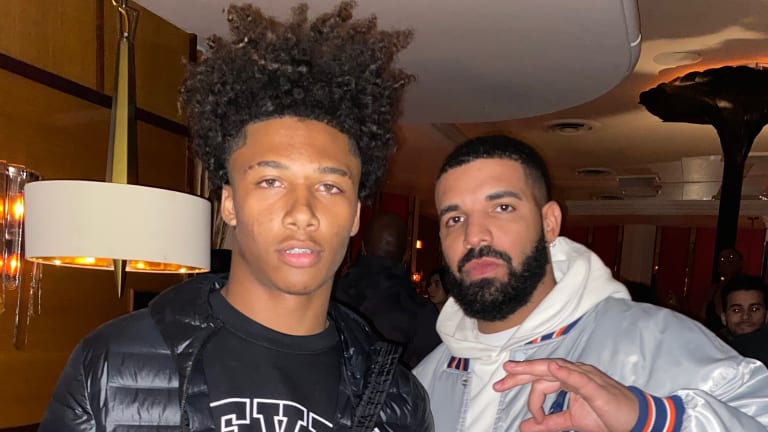 Drake Meets Up With 2023 Star Mikey Williams
Rap Icon Drake Began Forming a Relationship with 2023 star Mikey Williams Months Ago.
The last time Drake fanned out for a high school star was 2018 when he began following a brute dunk machine named Zion Williamson on Instagram.
Eventually, he wore Williamson's Spartanburg Day high school jersey and posted a picture on Instagram that went viral.
Now, it seems the rap icon has found another high school star to connect with, San Ysidro (San Diego) point guard Mikey Williams.  
"He started following me about three months ago and I hit him up about a month or so after that," said Williams, a freshman. "Then, while I was at NBA YoungBoy's concert recently, Drake hit me up to tell me he'd be in L.A. and wanted to link."
No, that's not normal; not even for the most elite high school basketball stars.
RELATED: The Mikey Williams Blog
Williams' "next big thing" buzz grew from his on-court dominance which created multiple viral videos of him dunking on opposing players, draining NBA 3-pointers and flawlessly pulling off ankle-breaking crossovers which have amassed millions of views.
Williams' Instagram following is north of 1.6 million, one of his mentors is LeBron James, he has a web-based reality show at Overtime and also keeps a blog at Sports Illustrated.
He's a big deal.
"All of the attention is cool, but I don't really focus on it," said Williams, who averaged 30 points a game this season. "You can't. It takes your focus off the most important part, and that's the game I love."
Still, when Drake comes calling, naturally, excitement swells.
"I went and met him and we just chopped it up about school and going to Canada to play soon," Williams said. "We talked for about 15 minutes. The biggest thing was how cool he actually was in person. Just from meeting different celebrities and star athletes, Drake was the one that showed the most love."
Williams will play in a showcase next month in Canada against fellow 2023 star Elijah Fisher and plans to bring along two of his San Ysidro jerseys for Drake.
Don't be surprised if you see the Canadian born rapper sporting said jerseys on Instagram soon.
"I know it's a blessing being in this position and I'm grateful," Williams said. "It just makes me want to work harder though. I don't forget that my love for the game is what got me here."