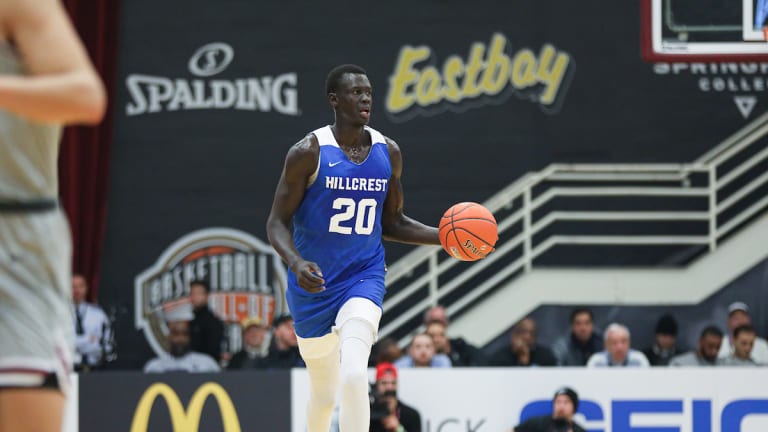 2020 Center Makur Maker Could Be the First Prep-to-NBA Player in Arizona
Makur Maker was deemed eligible for the 2020 NBA Draft
Four months ago, Makur Maker submitted paperwork inquiring about his eligibility for the 2020 NBA Draft, and on Monday Nick Weaver, Maker's coach at Hillcrest Prep (Phoenix), confirmed that the 7-foot center was indeed eligible for the draft.
"We are very excited for Makur and his family," Weaver said. "We are glad he is able to pursue his lifelong dream of playing in the NBA."
RELATED: The Michael Foster Blog
Maker, a consensus top recruit in the 2020 class, turned 19 in November and is one year removed from his original graduating class, in accordance with the NBPA's collective bargaining agreement.
Maker hasn't made an official decision on whether he'll enter the draft, but most consider the announcement a formality.
If Maker does decide to go pro, he would be the first player from Arizona to take the prep-to-NBA route.
Last summer, Maker averaged 15 points and eight rebounds a game for Dream Vision (Nev.) on the adidas Gauntlet. He left CIBA at Pacific Academy (Calif.) for Hillcrest Prep in December.
In 12 games this season, Maker averaged 17.5 points, 10.1 rebounds and 1.8 blocks a game for the Bruins.
It's unclear where Maker projects in the 2020 draft, but most projections had him in the late first round of the 2021 draft.
"Makur is a 7-foot, skilled playmaker," Weaver said. "He is very unselfish and has a very high IQ. He has been a pleasure to coach so far and is a great teammate."