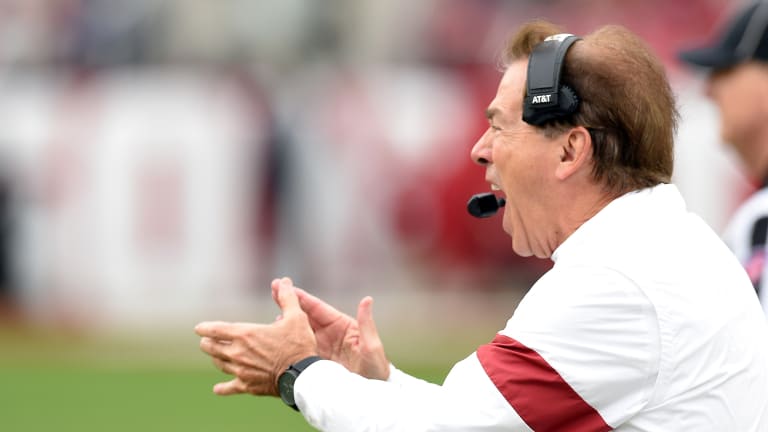 Jase McClellan Flips to Alabama
Longtime Sooner commit  Jase McClellan has flipped to the Crimson Tide.
Longtime Sooner commit  Jase McClellan has flipped to the Crimson Tide.
After committing to Oklahoma in summer 2017, five-star Texas running back Jase McClellan (5'11", 200 lbs) has turned around and set his sights on the SEC. A visit to Alabama on Nov. 8 surely weighed heavily on McClellan's mind, leaving many on the inside to wonder about his longtime commitment to OU. McClellan will now be a member of the exclusive Crimson Tide running back group.
As one of the most complete backs in the country, he's a true threat to crib it every time he touches the ball, and especially so on those outside zone plays he's got dialed in. He's had that straight-line speed since he was a freshman in high school, and since then he's only gotten more polished. 
Outside zone is a simple concept to learn, but difficult to master. Creating vertical lanes by running horizontally requires (first and foremost) speed, vision, trust and patience. McClellan has been hitting home runs on this play since he was 14. 
Speed has never been an issue for McClellan, and I'd bet every defender he's ever played against will tell you that his speed is the first thing they're worried about. Vision is needed because you've got to have your eyes in two places at once, sort-to-speak. You've got to watch where you're going, and at the same time watch where you need to get. McClellan's eyes see both the edge, (whether it's there or not) and the inside backers, (whether they've flowed out of position).  
Trust is paramount because you've got to know where your blocks are going to be so you can get behind them while still keeping up your momentum. Patience is the icing on the cake because without it, the outside zone is nullified simply with a defensive end that can set the edge. Waiting for those crazed linebackers to flow out of position is a lot easier said than done when 6/7 other box defenders are trying to rip your head off. 
McClellan has all these traits in abundance and has had success using them against some of the toughest competition Texas has to offer. What that translates into for the Crimson Tide is another potential star at running back.