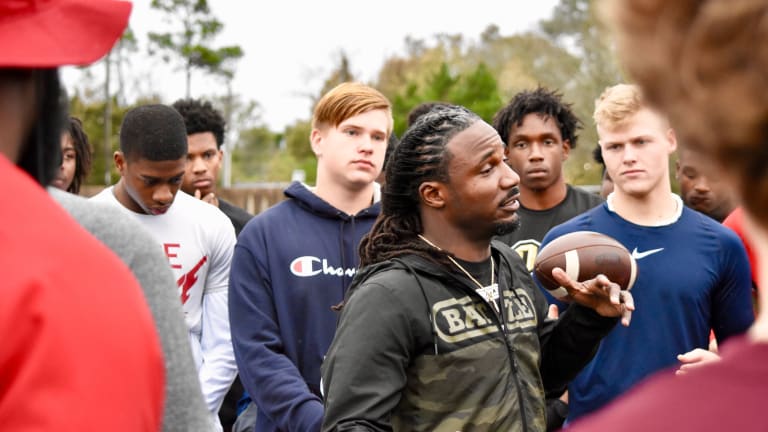 Young Jacksonville Football Prospects Impress at 7v7 Tryout
The recruiting calendar never stops as evidenced by a rainy 7-on-7 tryout featuring several of Florida's top underclassmen.
JACKSONVILLE, Fla. -- As the college football recruiting class of 2020 began coming to a close with this month's Early Signing Period, the next wave of prep stars began to take shape. 
The 2019 football season is in the rear view mirror and many top young prospects have already turned the page towards the offseason competition circuit, which in part means 7-on-7 time from coast to coast. 
One of the top programs in the state of Florida, Burch Sports Performance, held its annual tryout over the weekend and SI All-American made the trip. Despite wind and consistent rain, dozens of the best from the Sunshine State competed and turned heads of many onlookers in the process. A chunk of the top performers have yet to see their recruitment take off. 
2021 QB Brody Davis - The best arm and most dynamic passer on this day was also the one who didn't look like he was spinning it in the rain. The Jacksonville (Fla.) Bartrum Trail standout can absolutely rip the football down the field, cutting through the elements with relative ease. The release was quick and there was some solid off-speed sample as well. Built like Tua Tagovailoa or Sam Howell on the hoof, the lacrosse standout could be a breakout candidate in 2020. 
2021 QB Bryce Tompkins - The Jacksonville (Fla.) Baldwin returning starter (pictured above, navy blue Champion hoodie) threw for 2,300 yards and 24 scores in 2019 but already looks bigger and stronger. Perhaps the most polished passer in attendance, Tompkins had some of the best timing and mechanics of the QB group despite the weather. He has a big enough arm and does the little things that come with the experience he has. 
2021 QB Tre Lawrence - Expected to be replacing 2018 Mr. Football Carson Beck at Mandarin this fall, Lawrence is a long, smooth passer with some athleticism. He worked at wide receiver for the better part of his junior season with Beck at the helm, so we know he can make plays when things break down. Lawrence has good arm strength and an effortless release to his name. He'll add weight and passing polish heading into his senior campaign. 
2021 WR Theodore Lockley - It just looked different when Lockley got into his route and then had the chance to separate. 'Easy speed' was the phrase that popped into onlookers' heads through most of his reps and he finished with strong hands and body control to boot. The combination is why there wasn't much debate for the offensive MVP of the event. As a junior, the Daytona Beach (Fla.) Mainland star was a big play waiting to happen, averaging better than 23 yards per reception. 
2022 WR Eric Weatherly - Just a sophomore, the Jacksonville (Fla.) Bartrum Trail standout (pictured above) racked up 1,400-plus all purpose yards in the fall as a do-it-all athlete. On Sunday he worked out as a slot receiver and his cuts proved sharp to the point he had as many defensive backs off balance as any other pass catcher in attendance. When combined with his great acceleration and top-end speed he becomes one of the premiere prospects in the area no matter what position he's being recruited as.
2021 WR Jaylen Smith - The Jacksonville (Fla.) Mandarin junior emerged as Beck's top target as the 2019 season wore on. Smith is slender, yet quick, and maximizes his catch radius with above-average length. Should he show more consistent ball skills, he could become a true FBS target as a senior. Few in the area can stop and start like he already can.
2022 WR Cade Windham - A precise route-runner out of Jacksonville (Fla.) Providence School, Windham had some of the most successful reps of the afternoon. He won with quick cuts and strong hands despite the driving rain. He has the chance to play productive from the slot or the outside at the next level depending on how his body develops.
2021 DB Charles Reid - Much like there wasn't much debate for the top offensive performer, Reid made things easy when it came to defense (pictured above). The Daytona Beach (Fla.) Mainland standout made plays at every turn, lining up at cornerback in press during one-on-ones while working at safety in 7-on-7 play. On the outside, he challenged receivers at the line with balance and speed with great closing speed and ball skills at the tail-end of plays. Reid is a safety by trade and made things look pretty easy in roaming against a wide receiver group, snagging at least three interceptions to cap his day. He has size, range, instincts, length and speed to his name and won't be a sleeper much longer.  
2021 DB Jonathan Robinson - Comfortable on the island, the Jacksonville (Fla.) Robert E. Lee cornerback made as many plays with the football in the air as any defender on this day. He trusts his technique and uses his solid length to affect each phase of the route and has enough speed to take chances. Robinson has a patience and awareness in his game that mirrors a much more experienced prospect. 
2021 DB Jevan Rivers - If we were building a starting secondary from the participants, the Jacksonville (Fla.) Ed White talent would line up at nickel back. Short and compact, he played the pest role every good slot corner displays with his hands at the line of scrimmage and physicality at the end of reps. Throw in the chip on his shoulder and a competitive attitude and Rivers fits the nickel label that much more. 
BSP will begin 7-on-7 tournament play in the New Year.