Fridge Raider: Giants First Baseman Brandon Belt
Look inside Brandon Belt's fridge, and you won't see much in the way of fresh food. The Giants first baseman and his wife, Haylee, just relocated to a new home in Walnut Creek, Calif., their moving day nearly coinciding with the team's home opener against the Diamondbacks. But a major life change didn't get in the way of Belt's game April 8th, as the 6-foot-five, 230-pound player hit his fifth homer of the early season to help rout Arizona 7-3 and tie him for first place in the majors for homers this year. By Day Two in his new home, Belt also had his fridge stocked with his three favorite foods—pudding, pickles, and popcorn, an alliterative trifecta he admits may not be the healthiest, but which he craves all the time. Whatever works, right? And if sour dills are at all responsible for Belt becoming a star player for San Francisco this season, we don't think the team nutritionist will have any problem with that—or his odd off-day habit of eating butter popcorn with Sour Patch Kids.    
Pickles: Belt could get any type of pickle he wanted in a food-centric place like San Francisco, but the Giants first baseman prefers a classic deli dill to the newfangled varieties sold in nearby Berkeley. "I love the huge dill pickles you get at concession stands," says the left-handed hitter. These days, Belt will eat two or three spears daily, but growing up, he ate more, especially on school days. "I can remember being in the cafeteria and everyone knew I loved pickles, so they gave me all their extra pickles at lunch," he says. Do his teammates know now about his dietary preference? Not yet, he says. "Once they do, someone on the team will probably wear me out for it," he jokes.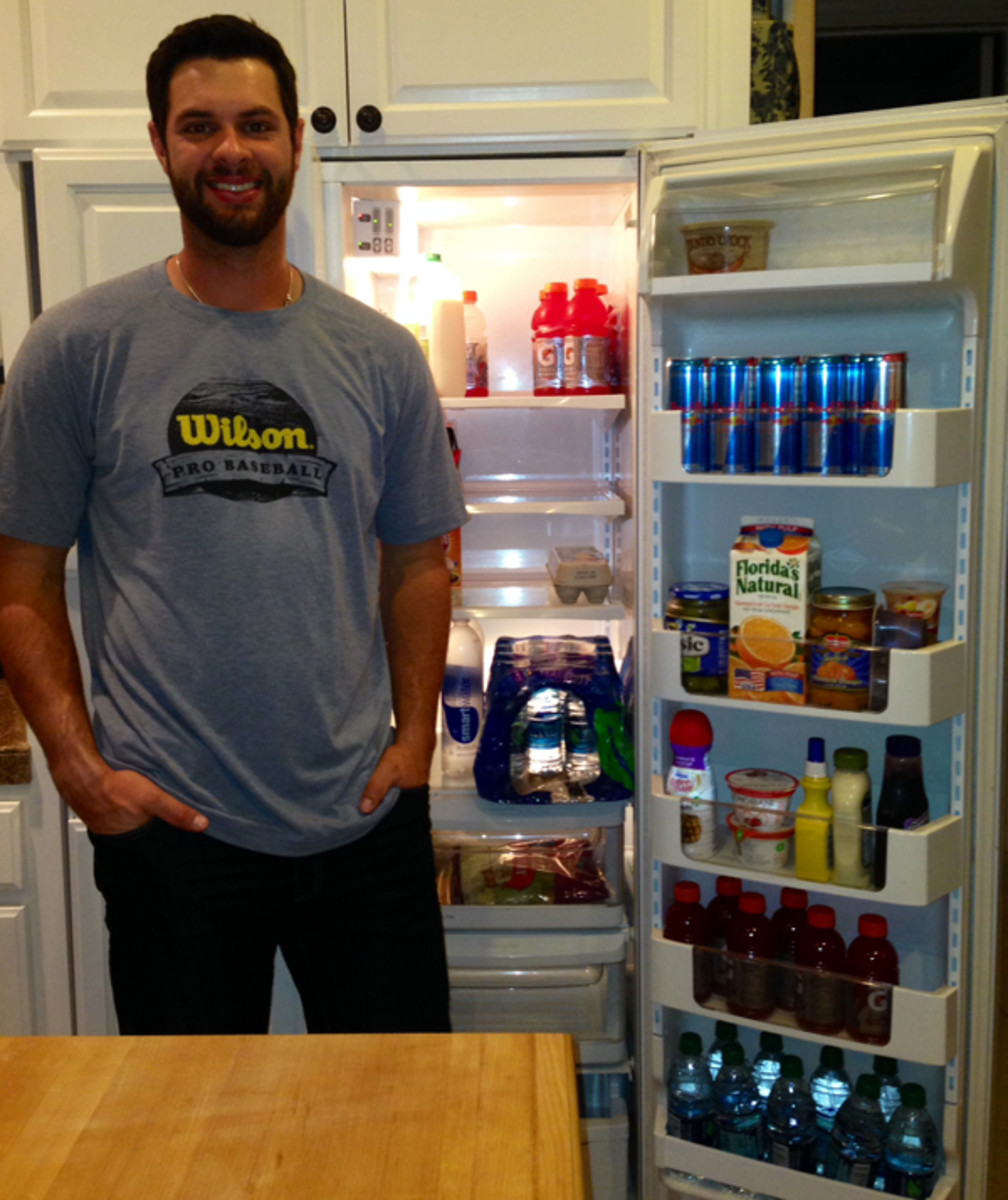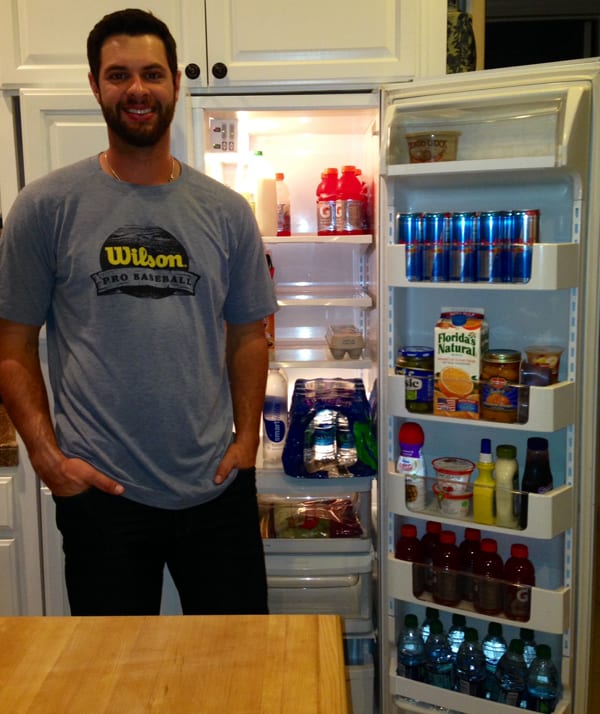 ​​Pudding: If you're looking to entertain Belt, you'd better have a snack pack of chocolate pudding on hand. "Whenever I go to a visiting clubhouse and they have pudding in the kitchen, I'm on top of it," the Texas native says. From a dietary standpoint, there are worse snacks—Ho Hos, doughnuts, Belt's former obsession with fast food before he went pro—but the 25-year-old 's not getting much nutrition from his pudding packs other than some calcium. "I probably shouldn't eat as much, but I don't go crazy," he says.
Popcorn: When Belt has a day off, you're likely to find him in front of his TV, with a bucket of microwave popcorn and a box of Sour Patch Kids . "That's one of my favorite things—to sit down and watch a movie and eat popcorn and some candy," he says. "And I like a lot of butter on there." The same is true when Belt goes to the movies. "I can't just watch a movie," he says. "I have to get popcorn, a Coke, and candy." That's not the diet you'd necessarily expect a professional athlete to be following, but Belt says his nutrition is "improving" every year. "I think being from the South, we like a lot of flavor," he says. "It's not always the best for you, but I'm learning I have to eat healthy because I have to feel good."
Sugar-Free Red Bull: Whatever sugar rush Belts gets from pudding and Sour Patch Kids, he doesn't like the same fix in his caffeinated beverage of choice. "I didn't like the taste of the sugar-free at first, but the more I drink of it, the more I like it," he says, adding the drink is a "staple" in his fridge. "When I pop one open now and just smell it, I feel like it's giving me energy." Belt says he drinks a Red Bull before heading to the field every day during season. "I've tried coffee, but it just doesn't do anything for me," he says. "And I don't want to drink five cups—I can have just one Red Bull and that does it for me."
More From Sarah Toland:
​Behind the Body: NASCAR's Carl Edwards
Fridge Raider: Stars Defenseman Brenden Dillon
Behind the Body: UFC Contender Chad Mendes
Eggs and bacon: Since going pro, Belt has made a concerted effort to eat breakfast on a daily basis to keep his energy levels consistent throughout the day. "I'm not a big breakfast person, so it's tough for me. But I like eggs and bacon," he says. Indeed, who doesn't? The Giants first baseman says he starts many mornings with three eggs, several slices of bacon, and some toast. "I don't worry about fat as much, because I don't see the effects it can have," he says of his morning meal. "I'm tall and lean and kind of skinny, and if I eat something fatty, I won't blow up."
Corn: It's true that Belt is trying to eat healthier, but the San Francisco player just isn't there yet with green vegetables. "I'll have a salad once a while, but I won't get crazy with all the things my wife does—the zucchini and the cucumber. I can't do that," he says. So Belt meets his daily vegetable quota with starchy varieties like potatoes and corn. "Corn is my favorite," he says. "When we were eating at home [in Texas], we always had something that had corn in it—cornbread, rice with corn." If only cornbread were a vegetable, we'd all rejoice.