The Dork Diet and Geek Streak of Giants RB Rashad Jennings
Rashad Jennings is a dork. A nerd. A total geek.
Those are the words the newly signed New York Giants running back uses to describe himself, despite the fact the 6-foot-1, 230-pound NFL athlete couldn't look any further from the definition of dork if he tried. Explains Jennings, "I'm the guy who everyone likes to clown and joke. I do things differently. I wear weird, funky socks."
But it's not just Jennings' choice in hosiery that separates him from his fellow footballers. The former Oakland Raider also maintains a strict, all-organic, gluten-free, casein-free diet, meaning he doesn't consume any conventionally grown food, wheat, or dairy. The 29-year-old Liberty grad, who played in Jacksonville for four seasons before spending a year in Oakland, also sleeps in a hyperbaric oxygen chamber, gets his blood tested regularly for nutrient deficiencies, and eagerly seeks out sports-medicine alternatives like acupuncture and Muscle Activation Technique that many guys in the NFL wouldn't even consider. "They think it's hilarious," says Jennings of his teammates' opinions of his health regimen. "The guys, they start with laughter, but they always end with curiosity. They'll start asking me, 'What's your chef's number and can teach me your routine?'"
Jennings, who ran the ball in Oakland 163 times for 733 yards and six touchdowns last season, says his interest in health started in high school. "I was a little, overweight, dorky kid with glasses and asthma," Jennings says of his younger self. "I wanted to make a difference, so I did a little test experiment at home." That test experiment included leaving out fresh foods like milk, cheese, lettuce, a hamburger, a banana, and raw organic chicken on his kitchen counter for several days, much to his mother's dismay. He then reassessed his beta, which led to a small epiphany.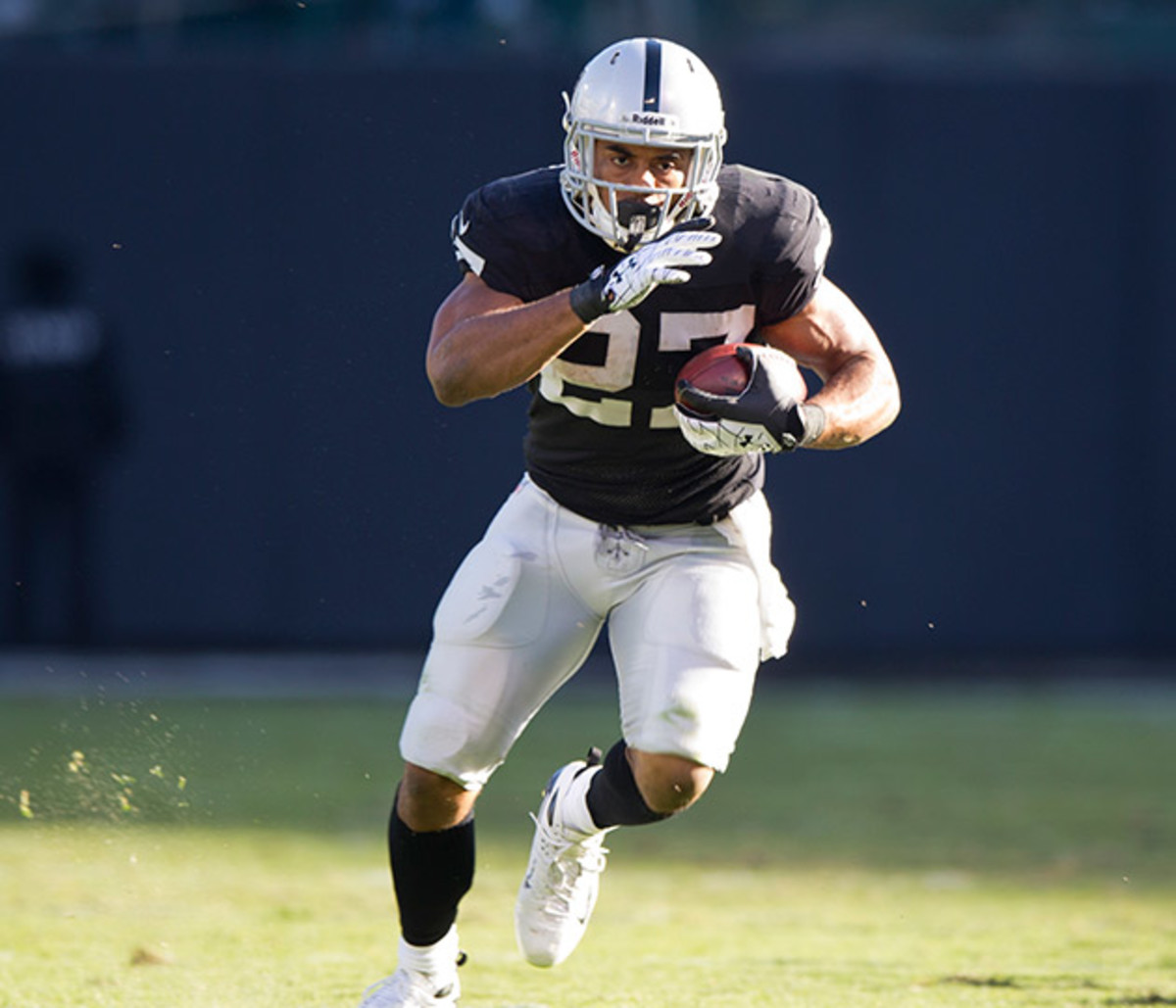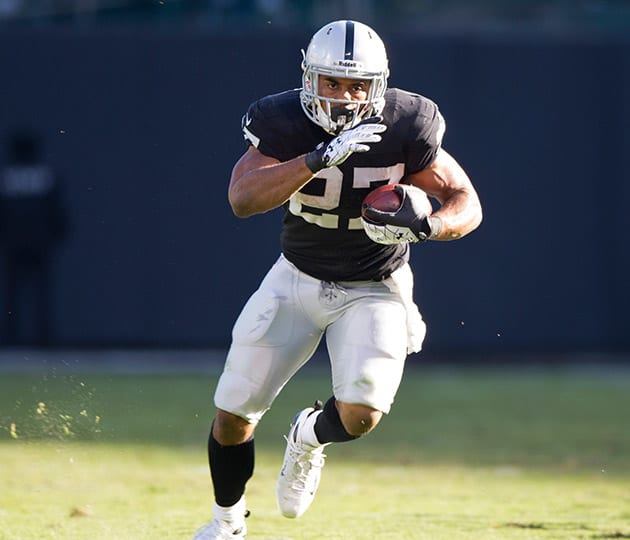 "The milk was really hard and thick, so was the cheese, and the hamburger was stale. But the banana had started to deteriorate, the chicken had started to deteriorate, and the lettuce had started to deteriorate. So I asked myself, why would I put all this milk, cheese, and bread in my body if it does nothing but get thick and hard while all this other food is just [naturally] deteriorating?"
His self-engineered science project spurred Jennings to start learning more about nutrition, meeting with doctors and nutritionists and ultimately deciding for himself to stop eating gluten, the main protein in wheat, and casein, the primary protein in milk. Six years later, Jennings, the 250th pick in the 2009 draft, is still gluten- and casein-free, meaning he hasn't had a slice of regular bread, a piece of ordinary pizza, or a whey-protein smoothie in his entire five-year NFL career.
MORE: Tony Gonzalez on Retirement, Staying Healthy and the Next Chapter
"I have an excellent amount of endurance and energy," says Jennings of his diet. "We think if you have an allergy toward something [like wheat or dairy], you have to respond with a very glaring outbreak. But a lot of cases show that if you're allergic to something, your body is just using tons of energy to get rid of it rather than using that energy for movement. I want to be as fuel-efficient as I possibly can, so I'm not using energy for anything other than on the field."
Part of Jennings' protocol for nutritional efficiency includes eating animal meat. "I tried going vegan for two weeks, and I didn't like it for me," he says. "I had to bulk up and overload on all these foods like beans to get in the amount of protein I needed. So I wasn't fuel-efficient because I had to compensate with too many carbs."
Today, Jennings says he begins each morning with a fruit smoothie made from oatmeal, flaxseed oil, and two types of plant-based protein powders. Lunch and dinner always include a salad and often feature some variation of bison burger (with a gluten-free bun) or baked fish, along with quinoa or sweet potatoes, and different sautéed vegetables. Jennings says he eats dessert nightly, usually packaged gluten-free, casein-free sweets like almond-milk ice cream and vegan chocolate. "I also juice a lot," he says. "And I'll take all the pulp from the juicer and make vegetable muffins out of it, and they're absolutely delicious."
MORE: Fridge Raider: Tampa Bay Buccaneers Safety Dashon Goldson
Vegetable muffins might be a hard sell with some of Jennings' old teammates, but the hyperbaric oxygen chamber he sleeps in daily has met with more success. The Virginia native says he has convinced many of his NFL friends—and a few NBA guys—to start using the admittedly expensive and claustrophobic tube, which he sleeps in nightly during training camp, daily in season, and after every game. "There's 100 percent oxygen pumping in there, and I'm breathing it in—I'm not breathing in the polluted air we breathe outside every day," he says. "It heals me on a cellular level, and it cuts my recovery in half. When I get out, I feel like a champ."
And a champ is exactly what Jennings expects to be this season with the Giants. "I just want to be a complete running back," he says. "A complete running back is a person who never has to come off the field under any circumstance, whether it's fourth and goal, first down, third down, I'm called to protect the quarterback, or catch a ball out of the backfield. Being a complete running back is always something I strived to be, so I have to keep earning my right and making my mark."
In the interim, he'll also keep making his mark with his unique health routine—and his weird, funky socks.