Doing the Dipsea: The Siren Call of Running's Most Beautiful, Bruising and Beguiling Race
Once more unto the beach, dear friends.
This Sunday morning in Mill Valley, Calif., two towns north of the Golden Gate Bridge, some 1,500 warriors, adventurers and masochists – calling them mere "runners" feels inadequate – will take the start of the 104th Dipsea, the oldest trail run and the second-oldest footrace in America, eight years younger than the Boston Marathon.
At 7.4 miles, from Mill Valley to Stinson Beach, the Dipsea is less than a third the length of a marathon. But it is more beautiful – wending through redwood forests, up and down the side of Mt. Tamalpais, through not one but two national parks – and more cruel. With its unreasonably steep climbs and narrow, twisting, rooted, rocky descents; its endless opportunities for broken bones and more general, garden-variety bloodshed, this ordeal packs far more suffering per mile than any road race. Consider Alex Varner, 28, whose run of 47 minutes and 59 seconds was last year's fastest Dipsea time. Two months earlier, he'd finished Boston in 2:21:40, averaging 5:24-minute miles, and good for 26thplace. Had Varner been able to sustain that pace over the considerably shorter Dipsea, he'd have broken the course record by more than five minutes.
For five years running, Varner has won the Dipsea's "Fastest Time Award" – which is different from actually winning the race. The Dipsea hasn't been the subject of five movies and two books solely on account of its beauty and pedigree. It's also distinguished by a unique handicapping system. Head-start minutes are awarded based on age and gender. Serrated though the course may be, all uphills and downhills, the playing field is, in a figurative sense, level.
MORE: Tips from the Pros: 12 Things Never to Do in a Marathon
In 2012, for instance, 72-year-old Hans Schmid got a 23-minute head start on the "scratch" runners – young bucks who get zero cushion, and start in the back. Schmid, a late bloomer who didn't start running competitively until he was 63, held off hard-charging Chris Lundy to become the oldest winner in Dipsea history.
The Dipsea isn't quiiiiiite long enough for the scratch runners to close the gap and pick off the eventual winners. Four years ago, in the 100thedition of the race, a pigtailed eight-year-old named Reilly Johnson got over the course in 72 minutes and change. That swift time, on top of her 25-minute head start, was just enough to hold off a lurking, 68-year-old grandmother named Melody-Ann Schultz, who'd already won the race three times. Fourth-grader beat grandmother by seven seconds.
While quirky and annoying to some, and arguably unfair to the guy with the fastest time – the last man to win the race without a head start was Carl Jensen, in 1966 – the handicapping system brings a fascinating, equalizing, distinctly Marin County vibe to the race. Those enticing head start minutes "are an attractive nuisance to national- and world-class age group runners," says George Frazier, "to the point where some have moved here because of the Dipsea."
Frazier, a 67-year-old writer, raconteur, historian and contrarian, happens to be one of those scary-strong age-groupers. Alas, an ankle injury will keep him from taking the start at the Dipsea for the first time since 1977. That's something of a shame: Frazier had been running well and – provided that he was wary of low-hanging boughs (see photo) – was a threat to win at least another Black Shirt.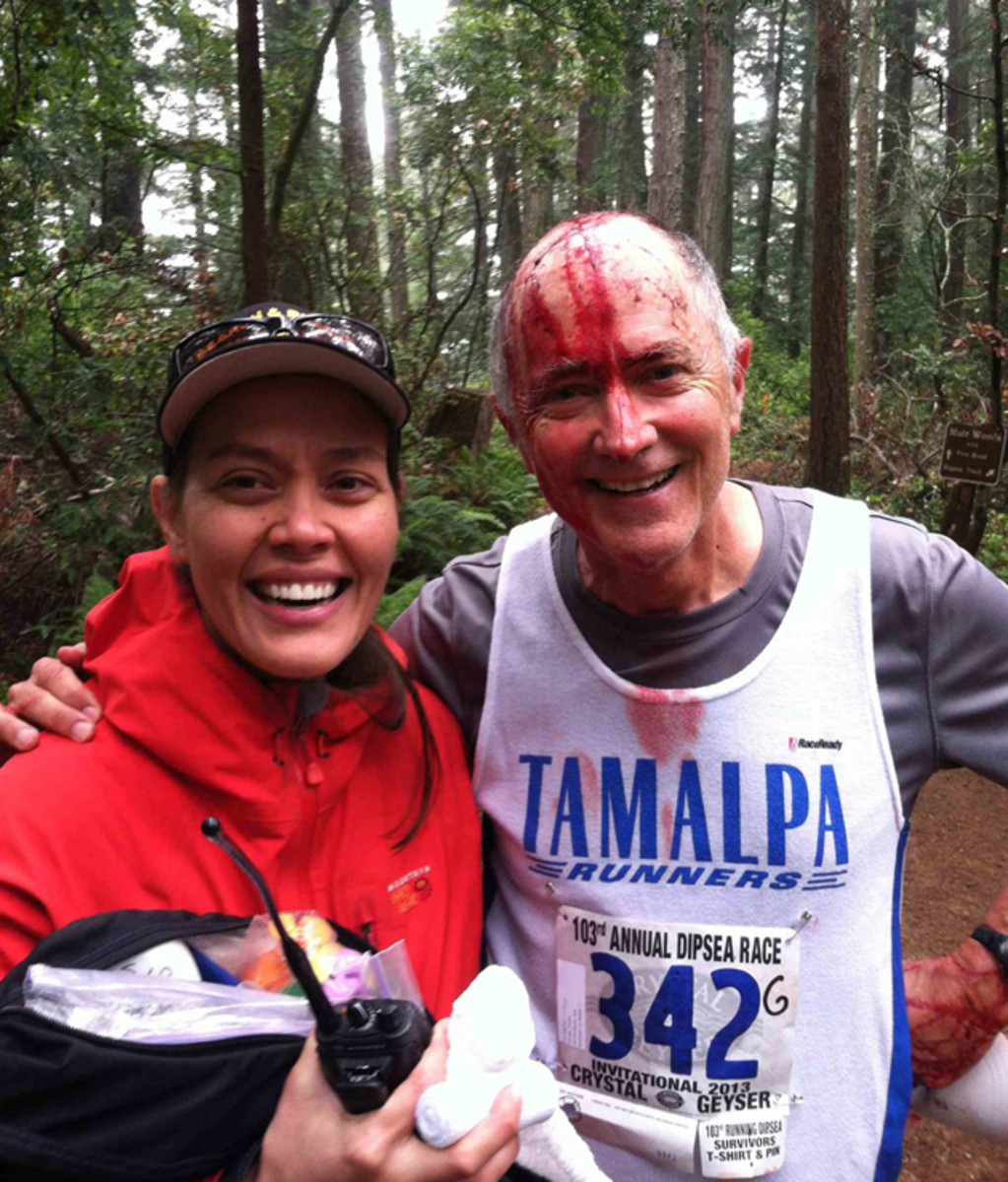 Here is another Dipsea singularity. The first 35 finishers earn coveted "Black Shirts." As consolation prizes go, they're what Joe Biden might describe as a "Big f------ deal." In the ultra-competitive Marin running circles, rocking a Black Shirt is as good as it gets for some very talented athletes. "In no other race is the person who finishes 35th so ecstatic," says Frazier, "while the person who finishes 36th is not allowed to be around sharp objects."
Frazier would know; he's exhibited an uncanny knack for treading the excruciating space between those extremes, and then having everything work out just fine in the end. Three times he's finished 35th, plucking the final Black Shirt. There was the Dipsea where he was ticketed for 36th … until poor Herb Vanek fell down a hundred yards from the finish. There was the time he was DQ'ed by an overzealous Park ranger, along with eight other runners. But the so-called Muir Woods Nine – "Leave the trail, go to jail!" they chanted – were reinstated.
On another occasion, Frazier was on the time of his life before cramping viciously. Running "like an old woman in high heels being pulled by a standard poodle," he remembers, he was repeatedly passed in the last quarter-mile, but held on for … 35th.
MORE: Bo Knows Biking: Riding with Bo Jackson for Charity
Six days before the race, Frazier dispensed insults, anecdotes and accumulated Dipsea wisdom at the San Francisco Running Company, in Mill Valley. Among his tips: Don't blow your wad in the first 10 minutes. No one has ever won the race on those 661 steps, "but hundreds of people have lost it" by going out too hard.
He admires the economy of the counsel offered by '68 winner Don Pickett, who advises Dipsea runners to "make the hard parts easy and the easy parts hard." Which is to say, don't kill yourself on the climbs, but hammer the descents. The great Dipsea runners have all been fearless, bordering on reckless, downhill runners. Three-time winner Russ Kiernan is known for devouring the Steep Ravine descent, four steps at a time. Old Dipsea hands still talk about the year he and seven-time winner Sal Vasquez went mano-a-mano down Steep Ravine, Kiernan falling twice, Vasquez three times.
Three days before this Dipsea, I met Frazier for coffee. He won't be running, but I will. The truth is, no matter what suggestions he makes, no matter the elements, or how much or how little I've trained, I will finish in the same time (77 minutes and change, three years running.) I will take it easy on the steps for up to 90 seconds, at which point I will feel panic rising, as I am overtaken by senior citizens, women and children. I will see my friends Brian and Candace Murphy at the top of the steps. They will cheerfully exhort me; I will try not to vomit on their shoes. At the summit of the next climb, a 1,400-foot ascent culminating on a trail called Cardiac, I will say hello to volunteer and Friend of the Dipsea Drow Millar. He directed the '05 documentary The Dipsea Demon, a celebration of the late race legend Jack Kirk, an obstreperous fellow who ran this race 67 consecutive times, winning it twice in the process.
PHOTOS: Looking Back at the Epic Marathon Des Sables
That summit, the high point of the race, is where Kirk dropped out in '03, the second-to-last time he took the start. It's where you leave the forest, and are slammed with sudden, breathtaking views of the Pacific. It's where I start to be less miserable – all downhill from here, almost! I'll be suffering, but not so much as on Cardiac, not so much that I can't say "good job" when passing some of the people who passed me on the climb … and repeat it, when they pass me back. Not so much that I won't reflect, for very brief intervals, on what a privilege is to be in this race, to stride through the finishing chute – always keeping a sharp eye out for struggling seniors to pick off before we cross the line – as longtime announcer and author of the definitive book on the Dipsea Barry Spitz makes a big fuss.
From there, some finishers proceed directly to the frigid Pacific, to rinse off the poison oak. Every other participant, it seems, took a spill somewhere on the course, and has the abrasions to prove it. This is my favorite part of Dipsea Sunday, truth be told – when the race is over, and I feel this bond with fellow adventurers. Warriors. Calling them runners feels inadequate.