Super Sod: Designed to Outperform the Elements, World Cup Athletes
We'll hear a lot about stress during Brazil's World Cup. But we won't always equate it to the living organism often ignored on the pitch: the pitch itself.
With 22 players—and officials—digging cleats into the turf, heat suffocating the grass, and shade blocking out the sun combining together to punish the World Cup sod game after game, the 77,000 or so square feet of turf must withstand stress. And look pretty doing it.
Roberto Gurgel, executive director of research for Sod Solutions, a company responsible for developing a type of grass in use in five of the 12 World Cup stadiums, says every Brazilian location has its own specific needs, especially with the architecture of stadiums shading out the sun.
"They did very little research on sun orientation and built very tall structures that project a lot of shade onto the grass," he tells Edge. Add in the tropical nature of Brazil and organizers have chosen Bermuda, a warm-weather grass, for 11 of the 12 locations (the stadium in Sao Paulo installed ryegrass, requiring a costly underground cooling system to keep the grass healthy in Brazil's heat).
The popular Bermuda Tifway 419 is in use in six stadiums, while Sod Solutions' Bermuda Celebration, initially developed in Australia and in use in the U.S. in Florida and LSU's football stadiums, will take over five shade-rich venues, such as in the cities of Belo Horizonte (a semifinal host), Fortaleza (quarterfinal host), Salvador (quarterfinal host), Brasilia (quarterfinal host) and Rio de Janeiro's Maracana Stadium, which will host the World Cup final.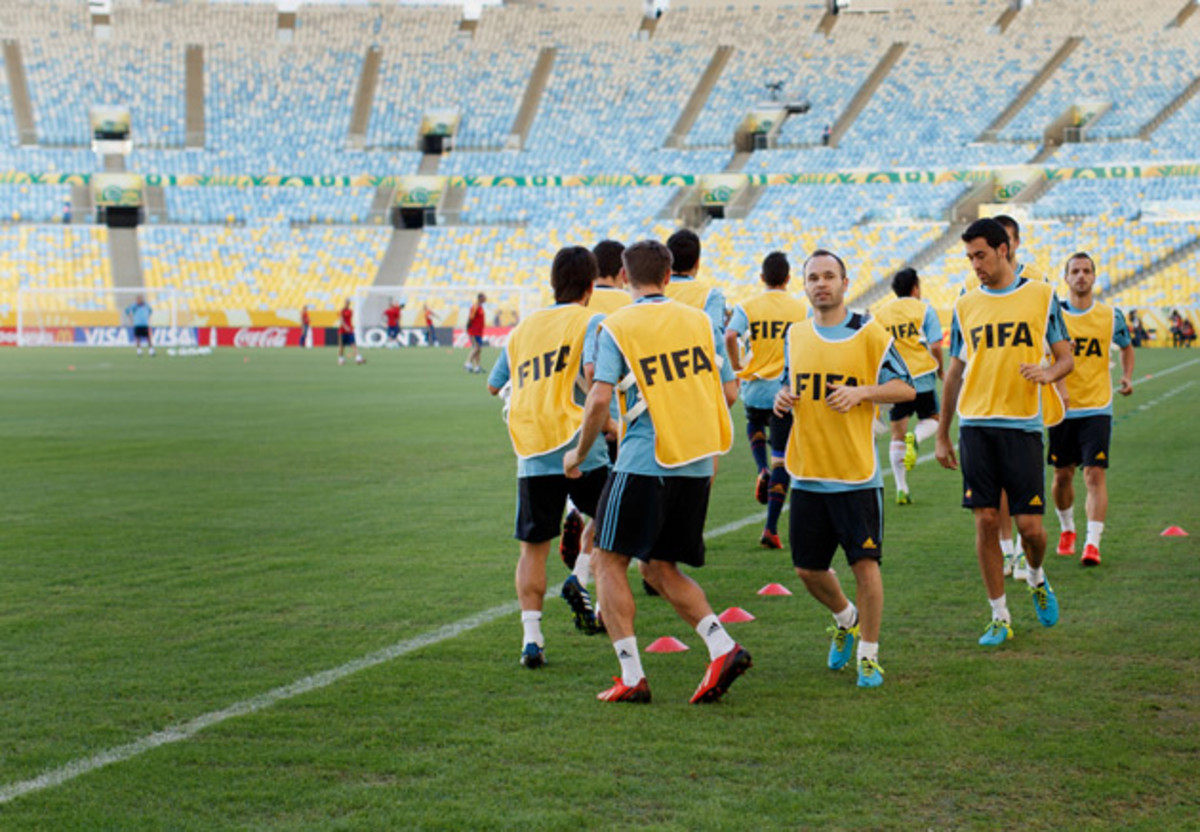 ​Gurgel says organizers had to look at specific properties of warm-weather Bermudas to select the right one. His Celebration handles shade better than any other Bermuda, according to a Texas A&M study, aggressively recovers from any kind of high traffic or stress (i.e. World Cup soccer ripping it up for 90-plus minutes each game) and proves drought tolerant.
"It is a perfect combination for the situation they had in those stadiums," says Gurgel, who is originally from Brazil but is now based in Texas.
The five Celebration-installed stadiums have all had the grass in place since spring 2013, a true test for the sod. Maracana alone hosted 45 games in two months in 2013.
"It was a lot of pressure and it looked thin at the end of two months, but with a couple of weeks it was back to normal shape," he says. "If it wasn't for Celebration, there probably wouldn't be any grass left."
Gurgel says that while Celebration proves more costly and has a higher maintenance need than Tifway 419, the root system—you can call it rhizome, if you want to feel like a botany geek—proves massive and can store carbohydrates more efficiently than other grasses, using those energy reserves in stressful situations.
"Celebration produces the same sugars (as other Bermuda grasses), but stores it on the root system more efficiently," Gurgel says, "even when there is a lack of light and it can't produce as much sugars as needed."
The more extensive root system also digs deeper, which helps in drought situations. Droughts start from the top down, so a deeper root can explore moisture more efficiently. Celebration doesn't use less water, but simply finds water better.
To take care of the grass during the tournament, field managers will fertilize to help recovery—more so with the Tifway than the Celebration, Gurgel claims—and the Celebration will require a "verticut," a style of mowing vertically that removes excess stolons and excess organic matter. Gurgel says networking through the Sports Turf Managers Association, whether in Brazil or the U.S., has proved invaluable in devising the best strategies for in-stadium care.
While June and July may prove summer-like for folks in the U.S., those months are Brazil's winter, which will slow down the growth and recuperating ability of Bermuda grass in the country's cooler southern climate. Bermuda never fully goes dormant, but the slowdown will force organizers to overseed the Bermuda with ryegrass in a few of the southernmost stadiums to ensure extra strength.
"I have no question in my mind that Celebration will do well," Gurgel says. "It is a lot of pressure to have two games a week, but it should be fine."
Just don't stress.
Tim Newcomb covers stadiums, design and gear for Sports Illustrated. Follow him on Twitter at @tdnewcomb.