Splendid Theatre Awaits in Team Sky's Tour de France Roster Selections
For reasons of pure selfishness — because we find the prospect of a three-week, rolling soap opera across France so delicious, and the clashing of egos and agendas in broad daylight is always splendid theater — we must hope that Bradley Wiggins is wrong. We must hope that he will be selected to ride in next month's Tour de France.
We fervently hope Wiggo takes the start in this year's Super Bowl of cycling for the dramatic possibilities it opens up. Since winning the race two years ago, he has been supplanted and slighted by his erstwhile domestique, the Kenyan-born Chris Froome, a monstrous talent who won last year's Tour and will be the favorite in 2014.
With both riders in superb form this season, how will David Brailsford, Team Sky's highly regarded general manager, play it? Suspecting that Brailsford intends to leave him off the team, Wiggins loosed a preemptive volley during a June 6 interview with BBC. Wiggo told the reporter he was "gutted" by his likely exclusion. Compounding the hurt is the fact that Le Tour this year begins in Leeds — an hour's drive east of Wiggo's Lancashire farmhouse.
Some background on the most compelling British drama since Downton Abbey: Wiggins followed up his 2012 Tour victory with, in short order: an Olympic gold medal, an audience with the Queen, who knighted him and a letdown. An early-season injury kneecapped his '13 season.
He has rebounded with verve, intent on proving that, even at 34, he's still got plenty of races to win. The extravagantly sideburned, one-man Mod Squad followed his surprise ninth place finish at the grueling, one-day Paris-Roubaix with an impressive victory at the 8-day Amgen Tour of California. But, in a discouraging omen, he was left off the Sky squad, now suffering through the week-long Dauphine-Libere. That race, cycling's premier tune-up for the Tour de France, was being led, as of Friday, by Froome.
It's not as if some grave injustice has been perpetrated. Froome, 29, is a jaw-dropping talent, an elite time-trialist and climber who at times looked stronger than Wiggins even as he toiled for his erstwhile leader in the 2012 Tour. This guy could win four or five Tours before he's finished. For all of Wiggins' Olympic golds, his knighthood and his glorious history with the Tour – the last time he started it, he won it – he now finds himself on the bubble, like some undrafted NFL free agent from a D-II school praying to survive the final cut.
Now, Brailsford finds himself on the handlebars of a dilemma. Though it appears his would be a nice problem to have. Riding in his team's colors are the Tour's last two winners. But Brailsford knows the strife that can beset a squad with dueling stars riding at cross purposes. The 1986 Tour gave us the most infamous example, when an aging Bernard Hinault assured the youthful, ascendant Greg LeMond that he, the Badger, would ride in the younger man's service. It was the least Hinault could do: LeMond had turned himself inside-out the previous year to help the Badger secure his fifth Tour title. Instead, Hinault shamelessly attacked the young American, splitting their La Vie Claire team into factions. LeMond rallied, and became the first American to win the Tour, no thanks to the Badger, whose treachery was breathtaking and … sensational theater.
Q&A: George Hincapie Throws a New Light on His Role in Cycling's Doping History
Brailsford doesn't want theater. He wants harmony. So do I! insists Wiggins, who struck an appropriately submissive tone during his pre-Tour of Cali interview with Edge, heaping praise on Froome – "One of the best climbers in the world, if not the best – and ceding alpha status to him: "I'm happy to play the team role and do what's required to help him … Chris, as the defending champion, has earned the right to be [Sky's leader]. So it's about putting the best team around him to do that, really."
But there was Wiggo a moment later, drumming up a scenario in which he might be called on to take Froome's place. "Things may change in the race, you never know what could happen," says Wiggins. "I crashed out three years ago. [But] as it stands today … it's all hands on deck [for Froome], if you want."
He makes a valid point. Froome crashed in Friday's sixth stage at the Dauphine, maintaining his slender, 12-second lead thanks to a noble, unwritten rule in this sport dictating that one does not attack the race leader when he is on the pavement following a crash.
Should Froome crash out of the Tour de France, Wiggins could slot easily into the leader's role, and keep the yellow jersey in the family. Haunting Brailsford's thoughts must be the reality that, when Wiggins and Froome race together, Sky is something less than a happy family.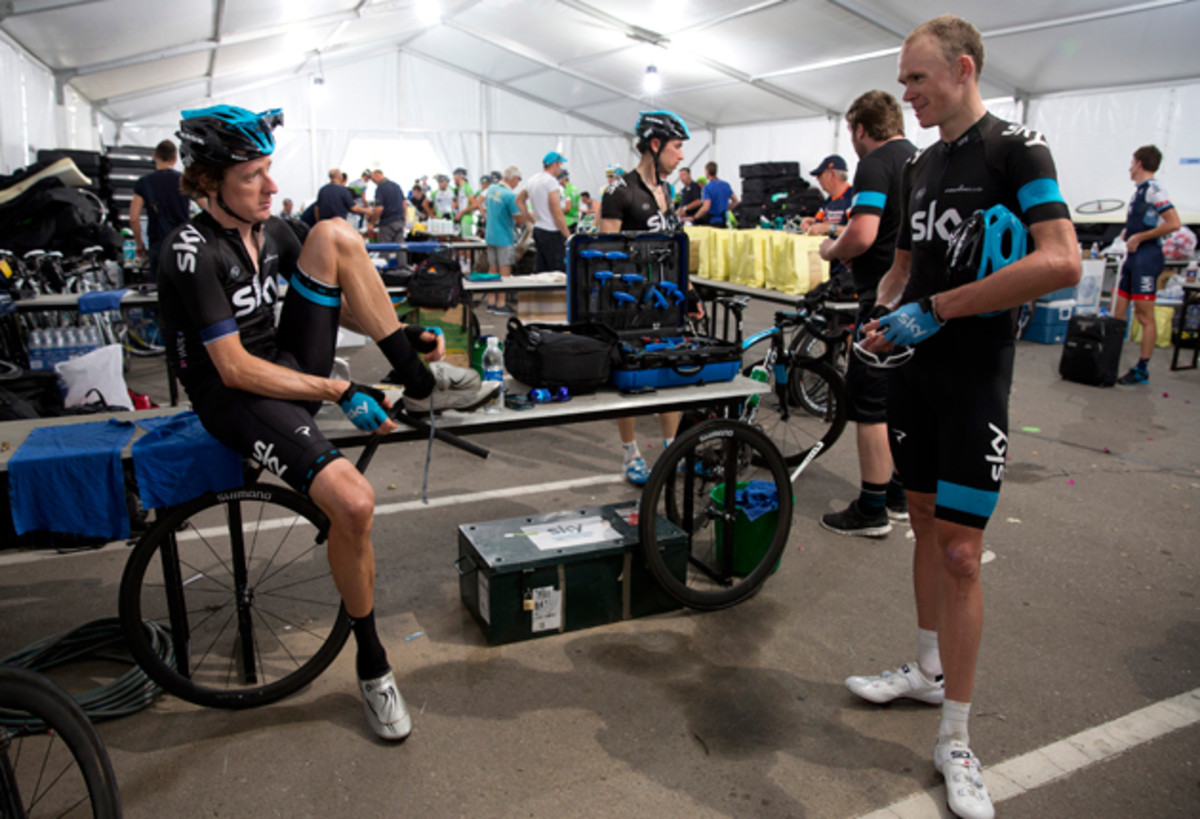 The discord dates back to Stage 11 in the 2012 Tour. After pacing Wiggins up the afternoon's final Alp, in the process reeling in repeated attacks by the dangerous Italian, Vincenzo Nibali, Froome was still feeling frisky. A puncture early in the race had left him almost two minutes in arrears of the leaders. With an eye toward taking some of that time back – he wanted to be well positioned in the general classification, you see, just in case (God forbid!) Wiggins crashed – Froome launched an attack that the knackered Wiggins couldn't answer. Through Froome's earpiece crackled the stern voice of director Sean Yates, instructing him take his foot off the gas, and wait for Wiggins. Froome obeyed, but an international television audience had seen his show of strength, and independence.
Wiggins wigged, interpreting Froome's thwarted surge as an act of insubordination, and threatened to pull out of the race. Their relationship has been strained ever since. It's tradition for Tour champions to share a cut of their bonus earnings with the teammates who helped them win the race. As revealed in the book "Inside Team Sky," by cycling journalist David Walsh, Wiggins withheld Froome's bonus for 14 months.
Walsh also helped Froome write his recently released autobiography, The Climb, which will do nothing to mend his relationship with Wiggins. If you're wondering why Wiggins probably won't ride in the upcoming Tour, opines one reviewer, "the answer is in the book: it's not just that they don't get along, it's because the antagonism is destructive."
Even in his cycling dotage, Wiggins remains one of the most gifted grand tour riders in the world. He would provide Sky with an excellent insurance policy, should Froome find himself unable to finish the Tour.
That said, Wiggo's presence on the roster, on the team bus, in the hotel, would also insure a level of tension and mistrust that Brailsford could very well deem intolerable. The GM can opt for harmony, or he can hedge his bets and invite Wiggo along.
I know which outcome I'm pulling for.