Behind the Body: Tennessee Titans linebacker Kamerion Wimbley
The fact that Titans outside linebacker Kamerion Wimbley has been the centerfold subject of several national magazine shoots should tell you something about the kind of reaction his appearance elicits from his male and female fans. And while Wimbley acknowledges his physique is exemplary—"I don't think many people who play at the professional level in the NFL have normal body types," he says—the response he enjoys most is the one he gets from young children. "The little kids always crack me up. They'll compare me to their dad and say, 'Wow, you could beat him up!'" says the former Oakland Raider.
And these days, Wimbley is spending even more time in the weight room, as the 6-4, 260-pound former Florida State star sweats it out in training camp preceding his ninth season in the NFL. "I feel pretty good," says Wimbley, who was drafted by the Cleveland Browns as the 10th overall pick in 2006. "I've had a productive camp so far."
But even productivity can turn to vanity in the Titans locker room at times. "We always joke about what we look like in our uniforms and how we look on pictures on social media," says Wimbley. To see how the heartthrob works out and which home-cooked meal won him the attention of chef Rachael Ray, keep reading.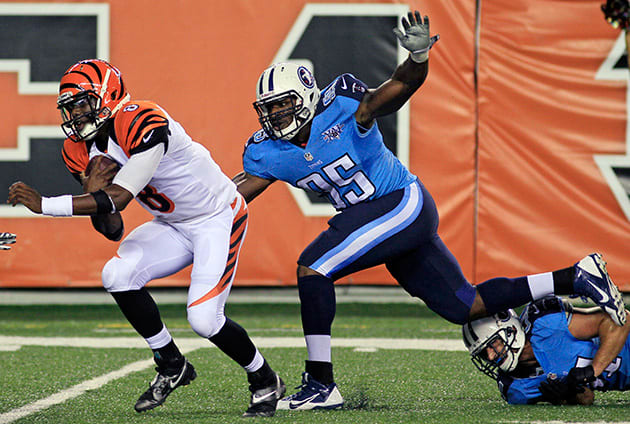 | | | |
| --- | --- | --- |
| age | height | weight |
| 30 years old | 6-foot-4 | 260 lbs. |
Training grounds: Nashville and Tampa
Nickname: "Killer" and "Cement Man." "Some of the guys [on the Titans] call me 'Killer,' but I'm not really a killer—it's after the rapper, Killa Kam. And then in college, some of the guys would joke around and call me 'Cement Man,' like an action figure."
Body fat: Between 6 and 9 percent
Hours spent training per day: Up to two during season
Days spent training per week: Six during season: "We get Tuesdays off."
Hours spent in the weight room per week: Six to eight
AFC South preview: Vulnerable Colts still have the upper hand
​Go-to workout: Olympic-style lifting. "With my position, we have to do a lot of explosive movements; we have to have a lot of speed. Olympic lifting is probably the workout I rely on the most to help me with position. Squats, power cleans, hang cleans—those are probably my most important workouts."
Secret workout: Cycling and running in the off-season. "I have a bike trail by my house, so I spend a lot of time biking. I also have dogs, so I run with them a lot. So I get a lot of cardio in the off-season, and I think that helps me a lot."
Biggest physical challenge: Remaining disciplined off the filed. "You give yourself the best chance of being successful when you're eating the right way, making sure you're working out and getting enough rest. When you're trying to put in time with your family, going to work and any other hobbies or things you might do, staying disciplined can be challenging. But I think a good athlete and those who stay around in the sport for a long time find a way to balance it all out."
Best recovery tip: Ice tubs. "Ice tubs are crucial whenever you're hurting after an intense workout. Drinking a lot of water is also crucial—I think a lot of people may skip over that, but I understand the importance of hydration. Deep-tissue massage is also helpful, along with acupuncture."
Calories consumed per day:"I never really count my calories. I know I should, but I think it's more important to eat a balanced meal. Obviously, now I'm in training camp, I'm burning a lot of calories, so I try to eat as much as I can—about four to fives times a day with two helpings per meal."
Favorite pre-game meal: Fruit smoothie followed by a big breakfast. "If it's a noon game or an early game, I'll try to go with a shake with strawberries, banana, peanut butter and maybe a little protein powder. And then I'll probably have three to four eggs, bacon, some waffles and a glass of orange juice."
Typical recovery meal: Barbecue. "When I'm with my family, in a lot of cases after a game, we'll go to a steak house. I'll get either ribs, chicken or some steak, along with a salad, so I get some greens in."
Celebration meal: Five Guys. "I'm addicted to their burgers and fries. I think they're phenomenal."
Biggest dietary vice: Chips. "I love chips, especially kettle-cooked chips. I'll go through a whole bag if there's any in the house. I can't keep too many of those around."
2014 Fantasy Football Sleepers Vol. 2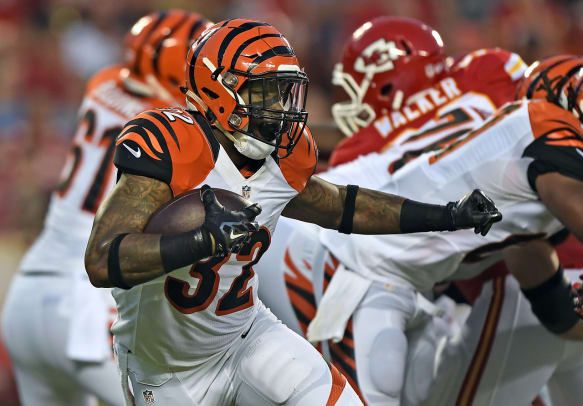 ​Alcohol of choice: Wine. "Every once in a while I have a glass of wine."
On winning the NFL player cook-off on the Rachael Ray show last year:"I won with my grits and Andouille sausage. It was a nice little recipe my wife found that I practiced. I'll try almost anything at least once. I love grilling steaks, but the meal I probably cook the most is breakfast. I'll make waffles from scratch."
On what others say about his body:"A lot of people will look at my pictures on social media, and the ladies will make comments. Then, my guy friends will say to me, 'My girl was looking at your photo and talking about your body.' And a couple of women who are brave enough will check me out in public if they don't know I'm married."
On what he thinks about his body:"I realize that I'm not normal—I don't think many people who play at the professional level in the NFL have normal body types. But I look at myself like most people do and see things I want to improve or that could be better. Yet I realize my parents came together, and it was a good combination for what I do [as a football player.]"
On what his 6- and 2-year-old daughters think of their football-star father:"They're both very aware that I play, and they always recognize the Titans logo when they see it—even the 2-year old. They both go to homes games. We have a suite at the stadium and they just have a blast. The older one loves to tell her friends that her dad plays football."