Strange Rumblings: The search for the perfect wave
After the filming was over at each new, exotic surfing location, whether wild waves in Iceland or super swells in Mozambique, the contingent of surfers traveling with documentary director Joe G always clamored with the same question, and always came to the same conclusion: "Surfers were coming up and saying 'That has to be Shangri-La, that has to be the perfect one,'" Joe G tells Edge. "It dawned on me that everything was Shangri-La. Everything was perfect and everything was exactly as we would want it to be."
Sports Illustrated's greatest surfing photography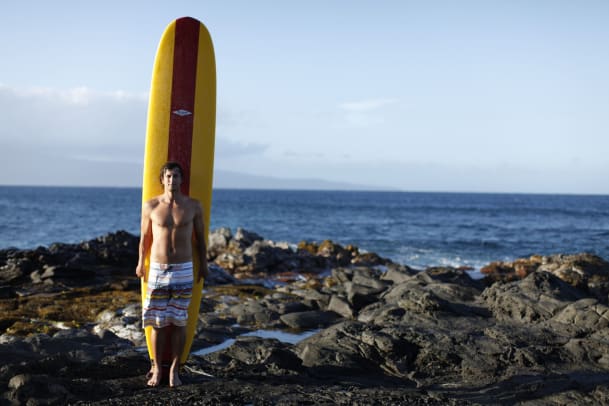 Sure, a little philosophical for a group of surfers, but as Joe G shot his signature old-school 16-millimeter film and packed together his new surfing documentary, Strange Rumblings in Shangri-La, the philosophical nature was put into perspective by the uniqueness of the locations and the quest to pay homage to classic 1960s surf films.
While Joe G and Globe, an international apparel company, spent two years filming Strange Rumblings, which was released on iTunes and DVD on Sept. 25, the entire project started with the idea of capturing perfection, surfing's own Shangri-La. The perfect place. The perfect swell. The perfect right-hand point break. The perfect barrel.
"Whatever our idea of perfection, we wanted to challenge ourselves and go to places we had never been," Joe G says. That short list of locations meant that the Strange Rumblings team would capture on film some surfing destinations only known of in rumor, only apparent in theory.
"Iceland," Joe G says as an example, "has been photographed, but no one has really ever gone and gotten world-class state-of-the-art high-performance surfing on the great waves."
The nine-man rotation of surfers, led by Dion Agius, Nate Tyler, Taj Burrow and C.J. and Damien Hobgood, realized their goal, grabbing stunning footage and recording spectacular sets in five exotic locales: rural Indonesia, Brazilian islands, Mozambique, France and Iceland.
While patience proved key in the long waits for the perfect conditions, once the surfing started Joe G let the talent take over. "They go out and deliver," he says. "Nobody knows better then them what they need to do."
And Joe G was there to capture it all in his Kodak Super 16-millimeter. The use of non-high-definition film not only matched the look of the directors of the 1960s, but also provided Joe G with inspiration. In the early 2000s, when Joe G first started filming surf for Globe, using 16-millimeter was still the most cost-effective way to get a world-class image, he says. As the equipment evolved, though, Joe G stuck with what he loved.
"I must be lazy or fear change," he jokes. "No, I love it. I love how it looks. It has this magic. It isn't the most high-resolution or most economical, but it produces an image that has a magic that digital does not have. The chemical reaction on the film, the motion, it stands out and it still works."
A Day in the Life: Pro surfer Ellie-Jean Coffey
While Joe G let the images work for him, the locations were working for the surfers. Each location brought with it its own Shangri-La moment, both for Joe G and the surfers. The end result gave Joe G the opportunity to honor the great surfing films, such as Endless Summer, Riding Giants and Big Wednesday, with his own nearly 60 minutes of surfing footage.
"I feel back then there was no incentive to make surf films other than passion," he says. "There was no money, no brand. The world has changed a lot, but for us, as surfers, and for me personally, I've done this for a long time, but nothing in the world gets me more excited than going on these trips and capturing imagery for the world to see. The better we get at doing that, the closer we get at creating something that may last forever."
By going to these remote locations, Joe G says, they were able to find something new to help make that lasting image. With forecasting down to a science, surfers migrate in predictable patterns. "We put ourselves in a totally different position," he says. "We went to places we didn't know. It was an adventure that changed our lives in some way. It is corny, but true."
We have to forgive Joe G, though—for his reminiscent corny philosophy and for his his enjoyment of watching young surfers realize the value in a journey—because he captured spectacular surf footage for us. He turned rumors into film.
Tim Newcomb covers stadiums, design and gear for Sports Illustrated. Follow him on Twitter at @tdnewcomb.