Caroline Wozniacki welcomes the challenge of the NYC Marathon
At the time Caroline Wozniacki shared with the public her decision to run the New York City Marathon this year, she was coming off her first title of the season in Istanbul, ranked 13th in the world and still making headlines in one of the highest-profile sports break-ups in history.
At first, no one on her management team believed she would go through with it. But everything fell into place: the 10-month WTA season would end in October, Wozniacki suddenly had no plans for November and the New York City Marathon fell on the first Sunday of the month.
"Why shouldn't I do something outside of my comfort zone and be an inspiration to kids?" says Wozniacki, who will run her first-ever road race for the health and fitness-focused charity, Team for Kids, on Sunday. "I'm raising money for them to have a healthy lifestyle, which is so close to me because I grew up doing sports and I want to inspire kids to do the same."
Since her decision, the 24-year-old has earned a 34-10 record to close out her 2014 tennis season, highlighted by an appearance in the finals at the U.S. Open in August and a climb back into the top 8 to qualify for and make a semifinal run at the WTA Finals in Singapore just last week. While tennis is a game of quick direction changes, sprints and short bursts of speed, the 26.2-mile marathon will be a test of sheer endurance. Wozniacki's fitness coach, Przemyslaw Piotrowicz, admits he was initially worried about how the effects the arduous task would be manifest on the tennis court.
Age is no barrier for Meb Keflezighi in the New York City Marathon
​"At first I was a bit concerned about how I would prepare her for a marathon while still keeping her in her normal, explosive tennis mode," says Piotrowicz. "But at the end of the day I was confident that Caroline would know when it was time to push herself and when it was time to back off. I just needed to help her find the right balance with the workouts I arranged."
Piotrowicz's "balancing act" of tennis and marathon training for Wozniacki consisted of body-weight exercises in the gym, at least four to six miles a day and, of course, her daily schedule of tennis matches and practice. Cardio was always built in to Wozniacki's regimen and pre-marathon she was running three to five days a week. But Piotrowicz decreased the amount of on-court endurance workouts and added in more short sprints, speed work and agility exercises using ladders and cones to her sessions to keep her tennis form sharp.
And while some people in the tennis community questioned the Dane's commitment to the marathon and expressed concern about its impact on her on-court performance, Wozniacki says running has actually helped her game and perhaps more important, her disposition.
7 tips from the pros for running your best marathon
​"I've just been able to clear my mind and enjoy it and I feel so strong when I'm out on the court," says Wozniacki, who defeated the No. 2-, 4- and 6-ranked players before losing to Serena Williams in the semifinals of the year-end championships just six days ago. "I see the opponent get tired and start making mistakes, and I can be out there for so much longer and that definitely gives you a mental edge."
Wozniacki embraced her training for the marathon but after spending four to five hours on the court during a match, she understood that some days required more rest than running. "Every time I felt really tired I just didn't go for a run," she says. "But at the same time I looked forward to it and knowing I could play tennis like that and then go out for a long run – it's something you get hooked on."
Piotrowicz mixed Wozniacki's cardio sessions with strengthening workouts focused on the core, legs and back, including body-weight squats and lunges, explosive medicine ball throws, crunches, planks, balance board work and cable exercises. The longest distance Wozniacki has run in her marathon training is about 13 miles, and most of her runs – completed around the world in Beijing and Wuhan, China, Singapore and more, in conjunction with her tennis tournaments – were concentrated on time rather than distance. She's added some extra carbohydrates and treats into her diet – "I don't feel guilty because of the marathon training and I don't say no to cake or ice cream" -- and has also incorporated extra stretching and massages to help with some of the aches of the long runs, like sore calf muscles.
As the start of the race approaches, the former No. 1 tennis player says she is nervous because it is her first time running a marathon, but is confident in her body and knows the crowd will help her through. She's raised over $78,000 for her charity and already has her entire race-day outfit picked out. A group of friends will be waiting at the finish line for Wozniacki, but some fellow runners in the field have also expressed their support.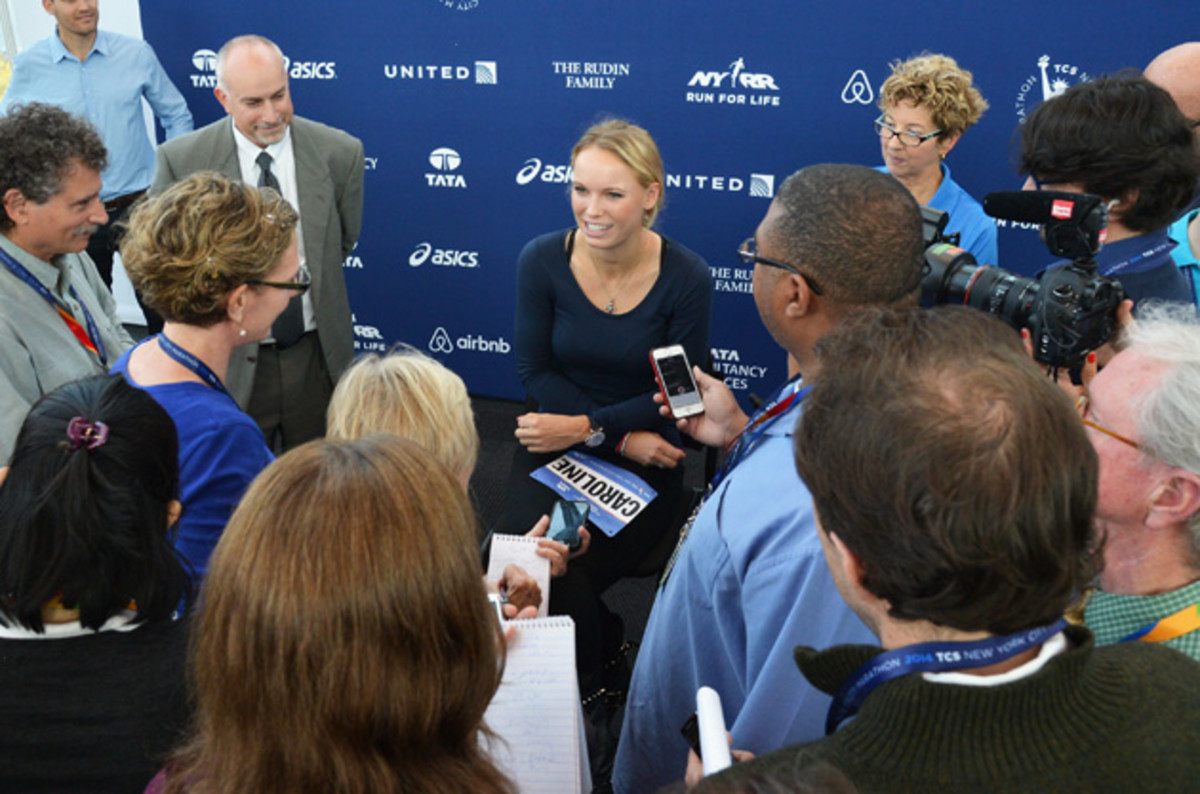 "It wasn't necessarily something that her team wanted her to do at this point in her career, but I really admire that she is doing it," says U.S. professional marathoner Kara Goucher, running her first 26-miler since April 2013 on Sunday. "I think it's really cool to see her coming to our sport, bringing awareness to our sport. As far as my advice, I think she's going to be fine…She's going to do great, and I'm hoping that I get to meet her at some point over the weekend."
Wozniacki has a specific goal time in mind to finish the marathon, but she's keeping that to herself to escape any extra pressure. But after pushing through to win a three-hour, three-set match over Maria Sharapova last week, Wozniacki is expecting to cross the finish line – and an item off her bucket list – on Sunday.
"I know the marathon is something I'm going to be so proud of, then I can just relax for a few weeks and start training back up," says Wozniacki. "The end of the season has been amazing and hopefully I can bring that momentum in 2015. I feel like I'm in a great place."