Age is no barrier for Meb Keflezighi in the New York City Marathon
Meb Keflezighi has heard the rumblings before. He is too old. He is not in shape. He is always hurt. He doesn't have enough speed to run with the fastest marathon runners in the world. For someone who has been deemed down-and-out as often as Keflezighi, the 39-year-old Eritrean-born Californian owns a running résumé that should have him thumbing his nose at the doubters. "I think in every challenge when you stretch your body, you also stretch your mind a little," Keflezighi says. "It's like the feeling that you have a challenge is part of what pushes you. That's part of what you learn."
7 tips from the pros for running your best marathon
​On Sunday, Keflezighi​ will run the New York City Marathon, his first 26.2-mile effort since he triumphed on the streets of Boston in April. And even these days with runners from an entirely new generation ready to move past him, Keflezighi​ is still learning, adjusting and going where other U.S. male runners haven't been able to go for a long time. In 2004, Keflezighi​​ earned the first U.S. Olympic medal in the men's marathon in 32 years, when he took silver in Athens. Four years later, he broke a bone in his hip during the Olympic trials and was thought to be finished at age 33. But a year later, he became the first U.S. male to win the New York marathon since 1982. He ran his fastest time in winning the Olympic trials in 2012 and finished fourth at the Games in London. And then he won that Boston Marathon earlier this year, again snapping a 31-year drought for U.S. men and a 29-year drought for all U.S. runners. He also ran the fastest time of his career, two hours, eight minutes and 37 seconds. How is a runner with so many miles on his legs able to keep getting better?
"First, I have to understand that better doesn't always mean getting faster," he says. "It really means finding more ways to be at your best and be able to respond to a race on a particular day. It's reading other runners, reading your own fitness, having a game plan, having a second plan."
That makes Keflezighi a racer first and runner second. He is not someone who will run for a fast time, hoping to set records or qualify for financial bonuses, with pace setters along the route to help orchestrate every predictable step along a flat course. In fact, while Keflezighi's results qualify him as among the most successful marathoners of his generation, his personal-best time doesn't even rank him among the fastest 300 performers in history. "Racers like Meb thrive on conditions that are unpredictable, which marathons often are," says Bob Larson, his longtime coach. "If somebody takes it out fast and then fades, now you have a different race than when you started . . .
​"Running for times? Well, I suppose there could have been a time when we would have done that, but it was never the right time. It's a different kind of training, a different mindset. You really can't go in thinking about racing to win and run to go for time in the middle of the race. Championships have always been more exciting for Meb, and to be honest, he makes good decisions in the middle of a race based on how he feels, what the pace is, what the others are doing. You can't do that if you're running for time. It would take away one of his assets."
Keflezighi will not be among the favorites on Sunday. Kenyans Geoffrey Mutai and Wilson Kipsang have run under 2:04. Ethiopians Lelisa Desisa and Gebre Gebremariam have run sub-2:05s. With his victory in London earlier this year, Kipsang became the first man to run five marathons in under two hours and five minutes. "If they're going for 2:04, 2:05, you know what, I can't do that in the New York City Marathon," Keflezighi says. "I've got to go for place. I'm a competitor. I love to compete. I love to get the best out of myself. I assess all of what they're going to do, what I'm going to do, and make decisions during the race and make them count. I put a lot of pressure on myself....
"I have never been speedy. I can concentrate on the championship races because I love wearing those medals around my neck. It's like a diploma. You earn it and you can physically touch it. I can say, oh, I ran under two something. That's okay. But if you say I ran New York City or Boston or the Olympics, people will say, 'Where do you finish?'"
​Keflezighi smiles broadly with an easy manner that lights up a room. He carries himself as a man who has figured out the solution to a puzzle. He has also adjusted his mileage as a concession to age. His seven-day week really lasts nine or 10 days, with breaks included to allow his body to recover. Keflezighi opts for quality rather than specific 100-125-mile thresholds in seven-day cycles. "You know, injuries are more common when you get older," he says. "Knee, hamstring, tissue, plantar fasciitis . . . When I have setbacks, you have to recover. I used to take two or three days to bounce back. Now it takes two or three weeks. Training in my tempo runs and intervals is not like it used to be. It's a bigger goal to stay healthy. It used to be a routine, Monday to Sunday; intervals, long runs and tempo runs. Now I just go off how my body feels. I leave a little bit more recovery time."
Keflezighi listens the way a cellist listens. He knows how to tune the instrument and how to fuel it. His dirty secret, he says, is his chronic sweet tooth, though he doesn't often indulge it unless it is soon after a major race. He has fewer carbs these days and opts for more healthy fats and proteins, and he eats some smaller snacks during training days to maintain his energy levels. Wheat bread with almond butter and honey is a favorite. His wife, Yordanos, usually makes the midday post-run meal, a version of eggs. On days with longer training runs, he'll make sure to take in enough protein from steak, chicken or fish. He usually has some sort of sports drink within 20 minutes of running.
Moment of Triumph: Crossing the Finish Line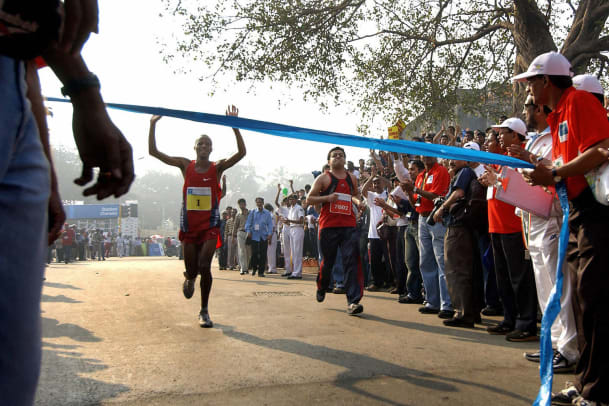 ​Yet Keflezighi​'s greatest fuel may be emotion. While some runners say they are oblivious to crowd noise and circumstance, he eats it up. He will even run closer to the side of the roads during long, straight sections of courses to feed off the screams and yells. Last spring, a year after the bombings at the Boston Marathon, Keflezighi​ suspected that the mood of the race would benefit him. "The crowd in Boston was electrifying," he says. "It was just amazing, like the experience [in New York] on First Avenue. This time around Boston, everyone just wanted to be a part of it. They wanted to say, You know what, we runners are resilient and we don't want to be intimidated by what happened. We went out there and everybody wanted to be a part of it. . . If it wasn't for the crowd, I don't think I would have won that race. I was thinking, 'Use the crowd. Use the crowd.'"
During the final miles of his previous win in New York, Keflezighi pointed to the USA logo on his racing singlet to fire up the crowd and show his thanks for his adopted country, where he first learned how to run as a painfully shy 12-year-old junior high school student. He ran a mile race in San Diego in five minutes, 20 seconds, and it opened him up to acceptance from his peers. "That feeling from running well that day sustained me for a year," he says. "In some ways for a lifetime . . .
"How much longer? Age is funny. We wouldn't know our age if somebody didn't tell us or if we didn't celebrate it every year. You've just got a feeling about it. You have to work within that system. I feel good, so I'm going to push. I don't feel good, so I'm going to take it easy . . . Age is a number. You know, I don't think too much about numbers."
Classic SI shots of the New York City Marathon