X Games Aspen 2015: McMorris doubles, Bowman repeats and more
From the moment that Maddie Bowman repeated as the Women's Superpipe gold medalist on Wednesday night, there was a feeling that the X Games Aspen 2015 was going to be something special. A sense of anticipation gripped Buttermilk Mountain during Bowman's Olympic-caliber performance on what was the night before the official start of X, and it didn't let go until Wiz Khalifa walked off stage on Sunday evening.
Every day brought something else to look forward to. Every day there was the possibility that spectators would bear witness to a piece of extreme winter sport history. Night after night, crowds filed out of X Games positively buzzing about what they'd just seen. 
Historic feats of varying magnitudes were accomplished in multiple events. Dynasties were cemented, comebacks were completed and torches were passed. The X Games villages were absolute successes, leading to a new Winter X Games attendance record (115,000). The X Games have always rewarded progression among its competitors, but this year, the event itself progressed more than any individual athlete.
That said, it's still the exploits of those individuals in their respective events that drive the popularity of the X Games, even as they continue to evolve. Before the Games began, each event was previewed and predictions were made. Now it's time to see how it all turned out.
Ski Superpipe Women's Final
There was never much doubt about Maddie Bowman's chances to defend her gold medal, but eventual silver medalist Ayana Onozuka did make the event far more than a formality for the Olympic gold medalist. Bowman won the event in her first run with a score of 85.00, but Onozuka's first and third runs were both within five points of matching Bowman's. Onozuka's final run scored an 83.33, signifying that while she wasn't quite keeping pace with Bowman, she wasn't being left behind either. The duel between them was fierce enough that when Bowman took her victory lap, she did enough to raise her score by .66 points.
Prediction: Maddie Bowman
Winner: Maddie Bowman
Snowboard Superpipe Men's Final
A Day in the Life: Pro snowboarder Sage Kotsenburg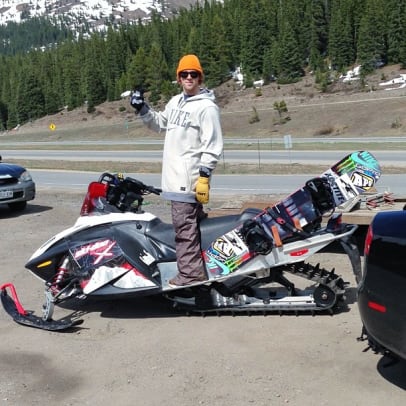 ​After the second of three rounds, IouriPodladtchikov was leading the field with a score of 89.00, and for a while, it looked as though he was going to be able to escape with gold despite not breaking the 90 barrier. Shaun White failed to storm the Superpipe as many expected him to, Ayumu Hirano couldn't find the form that won him silver in this event in 2013 and Danny Davis wasn't finishing his runs. But the run that netted IPod the 89.00 wasn't spectacular, so going into Round 3, the upset alert was on. Davis, who said hours before the Superpipe final that he didn't yet know exactly what his run was going to look like, put together a dazzling display that combined amplitude, style and technique that sprung him from fourth to first pace, and knocked Shaun White off of the podium.
Gold Prediction: Iouri Podladtchikov
Winner: Danny Davis (Podladtchikov 3rd)
Snowboarder X
Both Snowboarder X finals featured very close finishes.
On the men's side, just over two seconds separated the winner place from fourth place. That winner was Kevin Hill, who took gold in the event with a time of 50.036. Silver and bronze medalists Omar Visintin and Nate Holland were separated by less than a second. The final result wasn't a surprise if you watched the qualifiers; Hill finished just ahead of Holland in the quarter and semi-finals. His final time of 50.036 was actually his slowest time of the day.
The women's event was a true photo finish. Lindsay Jacobellis took gold as expected, but finished with a time less than half a second better than Belle Brockhoff, who failed to podium (fourth). Jacobellis is no stranger to close finishes, but that was her closest shave ever in X Games competition. This may be the luckiest gold medal she's ever won.
Men's Gold Prediction: Nate Holland
Winner: Kevin Hill (Holland 3rd)
Women's Gold Prediction: Lindsay Jacobellis
Winner: Lindsay Jacobellis
Snowboard Big Air
Our favorite SI photos from the Winter X Games
​A reminder: Max Parrot's backside triple 1620 won him the Big Air contest last year. Parrot landed the trick twice this year, but it wasn't enough to defend his gold because his Canadian teammate did it just a little bit better. In his first run, Mark McMorris put down a backside triple cork 1620 that earned him a 47.00/ 50 from the judges. Parrot spent all of his attempts trying to match it, but was unable to do so. Mark's 47 was the highest-rated trick of the event, and led him back to the top of the Big Air podium.
Gold Prediction: Mark McMorris
Winner: Mark McMorris
Ski Slopestyle Men's Final
Nick Goepper got his three-peat in the men's ski slopestyle, and it was easier for him than most fans were hoping it would be. Goepper put up a score of 93.66 on his first run, and no other competitor came within three points of him. The only other skier to break the 90 barrier was fellow American Joss Chrstensen, who scored a 90.66, also on his first run.  Canadian Alex Bellemare took the bronze and Bobby Brown finished fourth, 10 points behind the podium pace. There was no Olympic revenge to be had for the European riders; only two, James Woods of the UK and Henrik Harlaut of Sweden qualified for the final. They finished fifth and eighth, respectively.
Gold Prediction: Nick Goepper
Winner: Nick Goepper
Ski Slopestyle Women's Final
Skier Candide Thovex releases 'One of those days 2' skiing video
Emma Dahlstrom took the gold medal in the women's ski slopestyle, a reward for being the only person in the field to score above 90. Dara Howell took the bronze in the event. Keri Herman, the silver medalist, went for it all in her third run to try to overtake Dahlstrom. During her attempt, she crashed hard enough that she was not able to attend the podium award ceremony or post-event press conference.
Gold Prediction: Dara Howell
Winner: Emma Dahlstrom (Howell 3rd)
Snowboard Superpipe Women's Final
It had been four years since Kelly Clark hadn't won gold in the X Games Superpipe. She'd won the event in Aspen four times and also won it when Winter X went to Tignes, France, in 2013. Last year, Chloe Kim burst onto the scene and took silver behind Clark. In doing so, Kim started the countdown to the end of Clark's reign. The Superpipe final began and ended as a duel between the mentor and the student. Kim set the pace in the first round with a 81.66 only to see Clark respond with a 90. Kim's second run got her closer, but Clark was still on top. In her final run, Kim took a page from Danny Davis' handbook and put down the run she needed to execute to win gold. Clark's final run looked to be enough to overcome the 14-year-old, but she fell on at the base of the pipe, and to Chloe went the glory.
Gold Prediction: Chloe Kim
Winner: Chloe Kim
Ski Big Air
If the women's Superpipe was the best battle of the X Games, then the ski Big Air had the biggest "wow" factor. The finalists were going absolutely huge all night; 1440s and 1620s were required just to stay in the podium conversation, and that led to some big tricks, but big falls as well. Alex Schlopy and Bobby Brown both hit the snow at the bottom of the 80-foot jump hard and needed medical attention. Schlopy never returned after suffering an injury on his first run. Brown nailed his first two tricks and was just barely in second position when he body slammed the mountain chasing gold medal winner Vincent Gagnier's score of 47. Brown stayed in competition, but finished nine points behind the pace.
Gold Prediction: Bobby Brown
Winner: Vincent Gagnier (Brown 2nd)
Snowboard Slopestyle Women's Final
Relaxed and focused: Maddie Bowman is ready to dominate X Games Aspen
As expected, the women's slopestyle final came down to Jamie Anderson and Silje Norendal, but there was one extraordinary wrinkle in the affair. Though she did not medal, Spencer O'Brien made Winter X Games history when she became the first female rider to put down a 900, two and a half rotations, in competition. In a sport so deeply rooted in progression, to be the pioneer of a trick never before put down is an honor near equal to the gold medal of any single event.
In terms of the gold medal for this event, Jamie Anderson netted a score of 91.33 with a pitch-perfect run on her second of three attempts. Silje Norendal scored 90.66 and 90.33 in her first and second runs respectively, making Anderson feel the heat. In her final run, Anderson went down trying to land a 900 of her own, and then could only watch as Norendal scored a 93.66 on the final run of the event (Anderson and Norendal went last each round), walking off with the gold medal.
Gold Prediction: Jamie Anderson
Winner: Silje Norendal, Anderson 2nd
Snowboard Slopestyle Men's Final
The deepest field of competitors for any X Games event was a little shallower than most expected on Sunday. When Max Parrot failed to qualify for the men's slopestyle final, he became a defending champion unable to defend his crown and ensured that there would be a new king of the hill in 2015.
Enter Mark McMorris.
With his older brother Craig commentating the event for ESPN, McMorris bested the stiff competition of Stale Sandbech and Sven Thorgren to capture the gold medal, his second of the 2015 Winter X Games. This event yielded the most impressive podium; McMorris needed every bit of his score of 96.00 to overtake Sandbech's opening run, which scored a 95.00. Thorgren took bronze with a score of 92.00. On this day, the stylistic ways of Sage Kotsenburg, which won him gold in slopestyle at the 2014 Winter Olympics, were no match for the technical prowess of the guys on podium.
Gold Prediction: Sage Kotsenburg
Winner: Mark McMorris, Kotsenburg 5th
Ski Superpipe Men's Final
David Wise was the prohibitive favorite to win the final event of Winter X Games 2015, but in what may be considered the biggest upset of the weekend, neither he nor Gus Kenworthy were able to crack the podium. Instead, the likes of Simon d'Artois, Kevin Rolland and Alex Ferreira stood atop Buttermilk's last podium award ceremony before turning things over to Wiz Khalifa.
Gold Prediction: Gus Kenworthy
Winner: Simon d'Artois (Kenworthy 5th)
Snowmobile (Overall)
Levi LaVallee was injured in the snowmobile speed and style event, the first of the three snowmobile competitions, and did not participate in the remaining two. Thus, this prediction is a bit of a wash. Colten Moore won gold in the speed and style competition, Heath Frisby won the long jump and Tucker Hibbert won the snowcross race.
Gold Prediction: Levi Lavallee
Winners: Colten Moore, Heath Frisby and Tucker Hibbert, Lavallee DNP