How surfing icon Dane Reynolds left his mark on the next generation
The story behind surfing icon Dane Reynolds and his lasting influence on the sport that he loves.
If riding waves is an extension of a surfer's personality, then Dane Reynolds's would appear to be split. Or in the very least, complicated as hell.
Reserved, even shy on land, Reynolds in-water projects an aura that defies his laid-back personality. With perfect body positioning, he attacks every wall as if it's the last he'll ever draw a line on, completing powerful rail turns in critical sections, casually tucking into barrels and generally utilizing fantastic technique to tear apart the surf. And his air game speaks its own language, as he has helped revolutionize above-the-lip maneuvers (see the photo above).
While the mainstream may never fully grasp Reynolds's impact on the sport, he has redefined professional surfing in the past decade, doing it his way while influencing a generation of wave riders with his unhinged approach—arguably as much as Kelly Slater has with his competitive prowess—not to mention his influence on board design, and even clothing styles. And as the Ventura, Calif., legend reached a milestone in his own life last month, turning 30 years old, that has become his legacy: making a living by just "being himself," something we could all aspire to.
Kelly Slater Q&A: The surfing legend on Mick Fanning's shark attack, more
"He probably won't get an invitation to be on Jay Leno," says Britt Merrick, son of Al Merrick, who handles design for Channel Island Surfboards. Britt has worked with the sport's best athletes, including Slater and others, to create custom equipment. And no one has worked more closely with Reynolds, a talented shaper in his own right. "There's some form of legitimacy that comes with world titles and competitive surfing, but looking back on history years from now, Dane is going to be such a huge part of it. It's not uncommon to hear the world's best surfers refer to Dane as being the best surfer in world."
It's now a tired conversation: Is Reynolds—whose family moved to beachside Ventura, Calif., from inland Bakersfield when he was 10—ever going to put full-time energy into the competitive realm, which he abandoned in 2011 after finishing No. 4 in the world the year before, whetting the appetite of—and at the same time, angering—surf pundits?
"It's hard to really explain but that's kind of the eternal struggle for me," says Reynolds. "When you're a kid you idolize pro surfers and want to do what they do. The only route is the NSSA to get noticed and get sponsorship but I'm not good at pretending and I just don't like competing because it gives me anxiety and nerves. I like it when I put on a good performance but it's not something I want to focus my energy on all the time.
"From a fan standpoint, I want to watch guys like John John compete—I understand. But I don't really feel like I owe it  to anyone to compete," says Reynolds. "But it's pretty bizarre to me that it's become such a public issue. I try to handle it well, random people love to come talk to me and ask me about competing and I just do my best to explain it to them."
Those who have taken issue with the new father's lack of competitive drive are missing the point: surfing's not pro football. Riding waves is as much about the artistic approach as it is about the competitive fire, and you can still enjoy the game even if you don't play in the stadium. And Reynolds is all artist, subtly creating an Internet-driven legend around his own brand with an underground appeal that has resonated well with a younger market, making him promotional gold for surf-centered companies such as Vans.
When he walked away from the World Tour he left to work on film projects he felt he was missing out on, flicks that have become tremendously influential among young surfers today, many of whom have mimicked Reynolds's attacking style in performance waves, mixing power and air seamlessly. To put it simply, DVDs are still passed around amongst aspiring groms but now, more than ever, clips from these movies end up on YouTube and social media—virally swaying millions of future surfers.
SI Vault: The beloved Duke of Waikiki, from the Olympics to surfing stardom
Reynolds feels the best surfing he has ever done was in the 2012 Kai Neville-flick Dear Suburbia. And his web videos released on his own site, are some of the most highly anticipated in the sport. "Dane's had a very powerful impact on the surfing world," says Rob Machado, who also abandoned the grind of the pro tour early after nearly winning a world championship in 1995. "He's one of those guys that could never quite pull it all together in a contest, we saw moments of brilliance, but he never seemed happy competing. But he's not slacking off in the [free surfing world]. A lot of modern surfers look to Dane as a leader in that realm. Dane goes into hiding [to work on a project] and then releases something and people are like, 'Whoa.' He reminds everyone that, 'Yeah, I'm still here,' and everyone is like, 'Thank you, Dane.'"
And as a reluctant surf celebrity, Reynolds can't help but be a little happy that his surfing has changed people. "If I see some young kid reference me as one of their influences, that makes me pretty proud," he says.
Reynolds's presence has made surfing more interesting for more than a decade now and, as he passes 30, what does the next 30 years look like for one of the sport's most iconic figures? "Dane loves surfing and surfboard design, and he surfs more than anyone else I know," says Merrick. "I'd love to see him involved in design. He has talent and he really understands how a surfboard works. It'd be a great next half of his career."
Photos courtesy of Morgan Maassen (www.morganmaassen.com).
GALLERY: SI's greatest surfing photos of all-time
Sports Illustrated's greatest surfing photography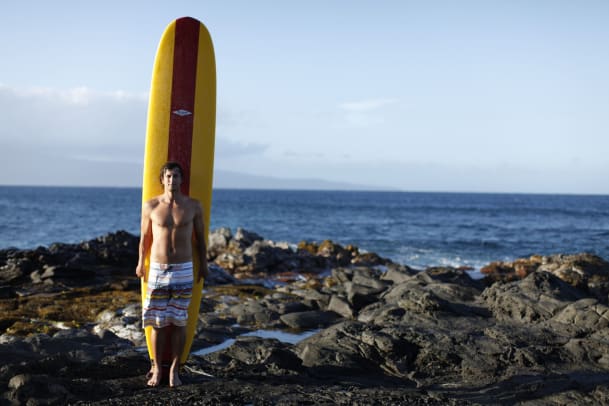 ​