2014 Olympic champ Iouri Podladtchikov on the perfect halfpipe
2014 Olympic halfpipe gold medalist Iouri Podladtchikov discusses his ideal run and some of the difficulties halfpipe riders face during competition.
When it comes to his riding, 2014 Olympic halfpipe gold medalist Iouri Podladtchikov is a realist. He doesn't like to fantasize about tricks or runs that he can't bring into reality. Despite his love and talent for halfpipe snowboarding, the man known as IPod contends with difficulties and drawbacks of the discipline like anyone else.
Somewhere in Podladtchikov's mind, past the real world circumstances that keep his ideal run confined to the depths of his imagination, is a sequence he believes is superior to that which earned Olympic gold in Sochi two years ago. All anyone had to do was ask.
"It starts off with the biggest Backside Air I've ever done, where I'm not even looking down, but looking to the side. I love that view, but never get to keep it for long because you must be focused up there," Podladtchikov says. "From that, I'd go into a similar sized Air to Fakie. I love those after each other. Then comes the Yolo Flip, my signature Doublecork Cab 1440, going into a Double Alley-Oop Rodeo. I'd finish up with a perfect double McTwist 1260 and a Front Side Doublecork 1260 Tail Grab."
Big Air at Fenway Park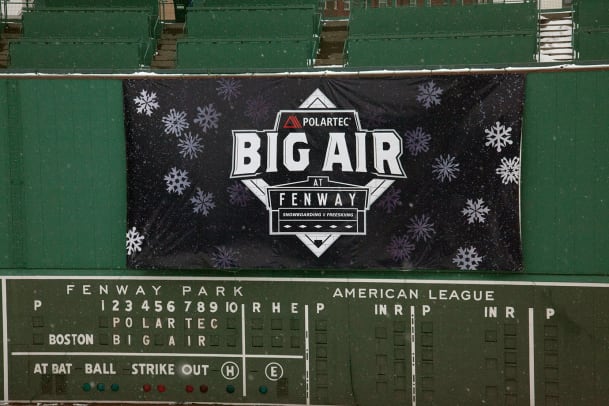 in between and the mid-air presence to add stylistic grabs to the technical tricks.
Unfortunately for IPod and his fans, he says that while this run is within his abilities, competition is a difficult setting to shoot for the ideal scenario because of the inherent difficulties of being a pipe rider. Halfpipe riding, the most difficult of the three snowboarding disciplines according to Podladtchikov, is all about momentum, speed, confidence, transition and the very specific circumstances necessary to combine all four elements into a perfect sequence. It's very rare to find them all during competition.
Podladtchikov describes those circumstances as a daytime start under a cloudy sky that protects against glare from the sun and the lights that illuminate the pipe at night, a temperature just below freezing and no wind or precipitation. He believes the adaptations and adjustments that halfpipe riders have to make from event to event, pipe to pipe, are greater than those who compete in Big Air and Slopestyle.
"Back in the in the day over in Europe, the halfpipe was called the 'King's discipline' because it was thought to be the most difficult. I would still say yes to that," Podladtchikov says. "I wouldn't say Slopestyle is more difficult than riding pipe, and that's because I'd say the changing conditions at the time of an event affects pipe way more than slope."
are the same.
"Building and maintaining speed and amplitude can be half the battle in pipe riding. Confidence in transitions translates into amplitude; it's almost it's own trick in the eyes of judges," Podladtchikov says. "The best conditions in any pipe are those you can adapt to quickly. The quicker you can adapt and get back to where you were the year before when you were in that event's pipe, the better off you'll be. You'll never see anyone just drop in and do the exact same thing they did at another halfpipe. It all looks the same, but it's never the same."
At last year's Burton U.S. Open, after a great morning practice for the entire field of riders, a brilliant midday sun melted the right wall of the pipe in less than an hour. When the snowboarders returned after lunch to pick up where they'd left off, they found the vertical edge at the top of the wall almost melted away. According to Podladtchikov, every rider in the field decked out (landed outside of the pipe) at least once. This is just one way that conditions in a pipe can go awry quickly.
Snowboarders, skiers set to take over Fenway Park for unique Big Air event
says. "Another thing to think about during Dew Tour, X Games and U.S. Open is the dry cold in Colorado. Cold is good, but dryness, which is a big problem here, is not. No wax in this world can fix it. When the pipe gets sticky, it's not even close to the speed you reach when a pipe is flowing. It's a poker game. You never really know what will happen."
IPod came into 2016 as two-time defending champion at the LAAX open in his home country of Switzerland. This year, he failed to reach the finals with the world's largest halfpipe wrapped in fog and snow. Podladtchikov spoke with SI.com on the day before the ill-fated X Games Aspen men's snowboard pipe final that was called after one round due to heavy snow. He said at that point that he still hadn't found the flow in the 22-foot Buttermilk Superpipe that is so important to riding well in competition. He never would; by the time IPod dropped into the pipe during competition—he was the eighth of 12 participants—the intensifying snow had compromised the edges and all but killed any potential for speed in transition.
That blizzard canceled the men's snowboard pipe final after just one round. Podladtchikov finished dead last with a score of 11.33 because he went down early in his lone run. The ski Big Air competition went on without delay directly afterwards, supporting IPod's argument that pipe riding can be impossible to do at a high level without proper conditions. Though he concedes that X Games is the event that gives riders the best shot to do well, the current format of the competition final is his biggest grievance with event snowboarding.
"Competition dictates that a run has to be scheduled to the minute. It's the only thing that kind of annoys me about our sport. You can tell that some people aren't comfortable with it and it negatively affects them," Podladtchikov says. "When I look at surfing competitions, they wait for the perfect wave. They'll get a half an hour to pick one to paddle out into. We don't; the start guy says 3-2-1 go and you don't have a choice."
Podladtchikov has not had very good luck so far this season, but you need only peek into his imagination to remind yourself of the feats he knows he is capable of. His luck may be about to change; the next pipe IPod will drop into for an event will be the X Games Oslo pipe, which Podladtchikov called his favorite in the world.
The SI Extra Newsletter Get the best of Sports Illustrated delivered right to your inbox
Subscribe
"I love the pipe in Oslo because of the pitch. I'm difficult to please with steepness, whether too flat or too steep, but Oslo is perfect," Podladtchikov says. "I feel more like I'm in a video game while I'm there more than at any other event."
A pipe he feels at home in—and some favorable weather—could be all Podladtchikov needs to turn his 2015-16 season around.