Wednesday's A.M. Hot Clicks
Mr. Personality
Wednesday's A.M. Hot Clicks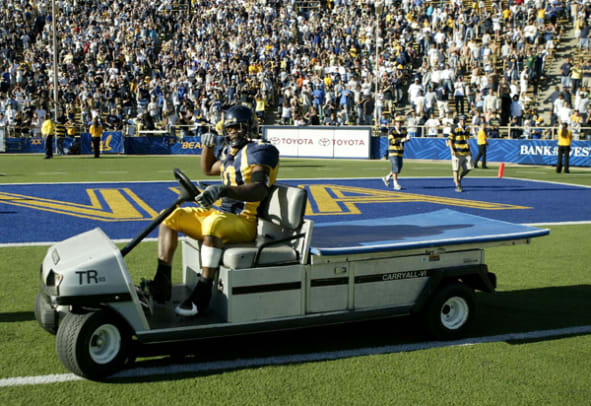 I'm back from a long weekend in Seattle. Thank you to Brett Smiley for filling in and covering all things Media Day in Tuesday's P.M. Clicks. As you may have read, Marshawn Lynch will be one of the most important players in Sunday's Super Bowl, but he stayed in the background yesterday and let others do the talking. SI's Jim Trotter has a good profile of the running back and why he's one of the most beloved players in the Seahawks locker room. I remember back in the fall of 2006, when Lynch, then a running back at Cal, commandeered an injury cart and took it for a ghost ride (a pop culture phenomenon at the time) across Memorial Stadium. I've collected some photos that show the lighter side of Lynch to show that he's not always in Beast Mode.
Chipper Jones, Superhero
Chipper Jones continues to be the most entertaining retired player in baseball. Yesterday, former teammate Freddie Freeman tweeted about being stuck in traffic for five hours in the snow. Jones decided to come to his rescue, driving his four-wheeler to Freeman and taking him home.
Magic Disses Kobe
Magic Johnson tweeted out a list of players - Michael Jordan, Larry Bird, Kareem Abdul-Jabbar, LeBron James and Kevin Durant - who have carried their teams on their back and won. Kobe Bryant was not on the list and Laker fans took notice. Magic also ripped Mike D'Antoni and called Dennis Rodman a traitor during an appearance on the Tonight Show with Jay Leno on Tuesday. Kobe, meanwhile, is feuding with a stationary bike.
Lovely Lady Of The Day
Wednesday's A.M. Hot Clicks
Nicole Trunfio wore this dress to the Grammy Awards and earns today's LLOD honors.
Hot Clicks Giveaway
The fine folks at Man Crates have given me a Seahawks and Broncos barware crate to give away. The first two people who email me (andy_gray@simail.com) the name of Shane Battier's charity, which was mentioned in yesterday's A.M. Hot Clicks, will receive them. Please make the subject line "Man Crates." I should also mention that Man Crates is offering a 25 percent discount on both team's bar crates leading up to the Super Bowl.
(UPDATE: 11:43 a.m. - Contest is closed. Winners will be notified this afternoon. More giveaways to come).
Vine of the Day
I've never linked to a Vine video in Hot Clicks because I've never seen one worth posting. Until now. Canadian skier Travis Gerrits "eats" former Olympic champ Lydia Lassila.
SI Vault Photo of the Day
Tom Selleck and Pam Anderson :: Steve Granitz/Wireimage
Tom Selleck turns 69 today. We're celebrating with this shot of the mustachioed actor and Pam Anderson at a 1992 charity baseball game. For more vintage sports photos, follow the SI Vault on Twitter. While you're at it, follow my personal Twitter account (it's the first place I post Clicks every day, which is valuable for giveaways) and Extra Mustard as well.
Odds and Ends
Kendall Marshall made a half-court shot while sitting down during shootaround on Tuesday ... This fan got an enormous LeBron James tattoo inked on his back ... Jack Nicholson took a duck-face selfie during the Lakers game last night ... Jerry Buss received his own bobblehead last night. Phil Knight will get one as well during Saturday's Oregon-USC game.
Introducing the First 2014 SI Swimsuit Model
The rollout to swimsuit 2014 has begun, starting today with Hannah Davis on the Jersey Shore. We will be releasing a lot more from the swimsuit bag before the official release of the issue on Feb. 18.
[si_cvp_video id="video_78FA3C7E-46CA-AB99-6A96-DCB923F0E4E0"]
Remembering David Stern
SI's Point Forward NBA Blog put together its All-Sanction Team, a collection of players, coaches and mascots that drew David Stern's ire. The MVP of the team is definitely Rasheed Wallace.
Congrats, Joakim
The Bulls honored Joakim Noah for making the All-Star team with this short video, even though the reserves aren't being announced until tomorrow night.
DiCaprio Steals the Show
I finally got around to seeing Saturday Night Live and thought Leonardo DiCaprio was hilarious during Jonah Hill's monologue. Can we please sign him up to make a comedy already?