Thursday's A.M. Hot Clicks
Q&A: Marshawn Lynch
Thursday's A.M. Hot Clicks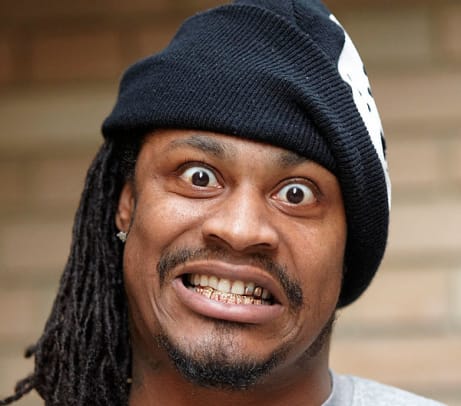 The biggest Super Bowl story of the past couple days has been Seattle running back Marshawn Lynch's aversion to the media and their reaction to his silence. I was able to get Lynch for 15 minutes on the phone last night (thanks to my good friends at Skittles) and he couldn't have been cooler. Here's a link to the entire interview.
SI.com: Did you get a lifetime supply of Skittles as part of the deal?
Lynch: (laughing): No, I think the fans took care of that for me.
SI.com: I saw your mom used to call the power pellets when you were little.
Lynch: Not used to. Still does.
SI.com: I read this story about you owning a dog when you were in Buffalo and the homeowners made you get rid of it because it wasn't within the rules. What exactly happened there?
Lynch: No, it wasn't that it wasn't in the rules. I guess the homeowner's association didn't approve of the type of dog I had, which was a baby pit.
SI.com: Do you have a dog now?
Lynch: I do.
SI.com: What's its name?
Lynch: Ice.
SI.com: What does he do while you play? Does he watch your games?
Lynch: Haha, no. He's out doing his doggie dog thing, living in his doggie dog world. You feel me?
SI.com: I feel you.
Unsportsmanlike Conduct
A lawsuit claims that Eli Manning and the Giants created fake "game-worn" football gear to fool fans and make money from collectors.
Really Unsportsmanlike Conduct
A student at South Carolina's Gaffney Middle School laced the other team's Gatorade with bleach during a basketball game.
Lovely Lady Of The Day
Thursday's A.M. Hot Clicks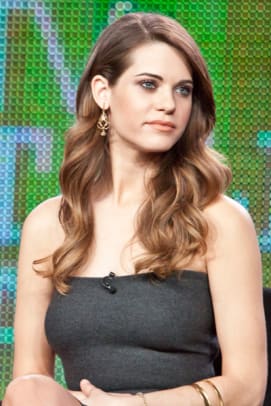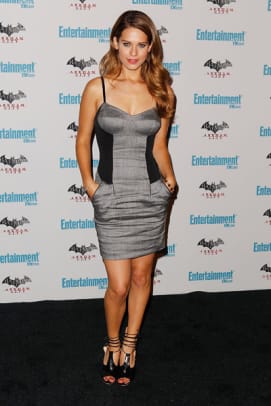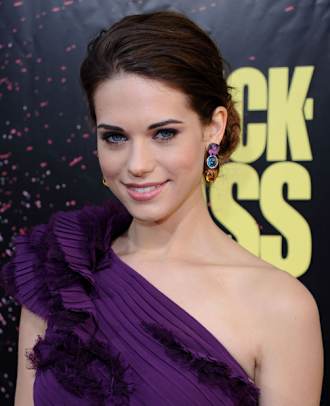 In honor of Marshawn Lynch, I am highlighting another proud Oakland native as today's LLOD. Her name is Lyndsy Fonseca.
Super Bowl Players With Pixie Haircuts
The photoshop wizards at Mandatory are back with a look at what Super Bowl players would look like with pixie haircuts.
In Hooters News
Big day for Hooters with two separate Hot Clicks-worthy items. First, the Broncos players rented out a New Jersey Hooters so their families would have a nice place to enjoy Sunday's game. Second, Warriors guard Klay Thompson posed with 10 waitresses from the famous restaurant during a recent visit.
SI Vault Photo of the Day
Jalen Rose :: Bill Wippert/SI
Jalen Rose turns 41 today. In this 2005 photo, Rose works the turntable during a SI photo shoot at Steve's Music in Toronto. For more vintage sports photos, follow the SI Vault on Twitter. While you're at it, follow my personal Twitter account and Extra Mustard as well.
Odds and Ends
The best tweets sent by each of the 44 Super Bowl starters ... Darryl Strawberry thinks Alex Rodriguez is getting a raw deal ... Tony Parker attempted the worst free throw in NBA history .... Deion Sanders thinks Bill Belichick and Tom Brady are the greatest of all time ... Seahawks kicker Steven Hauschka has been riding the NYC subway all week and nobody has recognized him ... I love this story of a Blackhawks fan trying to frame a Canucks supporter for throwing a jersey on the ice.
The Ballad of Peyton and Eli
This cracked me up. (HT: Lightly Buzzed)
David Stern Does Letterman
The NBA commissioner, in his last week in office, presented a list of "Top 10 things I've learned in my 30 years as commissioner of the NBA" on Letterman last night.
Spoof Of The Day
Raiders wide receiver Rod Streater spoofs the Beats by Dre commercials.