Thursday's A.M. Hot Clicks
Busted!
Michael Pineda was ejected from last night's Yankees-Red Sox game after being caught with pine tar on his neck (here's a GIF of the actual ejection). GM Brian Cashman said the team was embarrassed by the incident while former players George Brett (who knows a thing or two about pine tar) and Gabe Kaplercouldn't believe how obvious Pineda was about it. Our friends at MLB Memes had the best reaction to the incident as Ed Harris was the first person I thought of.
Single and Ready to Mingle
Two seasons ago, Alex Rodriguez spotted a pair of attractive girls in the stands and tossed them a ball asking for their phone number. Phillies catcher Wil Nieves has a different approach for picking up women. He posted his profile on Tinder.
Tale of Two Fans
I was all set to trash this Habs fan who snagged the stick Max Pacioretty was trying to give to a youngster after Wednesday's Montreal-Tampa Bay game. But the fan had a change of heart and gave the stick to the kid. This Red Sox supporter, however, had no problem stealing the ball shortstop Xander Bogaerts was tossing to a young fan in the first row.
Lovely Lady Of The Day
Thursday's A.M. Hot Clicks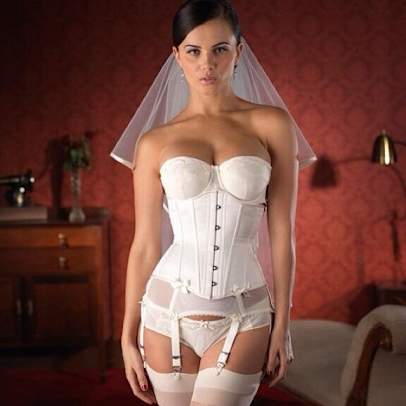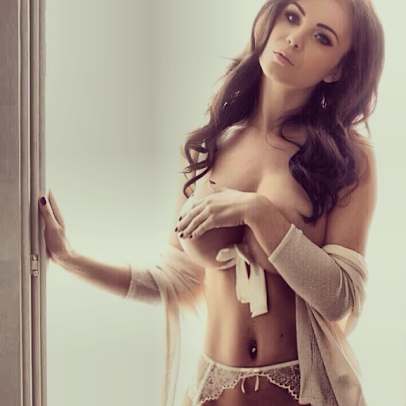 Emma Glover describes herself as an "experienced lingerie wearer and international model." She can now add LLOD to her impressive resume.
Trend Alert: Toressing
Raffi Torres became an internet sensation last season when CSN host Brodie Brazil tweeted a photo of the Sharks forward (and his bulging eyes) on the bench. Torresing, as it's now called, was in full effect last night when Brazil tweeted a new photo of Torres caught in the act.
The Newest Two-Sport Star
Congrats to former NBA all star Tracy McGrady, who officially made the Sugar Land Skeeters roster and will open the season as one of its pitchers.
From the SI Vault
Chipper Jones :: Damian Strohmeyer/SI
Chipper Jones turns 42 today. Back in 1993, Jones was just another 21-year-old trying to make the big leagues. In this pic, Jones relaxes on a couch in the Richmond Braves locker room. For more classic sports photos, visit the SI Vault on Twitter.
Odds and Ends
Seahawks QB Russell Wilson has filed for divorce from his wife of two years ... Clippers broadcaster Michael Smith should be stripped of his postseason awards ballot ... Did James Harden party too hard over the weekend ... Tim Tebow was the subject of a $400 Jeopardy question during last night's show ... Nick Young threw out a horrendous first pitch before last night's Dodgers-Phillies game ... Joe Paterno is getting his own statue in State College, though it's being built without support from Penn State ... The 25 funniest behind-the-scenes movie photos ... Former Baywatch star Traci Bingham was caught in a "dine and dash" after her credit cards were rejected ... A chimpanzee named Tommy is suing his captor. Seriously.
It's Too Easy
Duke University is the butt of many jokes. Members of the school's track and field team lip-syncing to a One Direction song isn't helping matters.
No-Huddle Bingo
Auburn football coach Gus Malzahn visited a nursing home and had some fun with the residents. (HT al.com)
This Doesn't Happen Very Often
Twins 1B Chris Colabello hit a two-run shot home run at the exact same time his mother (who was celebrating her birthday) was being interviewed on FSN.
[mlbvideo id="32326113" width="600" height="336" /]
New Sport Alert: Roller Golf
Jimmy Fallon and Cameron Diaz introduced this exciting new sport during The Tonight Show on Wednesday.