Harsh Tonalist
California Chrome co-owner Steve Coburn. (NBC/YouTube)
California Chrome finished in a disappointing fourth-place tie Saturday in the Belmont Stakes, becoming the 13th horse since Affirmed notched horse racing's triple crown in 1978 to win the Kentucky Derby and Preakness but fall short at Belmont. As evidenced by his fiery expression and pointed finger, Chrome co-owner Steve Coburn expressed outrage that the winning horse Tonalist and others in the field did not participate in the Derby or Preakness (or neither), saying "This is the cowards's way out." Watch the rant, which felt more like a Sgt. Slaughter WWE promo than a post-race interview, below.
A salty Coburn did not shy from his stance this morning. Rather, he made an ill-advised analogy about California Chrome's plight -- having to race three times in five weeks, and against some rested colts in the final leg of the Triple Crown. Coburn told ESPN:
"These people nominate their horses for the Triple Crown and then they hold out two [races] and then come back and run one. That would be like me at 6-2 playing basketball with a kid in a wheelchair. They haven't done anything with their horses in the Triple Crown. There were three horses in this race that ran in the first two -- California Chrome, Ride on Curlin and General A Rod -- none of the other horses did. You figure out. You ask yourself, 'Would it be fair if I played basketball with a child in a wheel chair?'"
There's a point in there about an equal playing field but Coburn knew what he signed Chrome up for. Also, does Coburn even play basketball?
Controversial Call Infuriates Rangers
The Kings downed the Rangers 5-4 in double overtime of Game 2 of the Stanley Cup Finals after the Rangers once again opened a two-goal lead to start the game. Without going Full Coburn, Henrik Lundqvist justifiably fumed when the referees didn't call goalie interference on Dwight King on this goal that pulled the Kings within 4-3. Here's what New York Daily News headline writers had to say about that.
Johnny Manziel, Bizarro Kenny Powers, and Mariano Rivera III Drafted
The MLB draft lacks the bells and whistles of Radio City Music Hall but it did deliver some entertaining moments: the Padres drafted Johnny Manziel in the 28th round; the Yankees selected Mariano Rivera's son, a sophomore pitcher at Iona, in the 29th round; and best of all, the Yankees also drafted Sean Carley, a real-life version of Kenny Powers. Here's what Powers once said about playing in New York: "You mean Jew York? It's f***ing great."
Cheerleader of the Week
Weekend Hot Clicks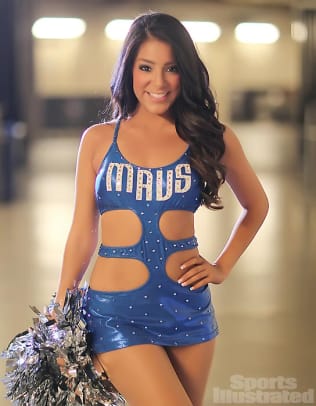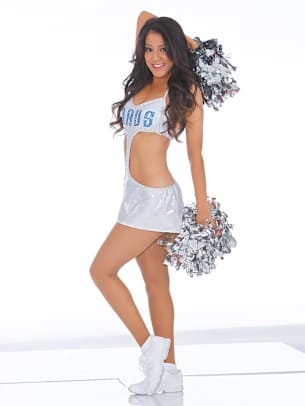 Meet Mavericks dancer Emily, a self-proclaimed procrastinator who wishes she could sing like Beyonce and whose celebrity crush is Channing Tatum. Click here for Emily's full gallery.
Kid Writes Greatest Letter From Camp Ever
The boy, who is likely to make his mother go gray at a young age, is having a blast at riflery and windsurfing, and is thankful his mom packed extra underwear since he had "diyareeya."
Reporter Breaks Ankle During Interview With Dale Earnhardt Jr.
That's not the slang use of the phrase -- he literally broke his ankle.
World Cup Trick Shots
French trick shot artist Rémi Gaillard packs some impressive, creative trick shots into one video with one shot for each World Cup team (32).
Odds & Ends
LeBronpays homage to Iverson's "practice" rant during presser ... Here's Shaq styled like California Chrome's jockey ... L.A. Kings trolled the Rangers outside Madison Square Garden ... Johnny Manzielpartying on an inflatable swan ... the Miami Heat have some pretty attractive supporters ... Jozy Altidorescored twice in a friendly against Nigeria ... The Chicago Bulls logo upside down looks like a robot ... Cubs fan got pretty jacked up after catching home run ball ... Dodgers pitcher Hyun Jin Ryu tries the Puig bat flip ... Mel Gibsonwith some UFC ring girls ... The Tampa Bay Rays heartfelt tribute to Don Zimmer ... Padres fan in a bear suit ... Follow me on twitter @brettsmiley.
Coach Saban Took Some Bama Players Tubing
Something for recruits to keep in mind. [CollegeSpun]
Here's a Sergeant Slaughter Promo
Chris Sale Takes Out Frustration With a Bat
He had just given up a granny.
Baby Got Back -- and Strings
Here's Sir-Mix-A-Lot performing "Baby Got Back" with the Seattle Symphony. [UPROXX]