Mustardite Brett Smiley in this week for Andy. Send tips to basmiley [at] gmail [dot] com or hit me up and/or follow me on Twitter @brettsmiley.
The Zen King
LeBron James ::: Getty Images
This time in a climate-controlled AT&T Center, LeBron James answered his foolish leg-cramp detractors with a dominating 35-point, 10 rebound effort in the Heat's 98-96 victory over the Spurs, knotting the series at 1 game apiece before the teams head to Miami. The secret to his outstanding performance? He's the best damn player in the world. But James also benefited from an early morning yoga practice Sunday, and on Saturday evening he cleared his head at a showing of Maleficent that he attended by himself.
Though the AC worked fine, Game 2 did not lack controversy: Get a closer look at the absurd Dwyane Wadeflop that drew a foul on Manu Ginobili. Later, Tony Parker took an elbow from Mario Chalmers that really didn't look that bad, though Parker lay on the ground clutching his solar plexus for a minute, prompting a new meme dubbed "Parkering" that makes fun of the Spurs' point guard's misfortune.
These Two Royals Fans Must Have Lost a Bet
A pair of apparent cat lovers showed up for the Royals-Yankees gameat Kauffman Stadium Sunday to bid farewell to Derek Jeter, and they did so in the most disturbing way possible.
Landry Fields Dressed Up Like Nicki Minaj, Sang "Starships"
Fields had his buttocks enhanced for the performance, which no one enjoyed more than Richard Simmons.
Lovely Lady Of The Day
Monday's A.M. Hot Clicks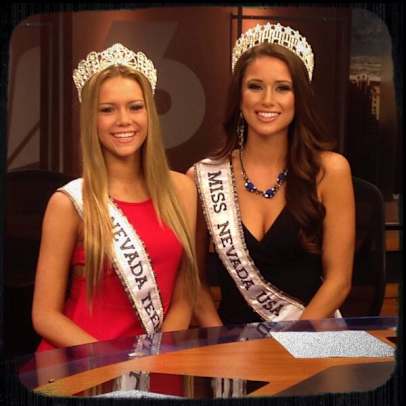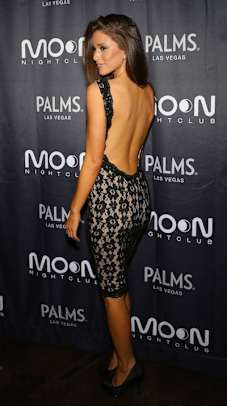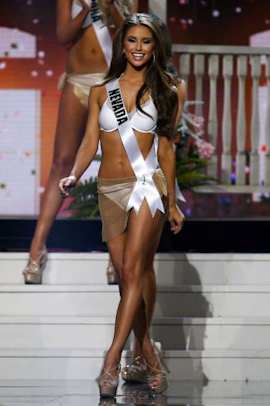 Nia Sanchez, previously Miss Nevada USA, was crowned the 63rd Miss USA last night at the pageant in Baton Rouge. Sanchez is a fourth-degree black belt in taekwondo and if you go take a look here you'll see she looks fine in a swimsuit and a dobok. Check her out here flashing those taekwondo skills. You can follow her on Twitter here.
Confidential NFL Demands For SB Host Read Like Obnoxious Musician Rider
Among other "specifications and requirements" the league had for Minnesota's Super Bowl hosting committee, the host committee shall build a "sufficient number of portable cellular towers" at no cost to the league if cellphone signal strength at team hotels are not strong enough. That's after the committee sorts M&M colors with arms tied behind their backs.
Ballboy Screws Up, Glues Himself to Seat
The poor guy gave away a ball he fielded outside of right field that was actually ruled fair and in play. He sat there kind of comatose until the next inning when another ball shot up the right field line that was clearly foul, but too close for the newly cautious ball boy, who didn't budge from his seat. You have to see to fully appreciate it.
Two Grown Men Fight Over Bat in Stands
One of the men wears a neck brace.
Odds & Ends
World Cup street art in Brazil ... Manny Machadolaunches bat at A's (it's no accident), inciting brawl ... Dale Earnhardt Jr., who won the Pocono 400 thanks in part to an errant hot dog wrapper, really enjoys Twitter haters... Max Scherzer took out huge insurance policy after rejecting humongous offer from Tigers ... NBC cameras show slow motion video of French Open runner up Novak Djokovic puking ... Meet a 30-year-old who loves dating grandmothers ... The Kings have not led a single second of regulation in either game and are up 2-0 on the Rangers ... Exhausted male guinea pig named Randy to become father to about 400 piglets after breaking into female enclosure.
Earnhardt vs. Barkley Race Go Carts
Big guy in a little suit.
Name Something Fully Loaded
Things get awkward after "gun" and "car/truck" come off the board.
Cat Teaches Kittens How to Fight