Mustardite Brett Smiley in this week for Andy. Send tips to basmiley [at] gmail [dot] com or hit me up and/or follow me on Twitter @brettsmiley.
Legendary Air Hockey
Photo: Twitter via @sean_leahy / Puck Daddy
That's Lakers legend Kareem Abdul-Jabbar on the left, hunching over an air hockey table built for regular-sized humans, and on the right, his opponent, Yankees great Mariano Rivera. What exactly is happening here?! Wrote Puck Daddy associate editor Sean Heahy, who witnessed the contest: "Currently watching Kareem vs. Mariano Rivera in air hockey reffed by Mark Messier. I don't think I'm drunk."
Turns out, Delta Air Lines sponsored the charity game with legends from Los Angeles and New York, a nod to the Stanley Cup Finals matchup. That's slightly disappointing because for a split-second I thought the greats might have crossed paths in Manhattan, talked some smack and settled their differences at an arcade. By the way, Rivera won the game 2-0, a fitting final score for a game involving Mo. (Maybe the team he's representing can protect a 2-0 lead tonight?)
John Oliver's Bloody Brilliant FIFA Takedown
The hysterical host of HBO's Last Week Tonight verbally lashed the corrupt FIFA and its president, Sepp Blatter, for a solid 13 minutes. Don't know much about FIFA? Here's a sample from Oliver's introduction:
"Telling someone about the inner workings of FIFA for the first time is a bit like showing someone "2 Girls 1 Cup": You do it mainly so you can watch the horrified expressions on people's faces."
High School Baseball Team Adopts Lucky Goat "Junior"
A starting pitcher for the Saline (Mich.) High Hornets, famous for losing in the finals, decided the team needed a goat, so he bought one off Craigslist. The goat, named Junior, has been a staple at the games. So far the Hornets have captured the regional championship, but they're hoping Junior can push them across the finish line. That sound you hear is Cubs fans (cursed by a billy goat) weeping.
Lovely Lady Round-up
Monday's P.M. Hot Clicks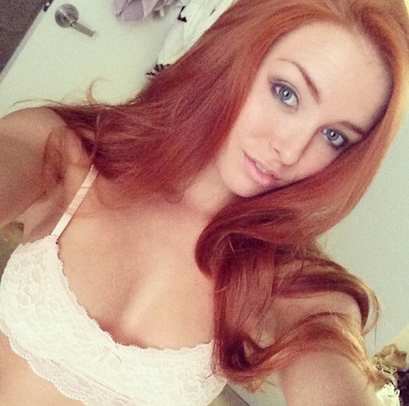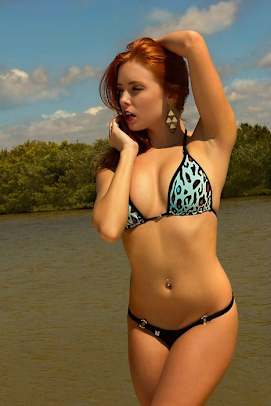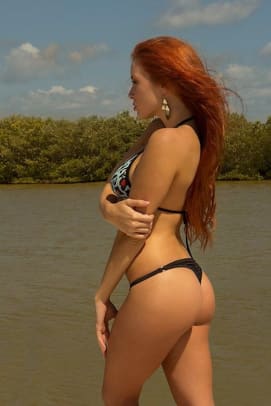 It's a good day for the redhead lovers, thanks to Jessica Sulecki, a 20-year-old model/college student in Florida. You can get more of Jessica at COED and follower her on Instagram and Twitter. ... Adriana Lima stars in a new World Cup spot ... Check out bikini model Kara Del Toro ... 35 pictures of Natalie Portman for her 33rd birthday.
Michael Jordan Walks Into a Classroom
That's not the start of some corny joke -- His Airness surprised some kids at a Charlotte school. Their reaction is priceless.
Waldo Family Attends a Diamondbacks Game
Mark Smith from Chandler, Ariz., along with his two daughters and son, dressed up as Waldos at the Diamondbacks game yesterday. I exchanged e-mails with Mark, who said the costumes were his idea. "At first the girls were a little embarrassed, but they had fun with it," he said. "Lots of their friends were texting them that they saw them on TV." Smith added that "Lots of people yelled 'I found you' as we walked around."
I also waxed philosophic with Smith about whether Waldo actually has a wife and kids. He's not sure and I'm still puzzled. If things went sour, imagine trying to serve Waldo with divorce papers? I digress.
The Philadelphia Eagles Rookie Dinner Cost the Newbies $17,747
Second-year lineman Lane Johnsonposted the receipt and 700 Level breaks it down for you.
Odds & Ends
Maryland's football coaching staff members looks pretty silly in their goofy "Think B1G" sunglasses ... DeMarcus Cousins (wearing a bass drum) loses 1-on-1 game to Jimmy Kimmel ... Belmont leftover: Wes Welker's horse, "Undrafted," won a big purse ... Knicks "ramping up" efforts to make Derek Fisher the next Knicks coach ... Rare and classic photos of Arnold Palmer ... EA Sports published the NHL 15 E3 trailer and it's awesome... Sixteen little-known facts about the NBA Draft ... Powerade fires back at Gatorade following LeBron's big performance in Game 2 ... The sexiest player from each World Cup team ... World Cup hopes and narratives squeezed into a tidy Venn diagram ... In an interview with apologetic California Chrome owner Steve Coburn, Robin Roberts asks in a roundabout way if Coburn had been drinking before his rant.
Fathers Surprise Blue Jays Players
Remember it's Father's Day this Sunday. [H/T Adam]
Well Done, McDonalds
Another cool soccer commercial.
My Name is Roger Murdock, I'm the Co-Pilot
You knew this was coming.
And Speaking of Goats...
Thanks, Hypervocal.