Tuesday's P.M. Hot Clicks
Mustardite Brett Smiley in this week for Andy. Send tips to basmiley [at] gmail [dot] com or hit me up and/or follow me on Twitter @brettsmiley.
World Cup Preview
Team USA during a training session at Sao Paulo FC. (Getty Images)
Fewer than 48 hours remain until the 2014 World Cup kicks off when Brazil will face Croatia at Arena Corinthians in São Paulo. Here we go with an all-World Cup round-up: Get SI.com's Planet Futbol preview here ... Want to see the entire field pixelated? ... The Economist has a mesmerizing, sortable infographic showing every World Cup goal ever scored ... Get listings information, announcer pairings and more at Richard Deitsch's World Cup TV coverage guide ... The seven best jerseys, according to DStv ... If you're not sure who to pull for, try this rooting guide flowchart ... Our Scenes from the World Cup gallery, which is updated daily with photos from Brazil and elsewhere ... And if all you really wanted was a lovely lady from every country competing for the trophy.
Anti-Washington DC Football Team Spot Will Run During NBA Finals Tonight
It will be a 60-seconds version of a powerful, already-published two-minute video by the National Congress of American Indians. It will have a huge audience tonight (in seven cities including New York), that may or may not include NFL Commissioner Roger Goodell.
Your Probably Didn't Know the Real Names of These 25 Wrestlers
Have a stroll down memory lane with Aurelian Smith Jr.
Lovely Lady Round-up
Tuesday's P.M. Hot Clicks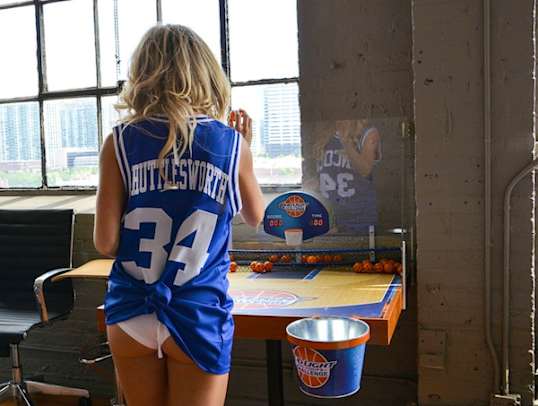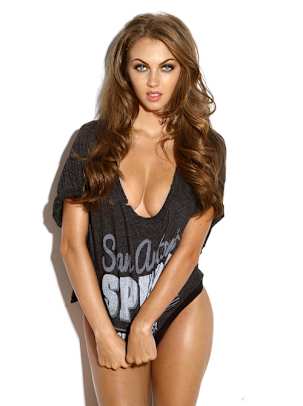 Deana Sophia Vera (representing the Spurs) and Ashley Michaelsen (Heat) joined The Roosevelts for an NBA-themed photo shoot and the result is a win no matter which team you support. You can follow Deana on Instagram here and Ashley here. ... Happy 22nd birthday to Kate Upton: BroBible commemorates the occasion with the 22 hottest things she's ever done, and Guyism celebrates with 22 Upton GIFs ... SI Swimsuit model Samantha Hoopes recently posed for Maxim ... And Mark Brunell's daughter, Caitlin Brunell, is Miss Alabama.
Hot Clicks Giveaway: Mark Messier-Signed Official Game 3 Puck
The puck comes to us courtesy of Delta Air Lines, the people who organized the Kareem Abdul-Jabbar versus Mariano Rivera air hockey game yesterday. To win the puck, tweet me @brettsmiley a picture of Messier hoisting the Stanley Cup in 1994. First person to send a correct image wins.
Update: We've got a winner. Stay tuned for more giveaways.
The Key to the Nationals' Recent Success: Banana and Mayo Sandwiches
A rather distasteful lunch.
According to first-year Nationals' bullpen coach Matt LeCroy, banana and mayonnaise sandwiches have fueled the team's recent resurgence. The Nats have won seven of their last 10 games, and LeCroy says they're 5-0 when he's eaten the southern delicacy before games. Indeed, baseball folk are superstitious.
I read this story before lunchtime, and as a curious, hungry northeasterner, I had to give it a shot. That banana-mayo sandwich above on a Kaiser roll (LeCroy eats his on white bread) with standard Hellman's mayo was my lunch. One sentence review: it wasn't very good. The mixture of mayo and banana was slightly offensive, or incompatible. Not much aftertaste, though. Maybe it's an acquired taste. Maybe I'm a terrible chef. I had to chase it with some turkey breast.
Miami Hurricanes Football Team Tells Fans to Attend Fewer Games
Is this reverse psychology or something? Check out the full explanation in the newspaper ad.
Jayson Werth Bids Farewell to his Dear Glove "Betsy"
After 10 beautiful years, it's so hard to say goodbye. Elsewhere in the life and times of Jayson Werth, here he is as a garden gnome giveaway.
Odds & Ends
Richard Sherman is lobbying for the Legion of Boom to appear on the Madden 15 cover ... Check out the Lehigh Iron Pigs' Batman jerseys ... Soccer referees run six to eight miles per game ... Syracuse and Georgetown basketball to renew rivalry ... Protesters objecting to World Cup overspending placed giant, inflatable soccer balls on a Brazilian beach ... UVA's dean of student tweets, then deletes shot at Maryland for leaving ACC ... Derek Fisherintroduced as Knicks head coach, has some New York media members fawning over him ... Study shows that shorter NBA referees have a Napoleon complex ... Former Rangers coach Mike Keenanripped the team's performance and demeanor ... Stuart Scottto be honored with the Jimmy V Perseverance Award ... Steve Buscemi discusses "Buscemi Eyes" meme with Seth Myers.
Jordy Nelson Crushes Softball Homer at Charity Game With Go-Pro on His Head
I also enjoyed the strike at 0:29, which was soft enough for Nelson to look down to see if it crossed the plate. [NESN]
Incredible Ultimate Frisbee Catch
Full extension. [Fansided]
Two French Rugby Fans Flash Their Chests
Probably only one of them you care to see. [Guyism]
Bad Parkour
He's the everyman's Parkour hero. [Laughing Squid]