Wednesday's A.M. Hot Clicks
Mustardite Brett Smiley in this week for Andy. Send tips to basmiley [at] gmail [dot] com or hit me up and/or follow me on Twitter @brettsmiley.
Check His Credential
ESPN/YouTube via @cjzero
The best part the Spurs' 111-92 smackdown and otherworldly shooting performance last night (over 75% in the first half) came after the game. (Unless you're a Spurs fan, of course, or had some cheddar on San Antonio.) During the postgame press conferences, "Bobby Ramos" of Bottomline! uttered a meandering, undecipherable question for LeBron James and Dwyane Wade. Just watch.
But then "Bobby Ramos Bottomline" (whose apparent website has exceeded its bandwidth limit, but you can check out his Facebook page) struck again when Erik Spoelstra took the podium, with this statement masquerading as a question.
Beautifully handled by Spoelstra. Who's in charge of the microphone down there?! I look forward to the Game 4 presser when we can only hope the legend of Bobby Ramos Bottomline will continue.
Blue Jays Fan With Pizza Breath Shut Down By Girlfriend
The man, in between bites of his stadium pizza, repeatedly pecked his girlfriend (or wife, I don't know) in the style of an actual blue jay until she decided she had had enough. You have to admire his persistence.
Padres Use Soaked Tarp For Slip 'N Slide at Citizens Bank Park
Alternatively, Everth Cabrera and Yasmani Grandal were practicing their head first slides. Former White Sox GM Ken Williams once said of Mark Buehrle's affinity for trap slip 'n slide, "He needs to find another hobby."
Lovely Lady Of The Day
Wednesday's A.M. Hot Clicks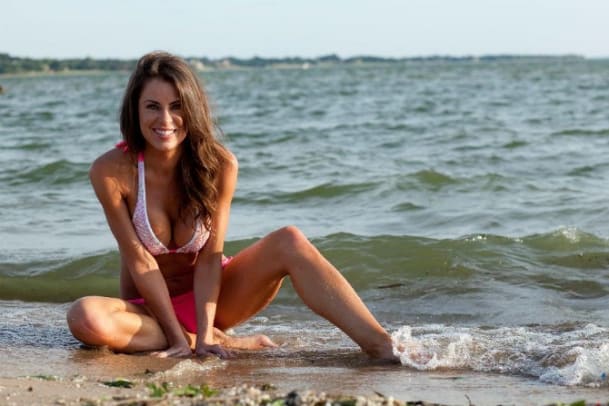 Today's lovely lady is model and Red Sox fan Alison McDaniel. You can follow her on Twitter here and check out her website.
Yoenis Cespedes Makes Absolutely Ridiculous Throw to the Plate
Seriously?! I guess Cespedesdoesn't need to play balls correctly off the bounce if his plan is to dupe runners into trying to beat his throw home. Here's what the Angels had to say:
World Cup Guide for People Who Don't Watch Soccer
A glossary of terms, odds to win the tournament and some talking points so you'll have a clue what everyone is shouting about for the next month.
The U.S. Men's Soccer Team With Alexi Lalas Hair
It's not easy to pull off the thin headband and massive goatee, and pretty much nobody on the current roster can do it.
Odds & Ends
Despite humongous 29-point performance, Kawhi Leonard wasnot spared Gregg Popovich's Five Point exploding heart technique ... Cost of Rangers-Kings tickets at MSG falling fast ... Texas Rangers cautioned to NOT do "the wave" at games for public safety (not aesthetic) reasons ... Crossing Broad reports that the man who puked on a girl at a Phillies game in 2010 has died ... Ben Revereshowing off his six pack while wearing a Spartan helmet ... Sony to produce live action Sonic the Hedgehog movie ... The Daily Show's report on unionizing in college football is as good as you may expect... Current highest bid for Gregory Polanco's autographed game-worn jersey from his debut has topped $16,000 ... Although the departure with under two minutes wasn't as egregious as last year's Game 6 premature exodus, some Heat fans hit the exits early again.
Trevor Rosenthal Messes With Rays Ball Boy
Tough week for American League ball boys.
Moves Like Blatter
Ladies and gentleman, FIFA President Sepp Blatter -- dancing.
Official Trailer for "Dumb and Dumber To"
The premise: "20 years after the dimwits set out on their first adventure, they head out in search of one of their long lost children in the hope of gaining a new kidney."
Motorcycle Jumps Airplane
In slow motion. The video, not the jump. [Awesomer]
Cody Jumps Skip from MikeL on Vimeo.