Wednesday's P.M. Hot Clicks
Mustardite Brett Smiley in this week for Andy. Send tips to basmiley [at] gmail [dot] com or hit me up and/or follow me on Twitter @brettsmiley.
Space Blatter
Sepp Blatter on his way to FIFA's interplanetary soccer stadium.
On the eve of the 2014 World Cup in Brazil, on Planet Earth, FIFA President Sepp Blatter told the organization's congress how FIFA might one day deliver the game of soccer to outer space. According to the Guardian, rather than address allegations that FIFA tapped Qatar to host the 2022 World Cup as a result of a bribe, Blatter joked that an additional tournament could be played somewhere in outer space.
"We shall wonder if one day our game is played on another planet? Why not? Then we will have not only a World Cup we will have inter-planetary competitions. Why not?"
Considering FIFA selected a nation in which temperatures reach 122 Fahrenheit in June, climate and/or oxygen considerations probably do not concern the organization. But to answer Blatter's question -- travel might be an issue.
The $10,000,000 World Cup Challenge
International Champions Cup is offering a whopping 10 million dollar prize to anyone who can correctly predict at least 30 of the 64 games to be played during the tournament. The statisticians can decide if this is more or less impossible than Warren Buffett's billion dollar bracket contest, but, why not?
Payne Stewart's Daughter Poses With Statue of Her Late Father
PGATour.com has a cool photo. Stick around for the Q&A with Chelsea Stewart, who returned to Pinehurst, site of this year's U.S. Open as well as the 1999 tournament won by her father, Payne Stewart.
Lovely Lady Round-up
Wednesday's P.M. Hot Clicks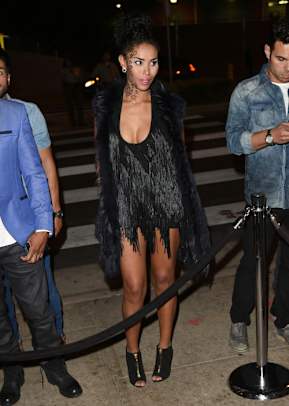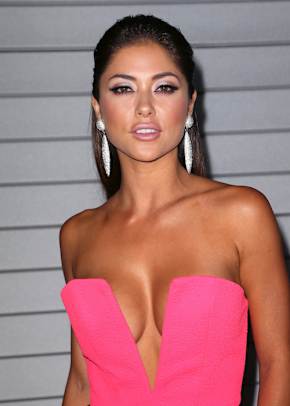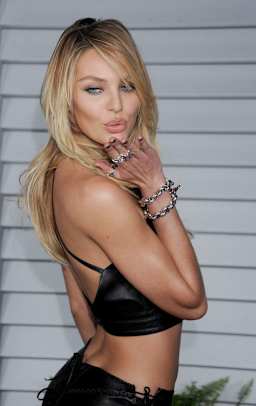 Arianny Celeste, Candice Swanepoel, Samantha Hoopes and many more (several in the gallery above) attended Maxim's Hot 100 party yesterday. Popoholic has a lot more of Swanepoel and other attendees ... Check out Playboy Playmates Britt Linn, Raquel Pomplun and Beth Williams sporting World Cup outfits (NSFW-ish) ... Maria Sharapova fans will enjoy these photos of her with the French Open trophy ... Jade Kastl is Bikini Team's model of the month ... Gallery of former Red Sox reporter Jenny Dell, who's joined CBS's NFL team.
Hot Clicks Giveaway: Seattle Seahawks Road to XLVIII BluRay/DVD
Cinedigm and NFL Films teamed up once again on the annual film title celebrating the Super Bowl Champion. This year's "Seattle Seahawks Road to XLVIII Post-Season Collector's Edition" includes the original network broadcasts of all three playoff wins against the Saints, 49ers and Broncos.
I have FIVE to give away and it's your choice of BluRay or DVD. Haven't gotten your dad a father's day gift yet? It won't get there in time but print him a photo and maybe he won't hold it against you. To win a copy, tweet me @brettsmiley a picture of yourself wearing a Seahawks jersey. Of course I'll have no idea if the image is actually you, but don't do that.
Update: We've got five winners now. Stay tuned for more giveaways.
Western Michigan Coaches Have the Best Business Cards
Oral History of "The Mighty Ducks" Trilogy
Cool trip down memory lane. I must have attempted the "knuckle puck" slapshot a couple hundred times during summer street hockey in the mid-90's. (Rarely worked.)
Kawhi Leonard Fadeaway Jumper Over LeBron Gets the Photoshop Treatment
The second one made me spit up my drink. Another fine job by the people of reddit.
Odds & Ends
The most popular beer from every World Cup country ... How and when to watch every World Cup game on various platforms ... A couple New Yorkers decorated several city statues in World Cup gear ... Check out Brazil's World Cup plane ... Landon Donovanjoins ESPN as soccer analyst ... U.S. coach Jurgen Klinsmanncontinues to emphasize that the U.S. realistically cannot win the trophy ... The five best moments from the last World Cup ... If World Cup countries were college football teamss ... In yet more Jayson Werth news, here's a beard-tastic Werth bobblehead giveaway ... Phil Mickelsonto use the "claw grip" on his putter for the U.S. Open... Prince Amukamara says New York Giants get fined $500 for every pound they're overweight ... NFL Draft headed to Chicago? ... Penn State senior Ross Hollanddecimates the record for longest stationary wheelchair wheelie.
Happy Birthday, Joe Montana
On Montana's 58th birthday, here's the legendary quarterback in a classic SNL sketch with Phil Hartman.
Can Michael Jordan Palm It?
Play along with Jimmy Kimmel as we all find out. [Ball Don't Lie]
Pitbull Has Officially Taken Over the World
His "We Are One (Ole Ola)" featuring Jennifer Lopez is this year's official World Cup song. [DW]
The Most Famous World Cup Goals Animated
Fantastic stuff from the guy who made the same-styled NBA Finals video, Richard Swarbrick. [Diehard Sport]