Mustardite Brett Smiley in this week for Andy. Send tips to basmiley [at] gmail [dot] com or hit me up and/or follow me on Twitter @brettsmiley.
Spurs Stymie Heat
(Photo by Victor Baldizon/NBAE via Getty Images)
Last night as the Spurs performed surgery on the baffled Heat en-route to a 19-point halftime and a 107-86 Game 4 victory, it became apparent that San Antonio dominated every aspect of the game except fashion. That's because prior to the contest, Tim Duncan showed up for work wearing wrinkled, kind-of dad jeans (guess he didn't see Sarah Harbaugh's PSA) and an uninspiring yellowish button-down shirt that I've grabbed before on a TJ Maxx clearance rack. Anyhow, Duncan's lack of care for fashion is kind of refreshing, actually -- he's the everyman's All-Star.
I would be remiss to leave out Kawhi Leonard's ridiculous putback jam on a Patty Mills three-point miss that bounced high off the rim. After the game, Bill Simmons had a moment on ESPN's postgame show when he complained about his lack of air time ("Do I get to speak now?), a remark that irked host Sage Steele, who tempered her anger but not before an entertaining, muted head shake.
Twitter Users Lambaste the Wrong Marcelo After Brazil Own-Goal
Marcelo Vieira of the Brazilian national team caused the own goal against Croatia that gave the World Cup host country an early scare. The "other" Marcello is Marcello Ferri, a European model/body builder with a more modest 58K Twitter following, who caught a brunt of the anger online intended for the other dude.
Not that Brazil's Marcelo deserves 140-character tirades, though worse things have happened to soccer players scoring own goals. But Brazil escaped 3-1, so no worries.
Brazilians In Various Different Settings React to Country's First World Cup Goal
Very cool footage and design by the New York Times. My favorite is the video of the two security guards (third down), because we've all been there: on the job during a huge game.
Lovely Lady Of The Day
Friday's A.M. Hot Clicks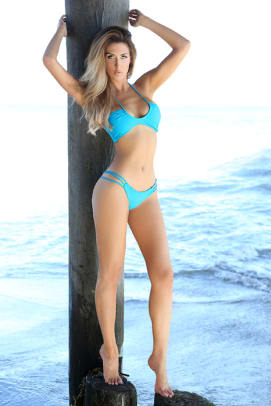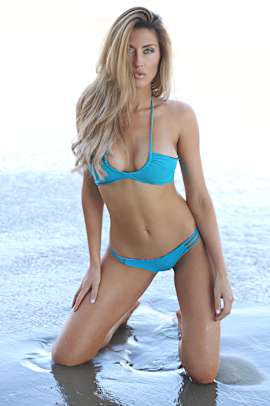 Today's lovely lady is California-born Miranda Nicole, a DKNY fashion and swimsuit model and also a U.S. and International Playboy model. You can follow Miranda on Twitter here and Instagram here.
Evan Mathis's $64,000 Dinner Tab to "Teach Rookies a Lesson"
A lesson about media and using social media, it appears. Adam Schefter cracked the code.
Yankees Affiliate Going for Fake Mustaches World Record
Guinness will be on-hand to certify the largest gathering of people wearing a fake 'stache. What about the guys with real mustaches? Probably don't want to glue a fake one to a real one. Looking forward to photos of this event...
Masked, Shirtless Orioles Fan Loves Him Some O's Baseball
My favorite part about this scene is the juxtaposition of the man flaunting his humongous beer belly, with the female fan behind him feverishly buttoning her jersey when, I assume, she realized the cameras were showing their section.
Odds & Ends
The best of Yasiel Puig on Instagram ... Speaking of NBA and fashion, Russell Westbrook is teaming up with Barney's for a collection ... Rest in peace, World Cup peace doves (two of three crashed) ... Mets pitcher Carlos Torres punching himself in the head ... Key & Peele say thanks for all the college football players' mothers who give their sons ridiculous names ... NBA auctioning off LeBron's "cramp game" jersey ... Brian Roberts has pickoff attempt caught between his legs.
Stephen Colbert Does Not Appreciate Jurgen Klinsmann's Defeatist Attitude
U.S.'s German coach does not know the American way.
Minor Leaguer Runs Bases and Slides Home to Protest Ejection
This will not help Quintin Berry of the Norfolk Tides (AAA Orioles affiliate) get promoted. [SportsGrid]
Who Are the WWE Stars and Divas Rooting for in the World Cup?
Lord of the Groceries
Olivier Richters (Uruk Hai from Lord of the Rings) needed some milk. [TheAwesomer]