Brett Smiley signing off. It's been real this week, people. Andy will be back on Monday.
Bring Your Own Couch
(AP Photo/Axel Schmidt)
The "BYOC" (bring your own couch) event at the "World Cup Living Room" gathering on the pitch of FC Union Berlin has to be the coziest public viewing environment ever. Over 3,000 people are seated on 780 registered sofas while about 9,000 more join them in the stadium's regular seats. It's genius, and perfect for your buddy who has a habit of passing out and drooling on a bar.
On Friday afternoon, the couch surfers witnessed what's becoming the story of the (two-day old) World Cup so far: Poor officiating. In the first half of Mexico's eventual 1-0 defeat of Cameroon, officials negated not one but two goals by Giovani Dos Santosfor offside, while in both cases it looked to be the wrong call. (This came one day after a ridiculous flop by Brazil's Fred drew a penalty, leading to Neymar's go-ahead goal on the penalty kick.) Let's hope for better officiating over the weekend, and as always, you can check out SI's daily updated gallery of scenes of the World Cup.
It's a Red Pants Party at Pinehurst
Meanwhile, while Martin Kaymer (wearing black slacks on Friday) destroyed Pinehurst with back-to-back 65's that put him at 10-under ... check out all the golfers wearing red pants.
Scariest Athletes of All-Time
Because it's Friday the 13th and there's also a full moon tonight, here's a list of some of the scariest athletes ever. Tonight will also markHenrik Lundqvist's 666th game (regular season and playoffs combined). We'll find out later whether that should concern Rangers or Kings fans.
Lovely Lady Round-up
Friday's P.M. Hot Clicks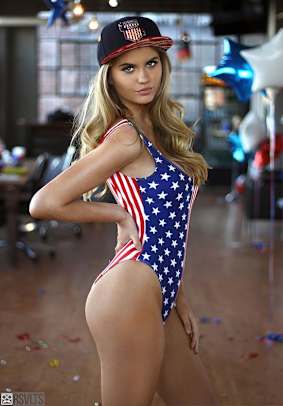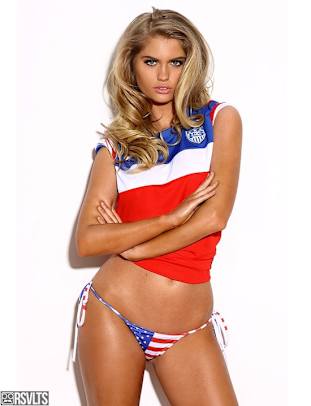 RSVLTS.com has an outstanding GIF and image gallery of Alexandria Morgan sporting various World Cup bikinis. Of course, she looks best in stars and stripes. ...Check out Guyism's 101 hottest celebrity Instagram pictures of the week ...Meet lovely Televisia Deportes sportscaster Vanessa Huppenkothen ... Here's Yolanthe Cabau, a Spanish-Dutch actress and wife of Dutch midfielder Wesley Sneijder.
Kawhi Leonard, Who Are You Man?
Stuart Scott asked the existential question and got an answer from Leonard he probably didn't expect.
"Oh Cristiano" - the Music Video
Get ready for Portugal-Germany on Monday with the Soccer Gods' club-style music video spoof from some fellas who wanna be Cristiano Ronaldo's ball boy.
Really Awkward Glamour Shots With Dad
See Bizarro Doug Flutie (three photos down) in what turns out to be a pretty terrifying gallery. Happy Father's Day!
Odds & Ends
Here's a bull running through the streets of Baltimore (sadly the bull was gunned down by police) ... Hopeful, misguided Lions fan got a tattoo commemorating the 2015 Super Bowl Champion Lions ... Forbes reports that Michael Jordan is now a billionaire ... Brett Favreposing with Mariner Moose and some fans ... In some parallel universe imagined by Sepp Blatter, Skip Bayless thinks that he -- not LeBron -- is the easiest target in sports ... Minor league team sports jerseys styled like Michael Jackson's famous red leather jacket ... Have $12,000 laying around and want an "American Glory" hockey mask made from real gold leaf and Swarovski crystals? ... Mike Hessman of the Toledo Mud Hens is a 36-year-old who has hit over 400 homers in the minor leagues.
Derek Norris Gump
The A's catcher turns in a pretty solid performance as Forrest. [Pro Sports Daily]
U.S. Men's World Cup Promo
Just because Klinsmann wants to temper our expectations doesn't mean we can't get excited.
USMNT - E Pluribus Unum from Atlee on Vimeo.
Croatian Fan Kisses Brazilian Reporter on Live TV
Bold move. [Bleacher Report]