Monday P.M. Hot Clicks: Kidd's bold move, Man puts on pants with no hands
Note: I'm Gabriel Baumgaertner. If you don't know who I am, please refer to this morning's Hot Clicks for an introduction.
Handle with Kidd Gloves 
Rare Photos of Jason Kidd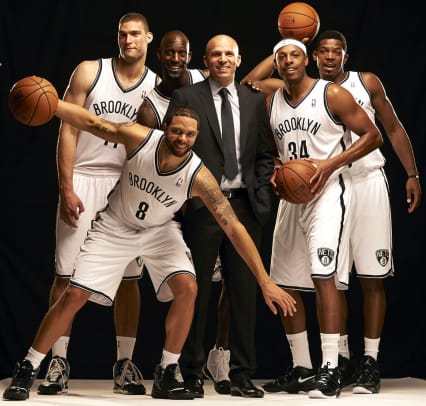 Remember that Jason Kidd retired from the NBA in June 2013. Since that time, he inherited the largest payroll in the league, hired and subsequently demoted the league's most expensive assistant (his former coach, Lawrence Frank), won a playoff series, lost a playoff series and failed to become the Nets' director of basketball of operations (a higher-ranking position than GM Billy King). Ambitious, Jason. Remember too that Brooklyn is owned by Jet-Skiing Russian oligarch Mikhail Prokohorov, and he and his kind don't appreciate attempted coups by underlings. And the Bucks reportedly didn't notify their existing coach that they were interested in trading for Kidd. So as Kidd prepares his transition from hipster-cool Brooklyn to the frozen confines of Milwaukee, let's remember his good times with this wonderful mix-tape. Oh, Jason. You had court vision like nobody else, better rhythm than any of your peers and a knuckleball for a jump shot. We miss the basketball player in you. We're not sure we like the power player.
From the SI Vault
Rare Photos of Mike Tyson
Iron Mike: It's Mike Tyson's birthday, so enjoy this superb gallery and, instead of a specific video, just pick any Mike Tyson video here. I suggest his bout with the medicine ball. As it's also the 25th anniversary of the release of Spike Lee's Do The Right Thing, it is only fitting to bring the two together (NSFW language).
It is also the 70th birthday of former Miracle Met Ron Swoboda, once an SI cover boy. If you can find it, the story, "The Sultan of Swat from Sparrow's Point," a wonderful 1965 profile of Swoboda by former SI writer William Leggett, is worth your time.
Brandon Belt is a dreamweaver
The Giants first baseman, who would have received All-Star consideration had he remained healthy in the first half, made a young fan's dreams a reality while on a rehab assignment with Single-A San Jose. Belt told 12-year-old cancer survivor Lyndsey Dworkin that he'd hit a home run for her and then did so … in the first inning. Pop on over to read Daniel Brown's story in the San Jose Mercury News -- it's a wonderful tale -- and see the signed ball Belt gave to Dworkin.
Lovely Lady of the Day
We mentioned the BET Awards in the A.M. Clicks, so that offers us an opportunity to click through photos of Kerry Washington, the svelte, radiant Scandal and Django Unchained star who stepped on last night's red carpet despite being just two months removed from giving birth. She remains one of the most stunning stars on television.
... But let's talk about the Dodgers
As your resident Dodgers fan, I am inclined to counter-balance any Giants love with a reminder that L.A. made up 9.5 games in 20 days to tie San Francisco at the top of the NL West on Sunday night. Things are going so well in the Dodgers' clubhouse that they're willing to almost set a teammate's foot on fire for some jocular laughs. Note the total lack of surprise in Vin Scully's voice as Josh Beckett nearly charbroils Scott Van Slyke's foot. At the tender age of 86, Scully has seen it all before. And he's still the best there is:
Remembering great tweets from Darren Rovell
An indelible day in history:
Odds and Ends
Staffers at the Village Voice want raises and better coffee … World Cup ref accidentally grabs stack of cash instead of card (We kid! Be sure to check the source.) … Just six months after their loopy, hilarious live-tweeting of The Sound of Music Live!, DiGiorno Pizza's twitter account live-tweeted WWE's Money in the Bank event, and the result may have been even better … The death metal band Unfathomable Ruination will play inside of an airtight, soundproof box until they're cut off from oxygen, which is a good solid 9 on the scale of METAL … Colombia is having an outstanding run through the World Cup, but it can't figure out what to do with these hippos.
That was enough reading, let's watch some videos
Note that my birthday is September 14 and I would like the exact same present that this dog received:
Props to anybody who attempts to put their pants on like this, but SI will not pay your medical bills:
Greg Oden will hit you directly in the face with a volleyball: