Tuesday's P.M. Hot Clicks: Ronaldo Has a New Girlfriend. That was Quick.
Follow Andy Gray on Twitter :: Become a fan of Hot Clicks on Facebook
Rare Photos of Cristiano Ronaldo
Rare Photos of Cristiano Ronaldo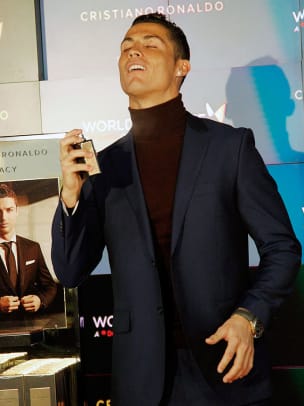 That didn't take long. Just days after his split with SI Swimsuit model Irina Shayk,Cristiano Ronaldo has a new woman in his life. According to British tabloids, Ronaldo is dating Spanish TV reporter Lucia Villalon. The two were photographed together over the weekend when the soccer star was awarded his third Ballon d'Or Trophy. Personally, I think it's impossible to top Irina and this is a downgrade, but that's just my opinion. While you decide, check out these rare photos of Cristiano Ronaldo.
Another Romance Comes to an End
If Ronaldo were smart, he'd take a break from his new Spanish TV announcer girlfriend and hit up Kacey McDonnell. The former Fox 29 in Philly traffic reporter had been dating Chiefs backup quarterback Aaron Murray, but that relationship is now over.
Guess the Bill Belichick Quote
Bill Belichick has an unspoken goal with every press conference: Say as little as humanly possible. With that in mind, we created this fun 14-question quiz to see how well you know the Patriots coach. I got all 14. In a related note, I think Spygate was nothing more than an honest misunderstanding of the NFL's videotaping protocol.
P.M. Lovely Lady of the Day
Daniela Lopez Osorio has some new photos out for Nelly, which is a great excuse to feature her as LLOD (click here for full-size gallery).
Chris Fowler Gets Duped
I think Chris Fowler is one of the best personalities at ESPN, but he had a rough day while calling the Australian Open. In a match between Kei Nishikori and Nicolas Almagro, Fowler claimed Nishikori is the highest-paid tennis player in the world due to various endorsement deals for vodka, a burger chain, perfume and other products. Unfortunately, his info came from a satirical website and none of it is true. Fowler then went on Twitter and poked fun at himself.
Packers Fans: Don't Look at This
Ben Zobrist Thanks Rays Fans
Coach K's 1980 Letter to Michael Jordan
I Will Never, Ever Eat This. Ever
This is What a $675 Hat Looks Like
Odds & Ends
Love these NBA logos mashed up with classic video games ... Former Cowboys defensive end Marcus Spears fell victim to auto-correct ... Don't ask Julian Edelman for Super Bowl tickets (even if you're family) ... An oral history of the Knicks 16-game losing streak ... Extra Mustard's review of Monday Night Raw ... Dion Waiters with the quote of the week (so far) ... The 25 worst passwords of 2014 ... Gallery: The New York Islanders Ice Girls ... An 86-year-old Florida woman pays $164,000 a year to live on a cruise ship.
One Way To Introduce NBA Starting Lineups
The Hawks got in the MLK Day spirit by bringing in a gospel choir to help with the starting lineups.
Behind the Scenes with Nina and Ariel
The new SI Swimsuit issue comes out in less than a month. Here are two of my favorite models.
Random Fact You Should Know
Did you know Darlene Love, who played Murtaugh's wife in the Lethal Weapon movies, is a member of the Rock and Roll Hall of Fame? Here she is performing A Fine, Fine Boy with Bruce Springsteen along with a scene from LW2.
[youtube:http://youtu.be/eHQWEgevUyU]
Click here for previous versions of Hot Clicks and please take a look at TheDaily Cut, our new live and on-demand video platform.