Friday's P.M. Hot Clicks: Shelby Chesnes; Lionel Messi Turns 29
Friday's P.M. Hot Clicks feature the lovely Shelby Chesnes and a celebration of Lionel Messi's 29th birthday.
Happy Birthday, Messi
Lionel Messi SI cover shoot outtakes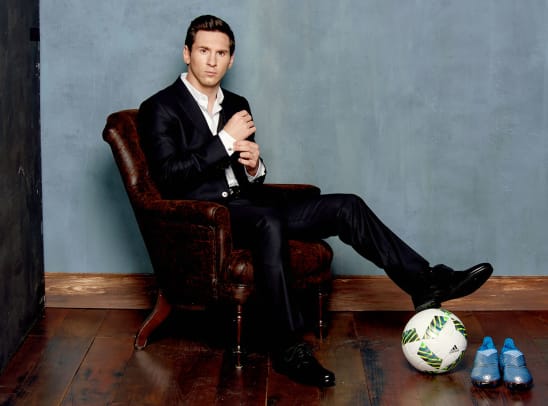 Lionel Messi turned the big 2-9 Friday. Check out the above above gallery of his SI cover shoot outtakes and this gallery of the best photos of the Argentine soccer star. Also, 29 key moments from his career and you must watch his Copa goal again. Oh, and Brazilian 'Miss Bumbum Universe' showed him some love on his birthday, if you're into that sort of thing.
And You Thought You Saw It All
An amateur baseball team, the Battle Creek Bombers of the Northwoods League, is holding a Second Amendment Education Night. In other random news, a county in Utah county is using a "porn-sniffing" dog to help officials track down pornography.
JFK's Fettuccine Alfredo
UConn head football coach Bob Diaco claims he has JFK's recipe for fettuccine alfredo.
P.M. Lovely Lady of the Day
Get your weekend started right with Shelby Chesnes as your Friday PM LLOD. The former Playboy Playmate appeared in Horrible Bosses 2. (Click here for Shelby's full-sized gallery.)
I Don't Think I Can Even Squat My Body Weight
Seventeen-year-old high school football player Joseph Peña broke the world junior world by squatting 804 pounds at the world championship.
Move on, Jimbo
Jim Gray is still irked by criticism over 'The Decision' ... It's been six years, Jim.
Ladies & Gentlemen, Meet Mia Woolrich
Push-Ups & Judge Judy, That's What Herschel Does!
Power Couples
And What's the Problem With This?
Odds & Ends
Throwback NFL jerseys you must buy for the 2016 season ... Vote on the best-dressed 2016 NBA Draft pick ... Twenty-two deserving Oscar contenders for the first half of 2016 ... Hawaii's rainbow uniforms lead the Best Under Armour uniforms in college football history ... Twelve reasons you should be following @EarthPix on Twitter ... 1996 Independence Day cast: Then and Now ... Iowa fans are pissing off their neighbors by building a house that resembles Kinnick Stadium ... Georgia's Nick Chubb and Kirby Smart battled in dodgeball ... Ever wonder why more kids aren't playing sports these days? ... Cavs' fan in Utah threw his own victory parade.
Bear Can't Bear the Heat. Get it, Get it?
A bear in California hopped into a residential pool to get a reprieve from the heat. And you bet he went straight for the pool noodle.
[youtube:https://youtu.be/QeOl3MbhZIo]
Wait ... What?
An MMA fighter sprayed pee on his opponent during their weigh-in.
Enjoy Your Weekend
Click here for previous editions of Hot Clicks, visit our Extra Mustard Page throughout each day for more offbeat sports stories. Also check out the SwimDaily Page for the latest updates and Instagram pictures of models who have appeared in our issues.