Tuesday's A.M. Hot Clicks: Britt Maren: Peyton Manning is Really Funny
Tuesday's A.M. Hot Clicks feature the lovely Britt Maren and another example that Peyton Manning is Really Funny
Comedy's Next Big Star ... Peyton Manning
The future Hall of Famer killed at Rob Lowe's roast and here are the clips to prove it.
FSU Wins Thriller
Two nights, two great games. On Sunday, it was Texas edging out Notre Dame, and Monday night, Florida State erased a 22-point deficit to beat Ole Miss. Things were so bad for FSU in the first half that both Jameis Winston and a sad, random fan got the meme treatment. FSU receiver Dalvin Cook (profiled by SI in March) had an embarrassing goal-line fumble while Ole Miss' D.K. Metcalf made the catch of the weekend. The hero for FSU may have been kicker Ricky Aguayo, who had six field goals, three PATs and one great celebration.
11 Most Ridiculous Skip Bayless Moments
Skip Bayless and Shannon Sharpe's new show, Skip and Shannon Undisputed, premieres today on FS1 opposite Bayless' old show on ESPN. Seems like a good time to go over some of Bayless' most memorable moments. My favorite is the one with Richard Sherman.
Britt Maren: Lovely Lady of the Day
I had to work a few Saturdays ago, which wasn't so bad because "work" consisted of hanging out with Britt Maren in lingerie. We had her bake cookies as part of a SwimDaily feature. I then took those cookies to a dinner party later that night. Anyhow, here are the photos (shot by the great Taylor Ballantyne) and here's a gallery of even more Britt photos. 
Britt Maren: 2017 Sports Illustrated Casting Call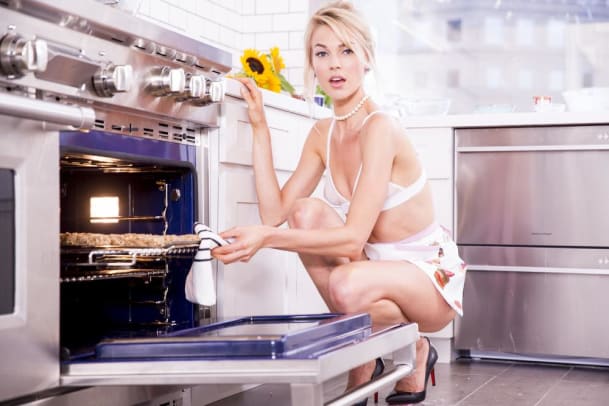 Your Job's a Joke, You're Broke, Your Love Life's DOA
The Mets have baseball's biggest Friends fan and he has the walk-up song to prove it.
And Then a Hero Comes Along...
In this case, the hero was MMA fighter Miesha Tate, who carried a 6-year-old girl with a broken arm down a Nevada mountain. The little girl's thank-you video is everything.
Speaking of Heroes
An organic chemistry professor at Ohio State offered an A to his entire class if someone could shoot a crumbled up piece of paper into a garbage can on the other side of the lecture hall. You know what happened next.
Those Lopez Brothers Love Star Wars
This is Not a Good Idea
Odds & Ends
Quiz: Can you name every NFL stadium?​ ... The 49ers released Bruce Millerafter he was arrested for punching a 70-year-old man ​... Freddie Mercury now has his own asteroid ... If you like caffeine, you will want to try this coffee ... Fans of The Office will want to see these audition tapes ... Let science explain why pizza tastes so good.
Good Story Gets Better
Richard Sherman and Bobby Wagner Go in Tank and Crush Things
SI Swimsuit Visits Malta 
Hero
Email andy_gray@simail.com with any feedback or ping me on Twitter. Click here for previous editions of Hot Clicks. Visit our Extra Mustard Page throughout each day for more offbeat sports stories and the latest Cheerleader of the Week gallery. Also check out the SwimDaily Page for the latest updates and Instagram pictures of models who have appeared in our issues.