Monday's P.M. Hot Clicks: Elle Johnson; Muggsy Bogues' Best Photos
Monday's P.M. Hot Clicks feature the lovely Elle Johnson and Muggsy Bogues' best photos
Happy Birthday, Muggsy Bogues
​Muggsy Bogues, who at 5-foot-3 is the shortest player to ever compete in the NBA, turned 52 on Monday. To celebrate, we collected our favorite photos of Bogues for the gallery below. ​(Click here for full-size version.) ​
Classic Photos of Muggsy Bogues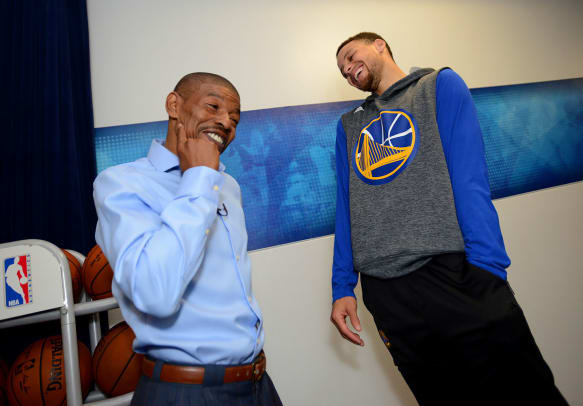 Mike Tyson vs. Floyd Mayweather
The two most famous boxers of the past 25 years will never face off in the ring so here's the next best thing: Soulja Boy and Chris Brown facing off (with Tyson/Mayweather as trainers).
One Way To Spend $642,000
Anyone need a 467-pound bluefin tuna?
Elle Johnson: P.M. Lovely Lady of the Day
My pal Elle Johnson has been working it this Bowl Season, wearing a bikini for each game and posting the pics on Twitter. If you're not following her, do so ASAP. She is this afternoon's LLOD (click for full-size gallery).
Elle Johnson: Lovely Lady of the Day
Bill Belichick As You've Never Seen Him Before
I HATE the term relationship goals but if it were ever applicable to a photo, this is it.
Wrestling is Fake But...
This looks like it really, really hurt.
World's Oldest Yoga Instructor
Meet 98-year-old Tao Porchon-Lynch, who's been teaching yoga for more than 75 years.
Great Moments in Random Jersey Combinations
Guess Who's Headed to Japan?
Odds & Ends
I feel bad for this young Bucks fan who wants nothing to do with this dance contest ... This is a brutal way to lose a basketball game ... Bellator boss Scott Coker capitalized on the news and invited Meryl Streep to an MMA event ... Colin Kaepernick donated $50,000 to help Dakota Access Pipeline protestors ... Here's a really good Rory McIlroy interview for all the golf fans out there ... The Legend of Zelda theme song has never sounded so good ... Why you don't need to exercise every day.
Go Clemson, I Guess
[youtube:https://youtu.be/kEZ5CX33YxY]
DeMarcus Cousins Dislikes Chair
One Way To Pull a Tooth
Hello, Irina
Email andy_gray@simail.com with any feedback or ping me on Twitter. Click here for previous editions of Hot Clicks. Visit our Extra Mustard Page throughout each day for more offbeat sports stories and the latest Cheerleader of the Week gallery. Also check out the SwimDaily Page for the latest updates and Instagram pictures of models who have appeared in our issues.