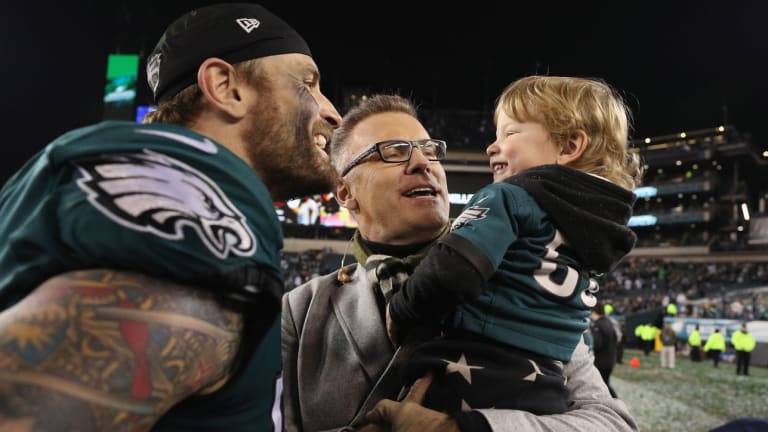 1. So, here we are at Memorial Day weekend after an intense week where the talk of the sports world was dominated by the the national anthem controversy. Everyone has their opinions on whether players should be allowed to kneel without punishment or not. No one's mind will be changed by what they read on the Internet.
Eagles' defensive end Chris Long shared this thoughts on the league's ruling with this tweet:
Like I said, you either agree or disagree with Long's stance and there's no in between.
But one thing everyone should be able to agree on is that Long's charity work is commendable, something to be respected and wide-ranging.
Yes, you know about him donating his entire 2017 salary to charity, but he does much more than that.
In February, Long, a group of NFL players and military combat veterans climbed Mount Kilimanjaro to raise funds to build sustainable water wells in East Africa.
Long also has a Foundation, which holds events that honor members of the military and their families, and makes financial contributions to organizations that support and serve veterans. Among the groups the Chris Long Foundation has donated to: Homes for Our Troops and Merging Vets & Players.
Oh, and one last thing on Long donating his 2017 salary -- an additional $1.3 million was donated by fans and athletes who wanted to match Long's contribuation after they were inspired by what he was doing.
So, if you're looking for a way to give something back this Memorial Day weekend, check out Long's Waterboys charity, his Pledge 10 for Tomorrow donation page and the Chris Long Foundation website.
2. Best moment in Thursday's Warriors-Rockets game after Chris Paul's shimmy in Steph Curry's face was the TNT mics picking up a little speech Steve Kerr gave Kevin Durant about trusting his teammates.
3. Deadspin has a very interesting report on how the narrative that ESPN has lost viewers because of poltitics is nonsense. 
4. Speaking of ESPN, Keith Olbermann is once again back in a big way. The network announced today that Olbermann will anchor approximately 20 episodes of the 11 p.m. "SportsCenter" in addition to doing play-by-play on some MLB games while also anchoring studio coverage for the sport. He gets started right away, calling Astros-Yankees for ESPN Radio on Monday.
5. Last year, in honor of Memorial Day, I wrote a piece ranking the 10 best days of the year. I stand by that list today.
6. The voice of the New York Yankees, John Sterling, is the guest on the latest SI Media Podcast. Sterling, who has not missed one single game since getting the job in 1989, talks about his longevity, his philosphy for broadcasting, how he preps for games, what he thinks of his very vocal critics, his famous home run calls, his age, new media and techology, the Kardashian sisters, music, his favorite adult beverage and much, much more. Even if you're not a Yankees fan, you should listen to this strictly for entertainment value. You can listen to the podcast below or download it on iTunes.
7. RANDOM "ACOUSTIC" VIDEO OF THE DAY
[youtube:https://youtu.be/t_YUnxqamgc]
Traina Thoughts is the best of the Internet, plus musings by SI.com writer, Jimmy Traina. Get the link to a new Traina's Thoughts each day by following on Twitter and liking on Facebook. Catch up on previous editions of Traina Thoughts right here. And make sure to listen to and subscribe to the SI Media Podcast hosted by Jimmy Traina.
IN CLOSING: No Traina Thoughts on Monday. See you Tuesday. Enjoy the weekend.