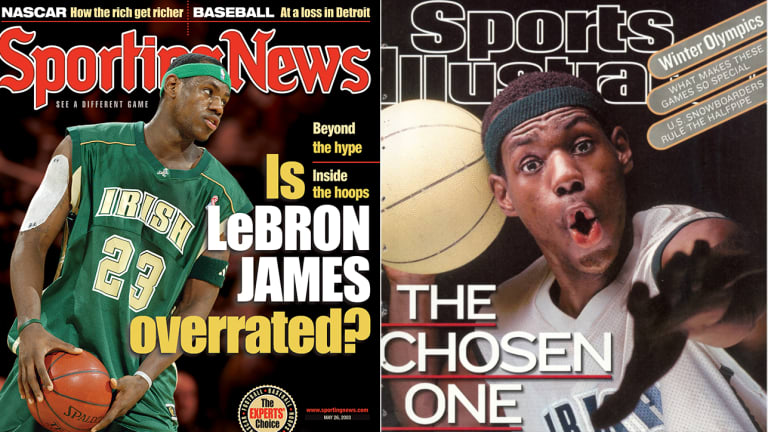 Traina Thoughts: Only a True Hater Will Use the NBA Finals to Judge LeBron James
No matter what happens in the NBA Finals, LeBron James's season is nothing but a smashing success.
1. The Cleveland Cavaliers are not going to win the NBA Finals, which kick off tonight in Oakland. LeBron James haters will use the loss to knock him, despite the fact that he's been to eight straight NBA Finals, some with a truly awful supporting cast.
James, as you can see above, has been dealing with nonsense like this since Day 1. The Sporting News asked if he was overrated 15 years ago when he was just 18 freakin' years old.
A year earlier, Sports Illustrated deemed him The Chosen One, when he was just 17, and all James has done is prove that he was indeed The Chosen One.
Fifteen years later, at age 33, he played all 82 regular season games, averaged 27.5 points, 8.6 rebounds and 9.1 assists. In the postseason, he's elevated his game, averaging 34 points, 8.9 rebound and 8.8 assists. 
Just to give you some perspective on how great James is and what's expected of him, look at these prop bets offered by Bovada:
Average NBA Finals Points per Game: 34.5
Average NBA Finals Rebounds per Game: 10.5
Average NBA Finals Assists per Game: 8.5
Highest One Game Total by LeBron James: 42.5
Will LeBron James Record a Triple Double in the 2018 NBA Championship?
Yes: -280
No: +200
Will LeBron James Average a Triple Double in the 2018 NBA Championship?
Yes: +325
No: -550
It doesn't matter where you stand on the LeBron-Jordan debate. It doesn't matter if you have LeBron ranked 1, 2 or 3 all time. Just don't use this series against the Warriors to influence your opinion of James's legacy. The Cavs could lose all four games by 20 points each and it shouldn't reflect negatively on the King in any way, shape or form.
Put the hate aside and respect what he has done since Day 1 of his career, his legacy and his incredible 2017-18 season.
2. Speaking of SI's "Chosen One" cover, this is a very cool spot by Nike.
3. The NBA Finals mean no more Inside the NBA on TNT, which is a downright tragedy in the sports world. Get your last taste of Ernie, Charles, Kenny and Shaq below with a highlight package from this past season.
4. The newest episode of the SI Media Podcast is an interview with ESPN business reporter, Darren Rovell. The controversial Twitter figure pulled no punches while discussing all sorts of topics about the social media service, including why he blocks so many people, whether he thinks he can unplug from Twitter, whether he has a staff helping him with his tweets, what his set up is while watching games, his Twitter feuds and regrets, and much more.  You can listen to the podcast below or download it on iTunes.
5. Your feel-good story of the day comes from Arizona Cardinals tight end Jermaine Gresham, who recently gave a stranger $50 at an airport so she could get her bag on the plane and not miss her flight.
6. Mets fans are so salty right now and you can't really blame them. Last night, I tweeted this very short video of Aaron Judge hitting a foul ball into his own face.
This triggered a handful of Mets fans.
7. Apparently, I'm part of a drop on the Dan Le Batard Show with Stugotz, so I want to say hit to all the Le Batard Show fans out there who are always sending me tweets about this. I will always be a fan of Le Batard soley based on him realizing what a joke the Baseball Hall of Fame is and giving his ballot to Deadspin.
8. RANDOM CURB YOUR ENTHUSIASM VIDEO OF THE DAY: Don't ever tell Susie Green you don't want the house tour.
Traina Thoughts is the best of the Internet, plus musings by SI.com writer, Jimmy Traina. Get the link to a new Traina's Thoughts each day by following on Twitter and liking on Facebook. Catch up on previous editions of Traina Thoughts right here.And make sure to listen to and subscribe to the SI Media Podcast hosted by Jimmy Traina.
IN CLOSING: Only 99 days until the start of the 2018 NFL season.