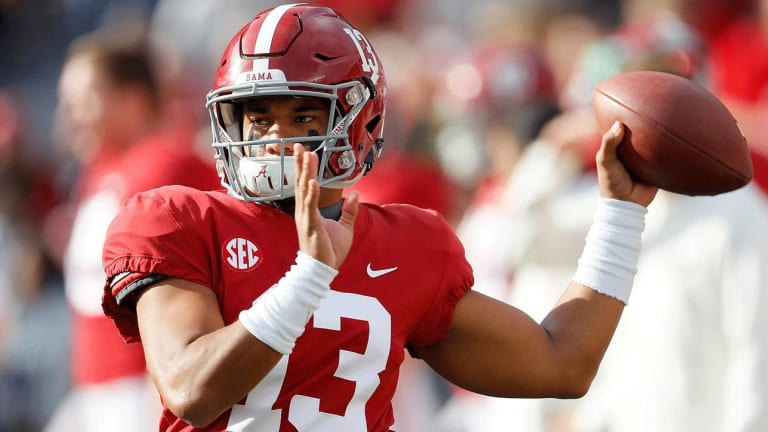 Traina Thoughts: ESPN Airs Bizarre Interview With Tua Tagovailoa, Who Details Abuse by Father
ESPN offers no pushback after Alabama's Tua Tagovailoa details abuse by his father.
1. In a weekend filled with a slew of great games and wild news, it was ESPN's bizarre interview with Alabama quarterback Tua Tagovailoa and his parents on College GameDay that stood out the most to me.
During the Tom Rinaldi feature, the family detailed how Tua's father would beat him with a belt if Tua threw an interception during a game. It was disturbing and disappointing.
Disturbing because Tua's mother seemed to think it was perfectly rational to say that the two staples in the Tagovailoa household were "the Bible and the belt." It was disappointing because Rinaldi didn't question the method of child abuse.
I already know all the responses I'm going to get to this column: Who are you to judge? Who are you to tell someone how to raise a child? There's nothing wrong with hitting a kid. It's a cultural thing. You're a liberal snowflake. It worked. Tua turned out just fine.
Well, sorry, I'm judging, and all those responses are bulls---. This is not spanking a young child because they bit a classmate or talked back to a parent. This was a teenager being whipped with a belt. You don't hit a kid with a belt and inflect mental abuse on him because he threw an interception. It's insane behavior that should not be accepted or normalized. Nobody knows what kind of effect this will have on Tua long term, or how this will affect Tua when/if he becames a parent. It's physical and mental abuse, plain and simple.
"If I don't perform well, perform the way I'm supposed to, I'm gonna get it after," Tua said, before adding, "Just know the belt was involved and other things were involved, as well."
Tua's dad has a blast confirming the awful behavior, saying, "I was tough. He can go 15-for-15 with four touchdowns, but when he throws a pick, it's the worst game. It's the worst game."
Yeah, that's normal.
Sadly, ESPN had no problem giving Tua's parents the platform to promote abuse without any push back. Not only did Rinaldi completely whiff at questioning Tua's parents about their method of absuse, Desmond Howard thought the belt story was hilarious and referred to Tua's dad as "the Hawaiian Joe Jackson"—a reference to Michael Jackson's abusive father. Hilarious.
2. You really have to love the lengths the NFL goes to in order to protect itself. Everyone with functioning eyesight, except the refs, of course, saw the obvious false start on the Chargers before a touchdown pass Sunday night.
So what does the NFL do on its official Twitter page? The league posts the highlight AFTER the false start in hopes of tricking people into thinking the refs completely screwed up the game.
3. Other notable items from Week 13 in the NFL:
• This was A+ trolling by the Chargers after their comeback win against the Steelers.
• Chiefs tight end Travis Kelce hit a teammate with a Stone Cold Stunner after scoring a touchdown.
• Jalen Ramsey = not a nice person.
• Rams punter Johnny Hekker is getting cocky with his holding.
4. Vegas does not expect the college football playoffs to be competitive based on the point spreads. Here are the lines:
Alamaba -14 vs. Oklahoma (Over/Under 79)
Clemson -11.5 vs. Notre Dame (Over/Under 55)
5. This week's SI Media Podcast features an interview with Blake Griffin. The Pistons star talked about whether he's rooting against the Clippers, whether it's a better feeling to get a laugh doing standup or to have a monster dunk, whether he still gets excited when he throws down a big dunk, the negative comment that bothers him the most, being name dropped on The Office, why he loves Curb Your Enthusiasm, but can't binge watch it and much more.
6. RANDOM YOUTUBE VIDEO OF THE DAY: I referenced this scene during my podcast with Blake Griffin and it's always worth revisiting periodically because these people are the worst.
Traina Thoughts is the best of the Internet, plus musings by SI.com writer, Jimmy Traina. Get the link to a new Traina's Thoughts each day by following on Twitter and liking on Facebook. Catch up on previous editions of Traina Thoughts right here. And make sure to listen to and subscribe to the SI Media Podcast hosted by Jimmy Traina.
IN CLOSING: My picks were terrible this weekend and I like the Eagles -6 Monday night so you should bet the Redskins.