Matchup Meter: Bush poised for rebound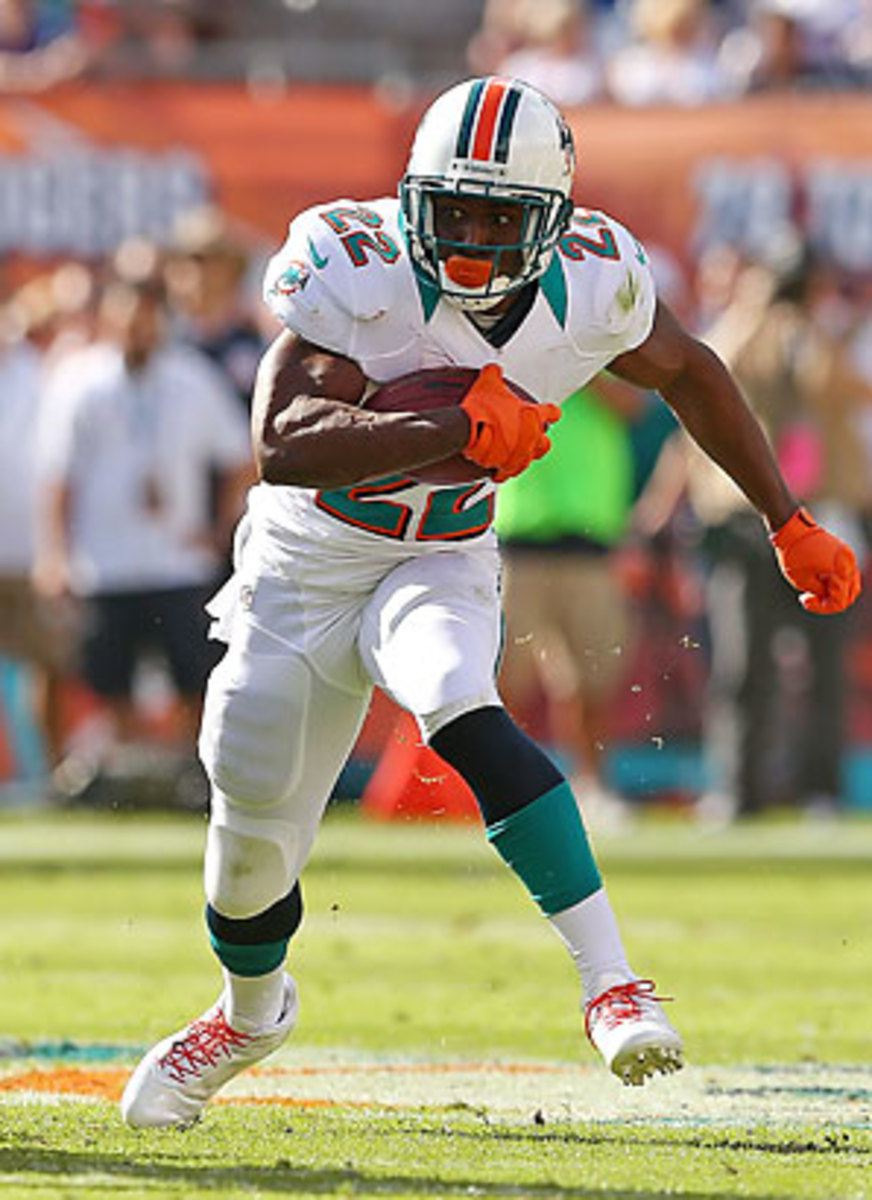 Reggie Bush has not reached the 100-yard mark since Week 2, when he carried 26 times for 172 yards against Oakland -- his only 20-carry game of 2012. Perhaps a visit from Jacksonville this week will help. The Jaguars are giving up 145.7 rushing yards a game, and no team has been run on as much as Jacksonville. The Jags allow almost three more carries per game (34.5) than any other NFL defense.
? Number to know: 18 -- The number of rushing scores Jacksonville has allowed, tied with Buffalo for most in the league.
? Expect a big day from: Bush has averaged 5.0 yards per carry over the past three games and was finally rewarded last week with an increase in touches. Fantasy owners can expect him to receive a hefty workload this week.\n
Play on
These matchups suggest success is around the corner for a number of suspect fantasy starters ...
Cleveland's passing attack vs. Washington's defense
Opponents have thrown the ball on Washington 516 times this season, second only to Tampa Bay (517). Even during the Browns' recent winning streak the secondary has been vulnerable; seven of the 27 touchdown passes Washington has allowed have come in the past three weeks.
? Number to know: 6 -- The number of teams with at least three passing scores against the Redskins this year.\n
? Expect a big day from: Josh Gordon is no longer just a home run hitter, but a consistent catch and yardage weapon, too. Still, his best play is the deep ball and Washington allows 7.6 yards per attempt.\n
New York Giants' rushing attack vs. Atlanta's defense
If the Falcons have an Achilles heel heading into the postseason it's their run defense, which ranks 23rd in yards allowed (127.0) and 28th in rushing touchdowns allowed (14). The Falcons also give up a lot of big gainers -- a league-high seven rushes of 40-plus yards.
? Number to know: 4.9 -- The Falcons rank next to last in the NFL in yards allowed per carry. Last week they allowed Carolina to average 6.1 yards.\n
? Expect a big day from: After last week fantasy owners might already expect big numbers from David Wilson, but with Tom Coughlin running the show nothing is guaranteed in this backfield. Still, Wilson is a smart bet this week and will benefit from Ahmad Bradshaw's status (questionable with a sprained knee).\n
Back off
These fantasy stars might need a rest this week due to an unfavorable matchup on the horizon ...
Detroit's passing attack vs. Arizona's defense
It's hard to like anything about the Cardinals right now, but the pass defense has held up. They are one of five units allowing fewer than 200 passing yards a game, and also one of five with more interceptions (19) than touchdown passes allowed (17).
? Number to know: 71.9 -- The average QB Rating for Arizona's opponents this season, second lowest in the NFL.\n
? Who to bench: This matchup will likely spoil Matthew Stafford's chase for a second 5,000-yard season. The Cardinals have allowed just one 300-yard passer since the start of October.\n
Dallas' rushing attack vs. Pittsburgh's defense
Opposing backs have gained little ground on Pittsburgh this season (93.2 a game) and that number has decreased as Pittsburgh's health has improved. San Diego gained just 94 yards on 36 carries last week, and Pittsburgh allowed Ray Rice 128 yards combined in two games the past month.
? Number to know: 2 -- The number of backs that have rushed for 100 yards against Pittsburgh this season -- Darren McFadden in Week 3 (113) and Jamaal Charles in Week 10 (100).\n
? Who to bench: Be prepared for a slow week from DeMarco Murray. He has averaged less than 4.0 yards a carry in five of seven starts this year; he's not going to change course against the Steelers.\n
Green Bay's passing attack vs. Chicago's defense
Aaron Rodgers has not been his usual MVP-self in his four career trips to Soldier Field. He has thrown four touchdowns, four interceptions and passed for an average of 259.2 yards. In the first 2012 meeting with Chicago, Rodgers was sacked five times and the team's longest pass play came on a 27-yard fake field goal. The Bears' secondary owns the best touchdown-to-interception ratio (13 to 21).
? Number to know: 6.2 -- The number of yards the Bears allow per passing attempt, among the top five in the league.\n
? Who to bench: Sit Rodgers? Uh, no. But this is a scary week to put his wide receivers in your lineup, especially Greg Jennings and James Jones. In the Week 2 meeting, Jordy Nelson was the only Packers receiver to record more than 30 yards.\n