Do we take fantasy too seriously? Highs and lows of 'pretend' football
Do we take fantasy football too seriously? The highs, lows and everything in-between of playing 'pretend' football
By Alessandro Miglio, special to SI.com
To some, fantasy football isn't just a game played during the NFL's regular season. Just ask the losers of the tattoo league, who are forced to permanently etch their shame on their flesh. Or one man whose bottom-of-the-league finish precipitated an embarrassing series of photos for a calendar. Whether you are battling for pride, money or a reprieve from the needle, fantasy football has quickly gone from niche to mainstream.
• Challenge your friends and win BIG in our daily fantasy football game
According to the Fantasy Sports Trade Association, a record 41 million people now play fantasy sports in the United States and Canada alone, and fantasy football holds a major market share. Beyond North America, millions of players now span the globe as the fantasy football industry is experiencing rapid growth. With it comes a deluge of trash talk, exasperation, stress, elation and relief. 
With the increased popularity of fantasy football, it's no surprise that business is booming. Many have found that the fantasy football industry is valued in the billions; in 2013 Brian Goff of Forbes.com estimated that fantasy football was worth around $11 billion in revenue. To put that into perspective, the NFL's revenue for 2012 was $9.5 billion.
My, how far Bill Winkenbach's little game has come.
After horrible week off field, NFL marches on more popular than ever
A study prior to the 2012 season estimated fantasy football cost companies across the United States $6.5 billion in lost work, per Seana Smith of FoxBusiness.com. A firm more recently estimated that fantasy football could be costing employers double that -- $13.4 billion, according to Alexia Elejalde-Ruiz of The Chicago Tribune. Perhaps the calculation was doubled because of the assumption of play time during work hours. The former number was based on the supposition each fantasy owner spent an average of one hour per week on his or her fantasy team while on the job. The latter "conservatively" assumed two per week.
Fantasy owners start sweating early with the now-weekly Thursday night matchup starting just after the working day ends on the West Coast, quite the conundrum for owners stressing over lineup decisions. That is only the tip of the iceberg for fantasy owners curating lineups throughout the workweek. Before Sunday games are even over, owners begin to pore over available names and lineup decisions for the following week.
Of course, fantasy football itself should mostly be about having fun, right? It is a game within a game, after all. Why, then, do some owners take the game so seriously?
• Bold predictions for the 2014 fantasy football season
​Ravens kicker Justin Tucker gets it. His 24-point outburst against the Lions in Week 15 last year saved many fantasy seasons, and he knew it. The first thing he did after the game was congratulate his fantasy owners. But he also acknowledges the downside to fantasy football, especially from an NFL player's standpoint.
"The players benefit from the fans," Tucker said. "Fantasy football gets the fans more hyped up about football, but fans need to realize that the players drive the game itself. It should bring people closer to the game and its players. It's supposed to be fun."
Minnesota Vikings WR Greg Jennings once mused on his experience and expressed his feelings about fantasy football at the SXSW conference, as recounted by Jeff Bercovici of Forbes.com:
At one point, he recounted playing a game against the Pittsburgh Steelers during a lull in his season and being screamed at by a fan for his low fantasy production. After scoring an 80-yard touchdown in the game, Jennings said, "I wanted to turn around and be like, 'Am I still sucking for you?' I remember sitting there and, like, I wanted to say something to a fan but I can't let them know they got to me, because it's fantasy football. But it's probably the most serious game out there."

Players have mixed feelings about fantasy, he said. Many like it for the way it extends their fan bases throughout the league. But fans' heightened enthusiasm has its downside. "It's a unique deal where we mean more to a fan than we ever have," he says. "I remember getting hurt and I'm leaving the stadium, and first thing a guys says to me is, 'Jennings, should I drop you from fantasy?' And you sit back like, ugh, really?"
His story touches on the outspoken fantasy owners who give other owners a bad name. Any time a player falls short of expectations, he can expect some level of abuse from fantasy owners, particularly on social media. Several players have taken to Twitter in recent years to voice their displeasure about fantasy football itself.
Not all football players are disdainful of this fake sport, however. Some embrace it with a passion, according to this piece from NFL.com, from Nov. 2009.
Oakland Raiders running back Maurice Jones-Drew -- famed not only for his on-field exploits, but for his love of fantasy football -- once joked former teammate Greg Jones sabotaged him because they were going head to head in fake football that week. Jones-Drew is perhaps fantasy football's biggest proponent among the players, whose ranks have been growing in the fantasy football realm for years.
Of course, that doesn't necessarily make them good fantasy owners, as the article says: 
"Matt Forte picked me before I had a chance to pick myself," [Chicago Bears placekicker Robbie] Gould said of his Chicago teammate. "He has half the Bears team."

Earlier this season, Seattle Seahawks quarterback Matt Hasselbeck benched himself in favor of Brett Favre, thinking the Vikings' quarterback would have a huge day against the St. Louis Rams. Well, Favre threw for 232 yards and one touchdown, but Hasselbeck had a season-high four touchdown passes against the Jaguars.

And it's difficult not to be emotionally involved. Jets running back Leon Washington is clogging up a bench spot on his NFLPA-leading team, Jet Lizzle. He has been on injured reserve with a broken leg for nearly a month, but he hasn't had the nerve to cut himself.
"We don't dislike fantasy football, just what comes of it sometimes," Tucker said. "As football players, we are playing a game, but at the same time we are fighting for our livelihoods. Fantasy football is 'pretend' football. Our nature is to have skin like an armadillo, so we tend to ignore the negative stuff. But it's nice to hear from fans in a positive way. There are two sides to the coin. If you're going to take it so seriously, then you're an idiot."
There is certainly a disconnect between fantasy owners and players. As Cory Albertson -- a daily gaming savant who has won a ton of money -- puts it in an interview with Brad Reagan of The Wall Street Journal, athletes are "commodities" to be played on the stock market. Albertson seemingly has no negative connotations to his comparison, but the dehumanizing nature of fantasy sports is plain.
Fantasy Football Sleepers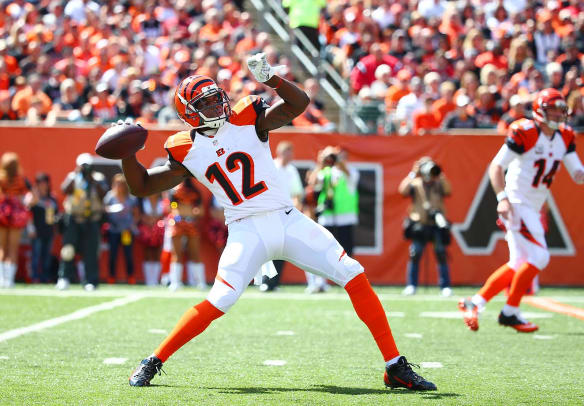 However, plenty of positives can come out of fantasy football. St. Louis Cardinals pitcher Adam Wainwright, along with his brother, Trey, founded a charity fantasy football league called Big League Impact to benefit basic needs charities. In 2013, the league (initially launched as Waino's World of Fantasy Football) raised over $120,000, benefiting Water Missions International and a St. Louis-area food bank. The league will expand to several other MLB cities, spearheaded by big names like Clayton Kershaw in Los Angeles, Max Scherzer in Detroit and Freddie Freeman in Atlanta, with seats starting at $3,000 for the upcoming season.
• Which surprise player will swing fantasy football leagues in 2014?
Fantasy football can also serve as a welcome departure from the harsh reality. At the annual awards ceremony for the Fantasy Sports Trade Association and Fantasy Sports Writers Association this past winter, ESPN fantasy guru Matthew Berry recounted a story about someone who escaped his sorrow over a lost loved one with a brief weekly immersion in the fantasy football realm. The industry's godfather went on to say he has received countless emails over the years about how fantasy football has helped people get through tough times.
University of Rochester neuroscientist Renee Miller -- an avid fantasy gamer herself -- pontificated on the possible reasons behind escapism in fantasy sports.
"I think we feel good about ourselves when we're learning -- I hope that as an educator -- but I really do think that continually pushing our brains to accumulate new information and to store and use it in a way that might be profitable or productive is really essential to mental health and well-being," she said. "In the face of death or divorce or loss of any kind -- whether it be a job, a person or a relationship -- I think that fantasy sports can fill that role of finding something new to believe in and rely on and feel good about yourself for."
Celebrities at NFL Games
Of course, not everyone takes fantasy football so seriously. Pierre Becquey, ESPN's fantasy editor, says the vast majority of unique fantasy players play in just one league on ESPN's site. That isn't to say they don't have teams on other sites like Yahoo!, NFL.com or CBS Sports, but statistics point to a larger casual audience. The more serious subset of fantasy footballers seems to be a vocal minority in a game that is ultimately about fun and community.
"Before Facebook or MySpace or Friendster, there was fantasy football. It was a way to interact with people with whom you would otherwise have no business interacting," Berry said. "It's supposed to be fun."
So where is fantasy football headed? Will the loud minority of rabid fans take over, or will owners evolve to become more sophisticated and level-headed with time?
"I play [fantasy football] because I think it's fun, adds an interesting aspect to following football on Sundays," said Tucker. "You can follow players on completely different teams. But you've got to play responsibly."
The clutch kicker nailed another one.