Some top prospects take visits while others compete in state playoffs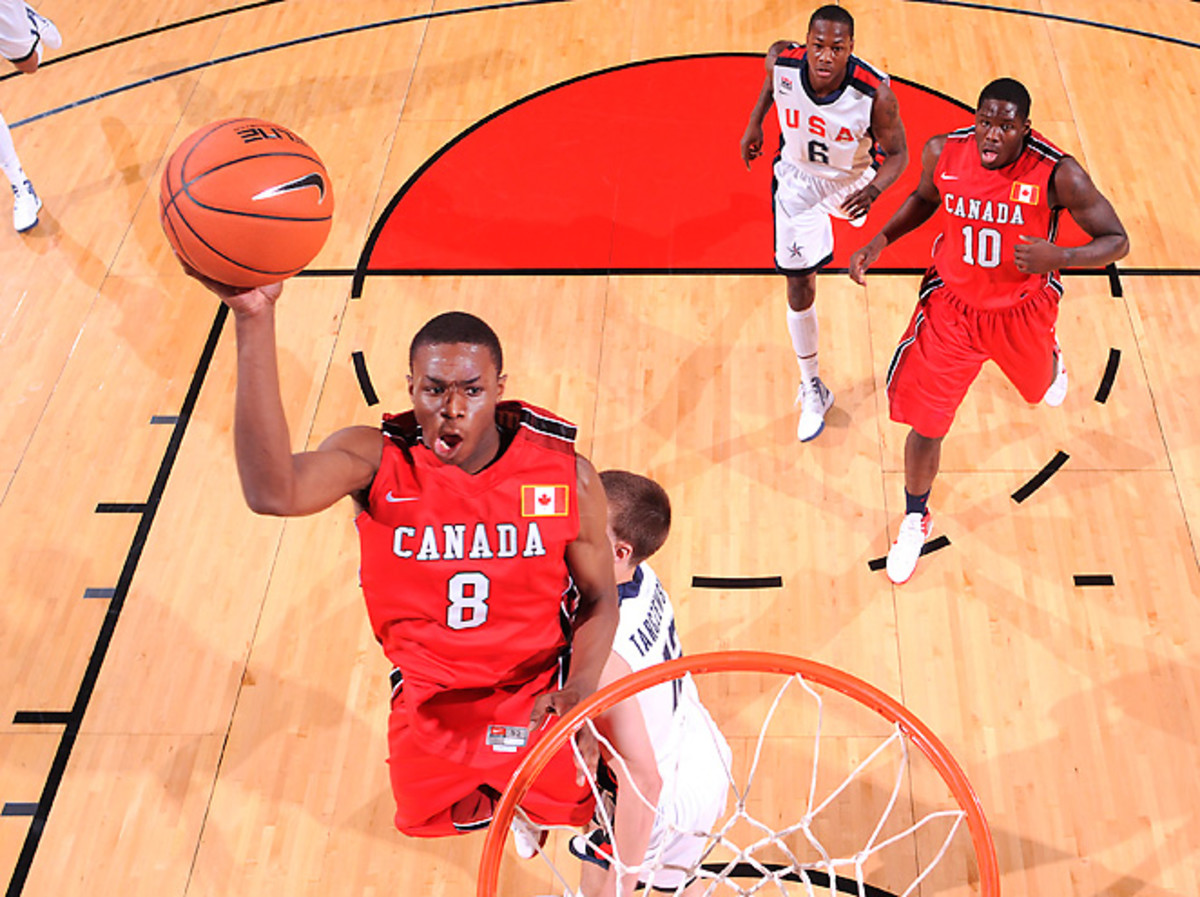 In college basketball, it is conference championship time. In high school basketball, it is state championship time. With so many high level games going on, there were lots of visits and going on this weekend. Here's a look at some of the happenings from around the country.
Man about 'Town
So far, John Thompson III and the Georgetown Hoyas appear to be the winners of the weekend.
On Sunday, they picked up a surprise commitment when the nation's No. 45 player in the class of 2014, Isaac Copeland, pledged to the Hoyas.
The Hoyas had been recruiting Copeland quite aggressively and were considered to be in strong position, but he wasn't expected to pull the trigger.
"I went up on Friday and went to the Syracuse game and all that," Copeland told Rivals.com. "They have the total package, basically. Great academics, great coaching and a great environment. I think I fit in with their style of play."
Copeland wasn't the only visitor on campus as the Hoyas took out the Orange in their final game in the "old Big East." Five-star Theo Pinson was there, as were 2014 four-stars Dwayne Morgan, Dion Wiley and Ben Bentil, among others.
A native of Baltimore, Morgan will be announcing his decision on April 5 and he's expected to narrow his list down to 3-4 schools within the next few days. Currently, UNLV and Maryland are considered the front-runners, so it will be interesting to see how the commitment of Copeland -- a very similar player -- impacts his recruitment.
Weekend trips
With many so many important games taking place around the country, there was no shortage of major visitors.
At North Carolina, the Tar Heels were whipped by archrival Duke on Saturday night, but there was no shortage of firepower in the stands. The Heels hosted an impressive group of recruits including the nation's No. 1 player Andrew Wiggins, who was joined by 2013 signees Nate Britt and Kennedy Meeks. From 2014, five-stars Rashad Vaughn and Theo Pinson were joined by recent Heels commitment Justin Jackson. The class of 2015's No. 32 player Luke Kennard was also on hand.
Over in Lexington, John Calipari and Kentucky got a much needed win over Florida to keep their NCAA Tournament hopes alive. Among those in the stands were 2014 five-star big man Trey Lyles, as well as fellow class of 2014 big man Goodluck Okonoboh, a four-star shot blocking machine.
Arizona also hosted some serious talent this past weekend. After recent visits to Duke and Kansas, small forward Justise Winslow was in Tucson to check out what the Wildcats have to offer. Sticking with the Pac-12, Washington played host to junior college swingman Mike Anderson and class of 2014 wing Donaven Dorsey. From nearby Lacey, Wash., Dorsey is a major Husky target in 2014.
Touted 2014 shooting guard Devin Booker also continued his visits this past weekend. The 6-foot-4 shooter from Moss Point (Miss.) High had already tripped to Florida, Missouri, North Carolina and Duke this winter. Earlier in the week he stopped by Michigan State. Sunday, he was on hand in Ann Arbor to watch Michigan host Indiana as the Wolverines hope to grab a share of the Big Ten conference championship.
The nation's top available point guard, Rysheed Jordan, was at Temple again this weekend. Jordan continues to consider the Owls along with his other finalists, UCLA and St. John's. Also in Philly to check out Temple were a pair of four-stars from the Washington, D.C., area in power forward Obi Enechionyia and shooting guard Phil Booth.
Staying out East, Seton Hall hosted a pair of three-star power forwards over the weekend. Philadelphia native Darryl Reynolds, who is prepping at Worcester (Mass.) Academy, was on campus, along with Washington, D.C., native Lennard Freeman who is spending his senior season at Mouth of Wilson (Va.) Oak Hill.
Finally, Cuonzo Martin and Tennessee hosted a handful of visitors as they battled from behind to knock off Missouri. Recent Vanderbilt de-commitment Darius Thompson, a three-star senior guard from in state, was on hand as was 2016 point guard Quentin Goodin from Kentucky. Other visitors included 2014 point guard Kedrick Flomo, 2014 wing Jeffery Garrett and 2015 shooting guard Dante Scott.
JUCO PG to UNLV
The search to find more backcourt help at UNLV got a boost over the weekend. Former Mississippi State point guard Deville Smith, who is spending his sophomore year at Southwest Mississippi State college, confirmed to T.E. Parker of Rebel-Net.com that he committed to the Rebels during his official visit.
A four-star point guard who ranked in the national top 75 coming out of high school, Smith averaged just over four points per game as a freshman at MSU. He joins a recruiting class that already includes four-star junior college wing Jelan Kendrick (an Ole Miss transfer), three-star point guard Kendall Smith and four-star forward Christian Wood.
Six-shooter
The word was that five-star point guard JaQuan Lyle would cut his list down to six as soon as his high school season was over. Saturday, the 6-foot-4 Lyle and his Evansville (Ind.) Bosse teammates fell in a regional semifinal, and true to his word, the No. 16 player in 2014 released his final six schools.
Making the cut for the physical and versatile guard are Florida, Illinois, Indiana, Louisville, Ohio State and Tennessee. Lyle has said that there is no leader in his recruitment as of yet.
However, the Illini have been gaining a lot of steam of late according to behind the scenes chatter.
Tournament notes
A pair of high-major prospects led their teams to undefeated seasons and state titles in the state of Kansas. Duke-bound four-star small forward Semi Ojeleye from the class of 2013 led Ottawa (Kan.) High to a class 4A title while 2014 Iowa State pledge Clayton Custer led Overland Park (Kan.) Blue Valley Northwest to a class 6A title. After scoring 45 in the semifinal round, Ojeleye was "held" to 13 below his season average but still managed 27 to lead his team to a title.
After falling to Wichita (Kan.) Heights in the state finals during his freshman and sophomore years, Custer led his squad with 21 points to secure a championship win over Stanley (Kan.) Blue Valley West as a junior.
Aaron Harrison and Andrew Harrison will head to Kentucky as state champions. The five-star twins led their Fort Bend (Texas) Travis team to a class 5A state title in an ugly game over South Grand Prairie from the Dallas area.
The twins shot a combined 6-19 from the field but hit free throws when it mattered down the stretch. Fellow five-star Keith Frazier and Dallas (Texas) Kimball fell short of their quest to win a third straight crown in class 4A. Frazier had a rough day shooting and managed 24 points but Kimball fell to Miami football signee Derrick Griffin and Rosenburg (Texas) Terry. Griffin had 24 points and 14 rebounds and like Frazier, seven turnovers.
Rivals.com had a chance to spend a lot of time watching the Georgia state championship games online and one player really stood out. Class of 2014 forward Isaiah Wilkins from Greater Atlanta Christian was very impressive in the 2A game. A smooth, 6-foot-7 athlete with inside-out skill, Wilkins is a smooth glider who gets up and down the court. Still growing into his body, Wilkins is making a strong case to be included in the 2014 Rivals150 when it gets updated this week. Also in Georgia, Miller Grove high won an impressive fifth straight state title. 2014 Rivals150 member Keith Pinckney was solid in leading the Wolverines and allowing them to continue what is an incredible streak.
Finally, the state of Kentucky still plays a one-class state tournament and it made for an incredibly entertaining state championship. After looking outclassed by 2014 four-star point guard Quentin Snider and Louisville (Ky.) Ballard for the first 20 minutes or so, Richmond (Ky.) Madison Central mounted a comeback for the ages. Trailing by as many as 16 in the second half, Madison Central fought all the way back, winning by one on an improbable fade-away three-pointer by senior guard Ken-Jah Bosley from the right wing with just 2.2 seconds left.
Snider finished with 23 points and seven assists in a losing effort and was given help by unsigned senior guard Lavonne Holland and three-star junior wing Kelan Martin. Bosley hit several key shots down the stretch but the story for most of the tournament for Madison Central was the play of senior three-star guard Dominique Hawkins. Hawkins had 21 points and 10 rebounds in the title game and showed a special level of competitiveness. South Carolina recently offered while Western Kentucky, Morehead State and others are holding out for him. Kentucky evaluated him throughout the weekend, Louisville has asked him to walk on while Tennessee and Murray State have also taken a look.