NFL's Jackson, MTV's Dyrdek on horse racing's thrilling athleticism
It doesn't take more than a quick Google search to tell Steven Jackson and Rob Dyrdek apart. Sure, they're both professional athletes; Jackson is one of the NFL's most productive running backs, and Dyrdek is a record-setting skateboarder. But beyond that? A spin around the Web reveals that their personalities are as divergent as the sports at which they have excelled. There's Jackson, showcasing his eye for architecture ("I like the sleek edges," he says of a home in Brazil he admires) and an art-gallery display of his original photography. And there's Dyrdek, starring in his MTV reality show, promoting the Nickelodeon cartoon and related toy line he has created and touting one of the many companies he has founded or invested in.
Upon further review, however, similarities surface. These guys understand that there's a whole lot more to life than athletic success. They embrace a wide range of passions. And among those interests, they both share a love of horse racing. While both the Atlanta Falcons star and the Street League Skateboarding founder are relatively new to the sport of kings, their fascination is hitting full stride.
Here, in their own words, they explain why.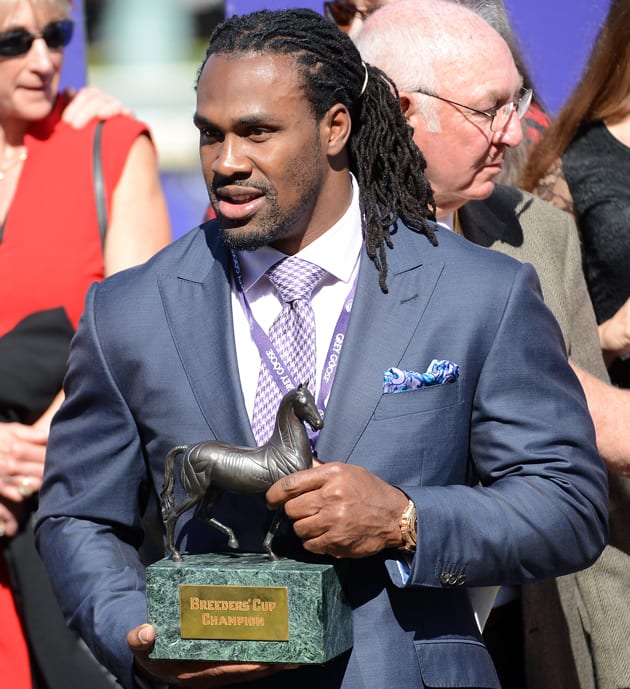 ​Steven Jackson – An athlete's appreciation
I have to admit it. I used to think horses were just animals. I never thought of thoroughbreds as athletes. But as I have gotten to see them up close since first being introduced to the sport five years ago, that has changed in a big way.
These horses truly are athletes, and I see a likeness of my life in theirs. They train and work hard, often in the early morning hours. They compete and hate to lose. They rise to the occasion. They have strengths and weaknesses. They even watch how they eat. You can't help but admire them, especially when you see them up close the way I have.
My best experience in the sport so far was going to the Breeders' Cup Classic in 2012. That is the Super Bowl of horse racing, and the access I had at that event was incredible. To be down there right at the finish line with the greatest horses in the world was amazing. I'm thrilled that our bye week with the Falcons this year is the same weekend as the 2014 Breeders' Cup. We are booking our rooms and will be there again.
I have always had a variety of off-the-field interests, and now that I have come to know and love racing the way I have, owning a horse is among them. I already have a name picked out. I can't tell you what it is, but I can tell you about the inspiration—a teaser horse I once watched. The teaser horse has a very tough job, to say the least, and I watched and admired this teaser horse's dedication. I hope to honor him one day.
​​Rob Dyrdek – An adventurer's adrenaline
No matter who you are, no matter where you come from, no horse owner starts out by jockeying a horse. But I'm thrilled that I did it, and I haven't looked back.
My friend Joe Ciaglia Jr. is a horse owner, and he knew I would love being part of the game. He kept hounding me to get in on some horses with him, until finally I told him I would—under one condition. I was going to jockey it in a race for an episode of my Fantasy Factory show. "That's not possible," Joe told me. "It will take you a year to train to jock a race." All I said was, "I don't think so."
So we bought Mega Heat together, and I went to train before we raced. On the third day of training—only the third time I had ever ridden a horse—the trainers said there was no way I was going to be able to break the gate in the race. I told them I would, so they said, "Fine. Get in the gate now." They wanted me to show them I could do it.
I almost flew off the side when that thing popped, and then all of a sudden you are going 40 miles an hour. The balance and center of gravity from skateboarding helped me handle it, and I was able to ride Mega Heat in the race, and win. But I will never do it again. I've done a lot of dangerous things in my life, but to have your body wide open like that is just so scary.
I've owned as many as 13 horses at a time since then. I had a magical summer in 2011, watching our two-year-old Weemissfrankie win race after race. She finished third in the Breeders' Cup Juvenile Fillies that fall. And we have some great one-year-olds now. The sport is a cross-section of everything I am about: the adrenaline of being a participant, the business aspects of buying horses and building a stable, and the lifestyle of being around so many incredible people.
And I will always love the big races like the Breeders' Cup, where we competed with Weemissfrankie. But for me, winning is just as much fun on a Tuesday afternoon at Hollywood Park.
THE BREEDERS' CUP CHALLENGE SERIES
9/27 5:30 p.m. ET NBCSN
Awesome Again at Santa Anita
Jockey Club Gold Cup at Belmont Park
10/4  4:30 p.m. ET NBCSN
Shadwell Turf Mile at Keeneland
10/5  5 p.m. ET NBC
Juddmonte Spinster Stakes at Keeneland
Visit Challenge.BreedersCup.com for more information.