Four technology storylines to track during this NFL season
From partnerships with Snapchat and Twitter to data chips in game balls, the NFL is expanding is technological footprint.
Read about the latest sports tech news, innovations, ideas and products that impact players, fans and the sports industry at SportTechie.com.
The NFL, a $13 billion league, continues to put technology at the forefront of what it does both on and off the gridiron.
With the 2016–17 season in full swing this weekend, here are the top four sports technology storylines to follow over the next six months.
Snapchat, NFL expand partnership
Last year, the NFL signed a deal with Snapchat that saw the league create Live Stories throughout the season and playoffs. They were viewed by 70 million people across the globe, according to the NFL.
Just last month, the league and the five-year-old social media platform signed a multi-year extension that will give the NFL its own Discover Channel, the first professional sports league to have one.
"The launch of the NFL on Discover will provide a key touch point to follow storylines throughout the week," Blake Stuchin, the NFL's director of digital media business development, said in a statement. "The expansion of Live Stories will also provide fans with a unique perspective of the excitement in and around our stadiums."
The Stories will appear for every NFL game this season in addition to the Super Bowl, combine and draft.
Clearly, the NFL has made a concerted focus on utilizing Snapchat to connect with its next generation of fans. It was asking advertisers for $7 million for season-long partnerships, according to Ad Age. It will be interesting to see how many eyeballs actually view the Stories, level of engagement and what that means for advertisers moving forward. Will brands make additional investments in Snapchat and move money from linear television to social/digital?
NFL Week 1 Blanket: Eagles may have won, but hold off on Carson Wentz's coronation
New data chip technology
Chances are NFL fans won't actually see some of the league's new technology on the field. That's because it's nesting underneath the laces of the game balls.
As part of an expanded five-year deal with Zebra Technologies—the NFL's official on-field player-tracking rovider—game balls will now have a data chip inside them for all Thursday Night Football games.
According to league spokesman Brian McCarthy, the new pieces of technology will help determine how far the balls travel and their distance from field goal or extra point attempts.
"We continue to enjoy working with Zebra to give fans and teams a deeper look into the game they love," Vishal Shah, NFL vice president off digital media, said in a press release. "Zebra's focus on innovation has led to advancements in the whole system, from improved software to smaller devices. For example, these improvements now enable us to track objects beyond players, such as the ball which we are currently testing."
iPhone 7 Plus Photos from the Titans-Vikings Game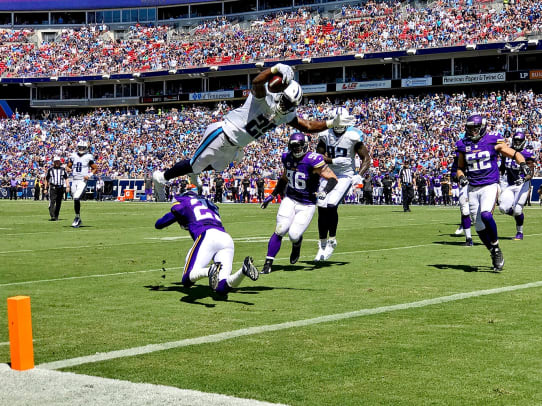 Twitter lands live-streaming deals for 2016
In 2016, Twitter has gone all-in on its move towards live streaming, which includes deals with the NHL, NBA and MLS among others.
But its biggest partnership came earlier this Spring as it beat out Facebook, Yahoo!, Verizon and Amazon for live-streaming rights to Thursday Night Football. It won with a bid around $10 million for the same 10 games broadcast by CBS and NBC.
As a result of the deal, fans will not have to be television subscribers in order to watch the games.
The deal makes complete strategic sense for the NFL. Whether or not it attracts more users for the decade-old social media platform remains to be seen. One thing is for certain—it will give cord-cutters another outlet to view live sports programming while staying connected on social.
U.S. Bank Stadium makes regular season debut
When the Minnesota Vikings have their home opener against the Green Bay Packers Sunday, it will be the first regular season game at U.S. Bank Stadium. Its technology integration and new "connected stadium" has flown under the radar when compared to the likes of two-year-old Levi's Stadium, home of the San Francisco 49ers.
Subscribe to the
SportTechie Newsletter
Those who designed and built the $1 billion stadium approached it from the mindset of a fan.
About 2,000 HD flat-screen televisions will be positioned throughout the stadium while two of the league's largest video boards will be stationed in the east and west end zones; 1,300 WiFi access points will help fans stay connected.
Additionally, U.S. Bank will be the first NFL stadium to feature LED lighting, which quickly adjusts for pregame and halftime festivities and also consumes less energy than traditional lighting. A fantasy seating area will allow certain ticket-holders the opportunity to stay updated on play from around the league. Finally, fans can travel through the "Vikings Voyage" exhibit and learn about the franchise's 55-year history.
The $7 million, 10,000-square-foot interactive museum will allow fans to run through a series of drills where they can hit defensive-line pads, test their vertical jump and put on Virtual Reality headsets to catch passes from a virtual quarterback.
"As an organization, we constantly look to innovate and provide the best fan experience possible, and our approach was no different with the addition of the Vikings Voyage," Mark Wilf, the Vikings' president and co-owner, said in a statement. "The Voyage will bring fans together, allowing them to engage with their family and friends while celebrating Vikings history."