Introducing Populous' Living Park, an exclusive baseball stadium for the future
Introducing Populous' Living Park, an exclusive baseball stadium for the future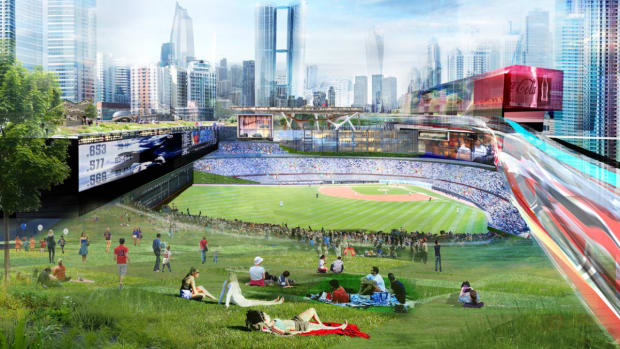 What can baseball fans expect their stadiums to look like in 20 years' time? To find out, Sports Illustrated approached Populous—one of the world's most prolific stadium designers and the architects behind roughly 20 MLB stadiums, including the two most recent venues in New York, Target Field in Minneapolis and Marlins Park in Miami—to look into the future and envision a realistic design for stadiums in the 2030s. After the Populous team brainstormed ideas and concepts, they created Living Park exclusively for SI readers, both the ones now and in 20 years.
The result: A park that doesn't simply sink into the dense urban fabric of a city, but merges with it, creating a completely new vision of stadium facades, community and interaction. The fresh take on a baseball home, as designers Brian Mirakian and Greg Sherlock called it, creates a re-imagined communal living room with some flair, such as interactive data glass, public transit lines sweeping through the park and the city built right into the venue. This is, after all, the future.
Looking forward, there's no need for the high-arching concrete and steel that separate today's stadiums from the city around them. Mirakian anticipates "transformative stadiums that will really build a community." The glass structures horseshoed around Living Park, for example, aren't just premium seating, but also serve to combine the city and stadium. A street front on one side that hosts everything from offices and apartments to retail and restaurants turns into a stadium portal on the backside, offering stellar views onto the field. Instead of rising out of the city, the stadium sinks into it.
Trending data suggested increased urban densification, giving Mirakian the idea to create a linear park environment that allows the building to play as the central theme—a place activated during a game, but where the community can gather at any time, during either the season or offseason. In this case, the building itself is defined by the edges of the city, acting as a window into the building on game days. There's no need for fanciful facades, as the stadium instead flows with the park and city.
You'll still find a traditional seating bowl tucked below premium glass-enclosed spaces, but with the future of team revenue not as reliant on gate receipts, designers can offer new types of space. A city park overlooks rightfield—a riff on Fenway Park's famed Green Monster, but this time with a green roof—and an enlarged berm beyond leftfield gives the stadium community-inspired life and public accessibility 365 days a year.
"Fields tend to be protected domains," Sherlock said. "There is an amazing feeling when you get close to the turf, so why not take advantage of that? Ultimately, that is what this is about, bringing on the positive pleasures of life and reducing the stress. These powerful sporting venues are amazing places for people to get lost in the daily life."
Getting to urban sites often proves tricky, so Populous brought the public transit line straight through Living Park, giving transit users a free look at one of the most stunning views in the city. Mirakian called it a "pretty distinct" element of the design.
NEWCOMB: San Diego wanted floating stadium 50 years ago
From the massive next-gen LED board in rightfield that allows the viewer within to see out, to Google Glass-styled windows in dugout suites behind home plate, Sherlock called Living Park an "integrated building," not only merging with the city and community, but also interacting with the game. Why not have fans in premium seating peering through glass overlaid with real-time data? "Being able to physically embed data into architecture is a really powerful thing," Mirakian said, "and something we'll definitely see in the future."
Offering high-tech experiences also enables the club to create new value in premium and enhances the traditional seats. "The biggest segmentation of fans, the experiential fans, they are not here to simply spectate in the event," Mirakian said. "They are geared toward a participant experience and want freedom to move about, experience technology in different ways and fundamentally take in a MLB game in different ways. The social space is changing really dramatically."
By giving fans an in-venue encounter that not only matches the home-viewing experience, but also exceeds it, Populous expects to draw a variety of types of spectators.
"Technology is keeping people in their homes," Sherlock said. "We reversed that notion, and in this urban context, this park-like setting is the community living room where you go to get super technology at your fingertips."
The 37,500-seat Living Park, which grows if the park is packed, retains traditional elements and enhances them as well. The seating berm gets magnified, and the away scoreboard is topped by a data-dripping LED board. The seating bowl rises for better views, and the suite experience creates places to socialize in a fan-flexible way. Populous suggests opening up the dugouts, in-park batting cages and other off-limit areas to allow intersection with athletes. Populous even modernized the mow pattern of the grass. Now that's futuristic.
Tim Newcomb covers stadiums, design and technology for Sports Illustrated. Follow him on Twitter at @tdnewcomb.