Cubs in playoffs, Ozzie back in Miami and more bold NL predictions
The Cubs making the playoffs? The Pirates winning the NL Central? The Marlins bringing back Ozzie Guillen? Jay Jaffe predicts all that and more in the NL for the second half.
If you're in the business of writing about baseball, you're expected to make predictions. Whether you arrive at your prognostications via mathematical measurement, gut feeling or peyote-induced hallucination, history has shown that like even the best hitters, you'll be off-base more often than not. The occasional right prediction will make you think you've cracked the code to this game long enough to get a false sense of superiority, but another one will be so star-spangled spectacularly wrong that it will be worthy of burial in an unmarked desert grave by season's end.
Via my admittedly scuffed crystal ball, what follows here and in a companion piece for Thursday are a fistful of predictions for the second half for each league, some bold or even outlandish, some a bit more off the wall. The only guarantee I can make is that by season's end, at least one of them will make me want to crawl under my desk, and serve as a cautionary tale.
• MORE MLB: Rose steals ASG spotlight | Trout shines once more
1. The Reds and Padres, not the Phillies, will be the most popular teams at the trade deadline
As the July 31 non-waiver trade deadline approaches, 16 teams are within six games of a playoff spot, and 27 are within 8 1/2 games. Depending upon how the next two weeks play out, that could mean almost no one will admit that they have no shot, making dealing difficult. Obviously, the Phillies (29–52) are one seller, and they have All-Star closer Jonathan Papelbonchamping at the bit to be dealt, along with ace Cole Hamels and way-past-sell-date star infielders Ryan Howard and Chase Utley. All come with contract complexities—partial or full no-trade protection, vesting or club options with some steep buyouts—that will make dealing them at least something of a challenge, and so long as general manager Ruben Amaro Jr. has a say in the matter, they can't be trusted to make the right moves.
The Outsider: A long, strange trip from Las Vegas to L.A. with Pete Rose
The Reds (39–47) aren't quite as DOA as Philadelphia, but the Baseball Prospectus Playoff Odds given them just a 0.5% chance of snatching a wild card spot (thanks in part the league's most difficult schedule the rest of the way), and they may have more appealing trade options than just about any other NL team. Given that the Phillies don't have to trade Hamels, who can block deals to 20 teams, Johnny Cueto, Cincinnati's ace and a pending free agent, may be the best pitcher available at the deadline. The Reds can't afford to re-sign him, so he has to be dealt.
But wait, there's more! Mike Leake is also a pending free agent, one who can bulk up a rotation without costing as much in blood and treasure, and Jay Bruce and Marlon Byrd offer useful bats that can upgrade a flagging outfield corner, with an affordable year of club control tacked on if a team wants to flip them again this winter. Likewise, fireballing closer Aroldis Chapman, who's still at the top of his game, has one more year under contract. The right moves could give the team a solid push in the right direction in an increasingly competitive division.
Anti-All-Stars: Utley, Sandoval, Rodney among worst of first half
As for the Padres (41–49), they were everybody's darlings after new GM A.J. Preller's flurry of winter activity despite the fact that it left the team looking more like a warehouse of baseball parts than a cohesive roster. The overstocked outfield and a supposedly strong rotation have been disappointments, the infield has been a much more easily foreseen mess, and booting manager Bud Black (32–33 before being fired on June 15) in favor of Pat Murphy (9–15) hasn't provided the necessary jolt of urgency. With the farm system having taken its hits, you can expect Preller to deal pending free agent outfielder Justin Upton and at least one starter from an underachieving rotation where Tyson Ross (107 ERA+) is the only pitcher preventing runs at a better-than-average clip. Closer Craig Kimbrel and pressed-into-duty centerfielder Will Venable might also be dealt, as San Diego looks to reorient itself for 2016.
1A. The Reds will axe Bryan Price before season's end
Reds' Todd Frazier triumphs in thrilling new-look Home Run Derby
An excellent pitching coach, the 53-year-old Price has seemed out of his element in his 1 1/2 seasons at the helm of the Reds, posting a .464 winning percentage and getting involved in some strangeblowups. Amid a 5–10 slide that's seen Cincinnati lose series to the truly bad Brewers and Marlins as well as the Mets (but somehow beat the Twins and Nationals), the blade is drawing closer. Hometown hero/Hall of Famer Barry Larkin's name has been tossed around despite his admitted lack of experience and readiness, but such a move might be the only thing that keeps fans interested in this fading team. Even if Larkin isn't Price's successor, you can bank on the incumbent not lasting the season.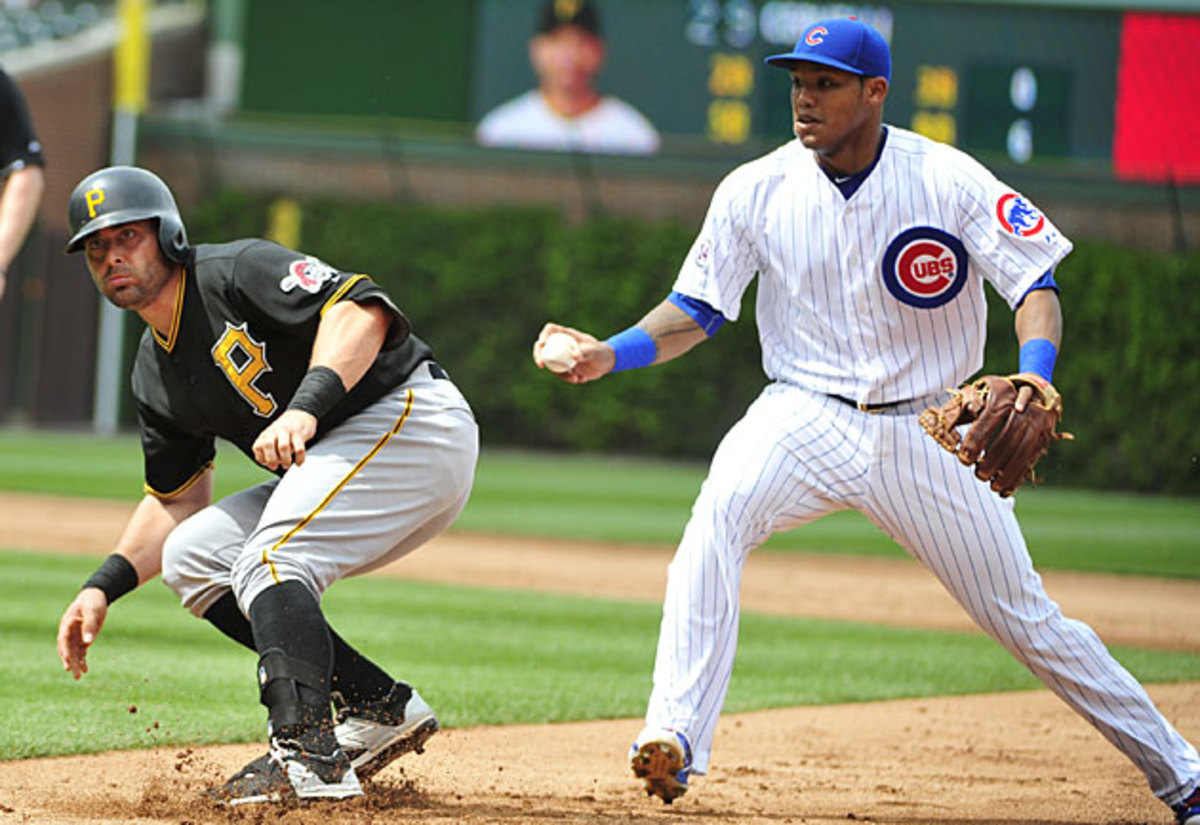 2. The Pirates will overtake the Cardinals in the NL Central, but both will make the playoffs
Remember how improbable it seemed when the Cardinals continued to play at a 108-win pace despite losing Adam Wainwright and Matt Adams to injuries that were likely season-ending? It was, and since June 28, the Redbirds have lost nine of 14 while the Pirates have surged by winning 11 of 13, trimming what was a nine-game division deficit to 2 1/2 games. The two teams have been on more or less even footing since the start of May, with Pittsburgh going 41–25 and St. Louis 41–27.
Power Rankings: Cardinals edge Pirates for top spot as first half ends
The Cardinals' rotation has held up admirably without Wainwright and despite the brief absence of Lance Lynn, with both Michael Wacha and Carlos Martinez pitching their way onto the NL All-Star squad via sub-3.00 ERAs. But sooner or later, workload concerns will loom for that pair of 23-year-old pitchers who last year totaled 109 and 99 2/3 innings, respectively; both have 107 1/3 innings thus far. So long as Lynn and John Lackey hold up, St. Louis will contend, but counting on Jaime Garcia (currently on the DL with a groin strain after seven starts and a 1.69 ERA) is another matter. GM John Mozeliak has the depth to make moves, but one wonders whether the team's embroilment in the Astros database hacking scandal will make it harder for him to deal.
As for the Pirates, Gerrit Cole, A.J. Burnett and Francisco Liriano are all pitching brilliantly, giving them three pitchers they can match up with any team's right now. Their lineup has room for improvement, whether that means waiting on young outfielder Gregory Polanco to live up to the prospect hype or finding this year's edition of Byrd (who gave them a big boost in 2013). Pittsburgh could likewise use an upgrade at first base, where the returns on the Pedro Alvarez experiment have been under-whelming, and the bench, which aside from Jung Ho Kang—pressed into regular play at third base by the loss of Josh Harrison to a thumb injury—has been weak. In short, there's a lot that GM Neal Huntington can do to improve around the margins, and it says here that he will.
3. The Mets will continue to lose ground in the NL East after waiting too long to upgrade the lineup to account for the continued absence of David Wright
…and the sun will continue to rise in the East. Since the end of an 11-game April winning streak that ran their season record to 13–3, the Mets are just 34–39 with a -28 run differential and an offense wheezing at a 3.24 runs per game clip. All of that has happened without their 32-year-old third baseman, who's been out since April 14 due to a hamstring injury and then a diagnosis of spinal stenosis. As of earlier this week, Wright still hasn't been cleared for baseball activities, the resumption of which would probably herald a 3–4 week buildup before returning to the lineup, barring setbacks. Who wants to bet on that timeline given the team's constant inability to manage injuries?
Awards Watch: Bryant, Pederson in dead heat in NL Rookie of Year race
In Wright's absence, general manager Sandy Alderson has forced manager Terry Collins to muddle through an infield situation where the optimal in-house solution requires Daniel Murphy (whose 105 OPS+ makes him one of the team's three above-average regulars) to play both second and third base in order to minimize the damage done by Ruben Tejada, Wilmer Flores and Eric Campbell on both sides of the ball. Aside from first baseman Lucas Duda, the remaining infielders are 20 runs below average via Defensive Runs Saved, which isn't doing their fine young rotation any favors.
Because ownership insists on running the team like a small-market one, obvious solutions such as Juan Uribe have been moved elsewhere, and there's little reason to believe the team can stomach trading a young pitcher in exchange for a big outfield bat like Upton or a jack-of-all trades such as the A's Ben Zobrist. Of course, that isn't to say the payoff for making such a move would be worth it. Thus, New York seems fated to continue meandering around .500, better than its recent past but outside the playoff picture.
4. The Rockies will ship out CarGo but not Tulo
Occupants of the NL West basement and the owners of the majors' second-worst record since April 27 (28–41), the Rockies are amid another season of irrelevance en route to their fifth straight sub-.500 finish. After a slow start, Troy Tulowitzki has come to life, batting .364/.419/.564 with eight homers and 31 RBIs over his last 36 games, strong enough that he made his way onto his fifth All-Star team as an injury replacement for Dee Gordon. Owed more than $100 million through 2020, the 30-year-old shortstop won't come out and ask for a trade, and he doesn't sound as though he wants one—and neither does the team's brass. So bet on him to stay put despite some obvious fits in other lineups, if not on their balance sheets (the Angels, Giants, Mets and Yankees come to mind).
Pete Rose on his Hall of Fame hopes, steroids in baseball and much more
Instead, look for Colorado to trade Carlos Gonzalez, whose overall numbers are subpar (.259/.314 /.452 for a 97 OPS+ with 13 homers) but who has hit .306/.336 /.597 since June 1 thanks to a return to full heath, particularly regarding his surgically-repaired left knee. Still owed some $45 million through 2017, his track record with regards to health—he's played in at least 130 games just once in the last four seasons—means that it's time for the Rox to eat some remaining money before he breaks again. The team has other candidates to move as well, such as outfielder Charlie Blackmon and reliever John Axford, whose affordability could make moving a CarGo-inclusive package more palatable.
5. The Cubs will beat out the Giants for the other NL wild card spot
The Giants surged to a 21-9 May—even briefly snatching first place in the NL West away from the Dodgers—despite a variety of injuries and a largely unproductive rotation beyond Madison Bumgarner. But since glancing at the calendar and realizing it's an odd-numbered year, they've limped by at 16–21 despite the recent returns of Jake Peavy and Matt Cain. At 46–43 overall, San Francisco has a 26.8% chance of making the playoffs according to the BP odds; the team is hardly dead in the water, but the Giants feel so last year.
Picking the 25-and-under All-Stars as wave of young talent makes impact
On the other hand, the Cubs (47–40) have an estimated 68.8% chance of making the playoffs, and while they may feel more next year than this year, it's not too hard to envision Theo Epstein and Jed Hoyer making the necessary moves, both from outside the organization (another starter and an upgrade on centerfielder Dexter Fowler would help) and within (Futures Game MVPKyle Schwarber's bat awaits as a leftfield option, and Rafael Soriano should complete his minor-league tune-up by month's end to augment the bullpen). Bet on this mix of youth and age to carry the day, bringing the Cubs back to the playoffs for the first time since 2008.
6. The Nationals and Dodgers will retain holds on their respective divisions to round out the playoff picture.
Noted merely for the sake of completeness. You were expecting maybe the Marlins and Diamondbacks? Speaking of which...
7. Marlins GM/manager Dan Jennings will leave the dugout in favor of... Ozzie Guillen
Since firing Mike Redmond and replacing him with a GM with no professional dugout experience, the Marlins have gone 22–29, and while they've gotten ace Jose Fernandez back, they've lost Giancarlo Stanton to a broken hamate. With a sell-off the inevitable answer here, bet on Jennings to move back upstairs, and for Sunshine State Steinbrenner wannabe Jeffrey Loria to call upon the outlandish Guillen—who's still under contract through the remainder of this season—to finish out the year as a tease for keeping him at the helm for 2016. Because what is a Steinbrenner without a Billy Martin?