Go inside how one team is embracing the new market inefficiency
Mark Shapiro and the Blue Jays are aiming to get ahead of the rest of MLB in the game's new market inefficiency: sports science.
Get all of Tom Verducci's columns as soon as they're published. Download the new Sports Illustrated app (iOS or Android) and personalize your experience by following your favorite teams and SI writers.
What if the next market inefficiency has nothing to do with deep dives into baseball analytics? What if the next edge in building a championship team is in the hands of people with little to no experience in baseball? What if the new way to win is not just in the fundamentals of pitching, hitting and defense, but also in training your players holistically in the manner of Premier League soccer players or Navy SEALs?
Stop imagining such a future, because it's here. Analytics have become so commonplace as to have lost some of their edge. Every team, for instance, has an analytics department, hates to bunt, shifts its defense, emphasizes pitch framing by catchers, deploys a deep matchup bullpen and limits innings for young pitchers. Information has birthed homogeneity in how the game is played.
The next revolution already is in place: sports science. The edge now is finding the player within, not from without.
"Breaking it down to the absolute simplicity: How do we keep the players on the field as much as possible and—when they're on the field—performing at the highest potential level of performance possible?" said Toronto Blue Jays president and CEO Mark Shapiro. "And that involves mental, it involves physical and it involves fundamentals, too. Coordination with the coaching staff is the final piece of the puzzle. It's every piece of the puzzle."
Shapiro hired one man with no background in MLB to oversee Toronto's cutting edge sports performance department. British-born Dr. Angus Mugford, who completed his undergraduate work at the University of Birmingham in the United Kingdom, is the Jays' Director of High Performance, a title that reflects the sudden and stunning inflation of not only the semantics of job titles in baseball (is there a Director of Low Performance?) but also the sheer number of them.
The 30: Rangers hurting, Dodgers strong through first week
Just three years ago, for instance, the Pirates listed 54 people under the heading of their Baseball Operations department. This year, they list 74 such people, a 37% inflation rate over three years due only in part to folding their Information Technology department into Baseball Operations. Among the new titles are Sports Science Coordinator; Sports Performance Coordinator; Director, Baseball Informatics; and Coordinator of Medical Services. They also hired someone who had been on the staff of Chip Kelly when the now San Francisco 49ers head coach was leading the Philadelphia Eagles: James Harris, whose title in Pittsburgh is Special Assistant to Baseball Operations. Harris, a key part of Kelly's "performance team," has no baseball background. "It wasn't relevant," GM Neil Huntington explained to reporters.
What happened to the days when old school GMs raised in the game, such as John Schuerholz and Pat Gillick, ran everything for their club?
"Initially all the performance areas reported right to the GM or to the assistant GM," Shapiro said. "So strength and conditioning, sports psychology—mental training—and medical all reported directly to the GM or assistant GM. There was no sports science.
"Over time those areas have a) grown and b) advanced dramatically—in a short period of time. So whether it is just injury prevention or where the small opportunities lie in gaining and understanding advantages over recovery, sleep, nutrition, mechanics, different opportunities for deploying modalities such as acupuncture, chiropractic … all the different things that exist out there. To put all of that on an assistant GM's plate or a farm director's plate, what's going to happen is you're not going to get a lot of focus. Not a lot of attention is going to be paid to it. And those areas that overlap a lot are not going to have the ability to communicate with each other.
"So the thought was if you can find the right person who viewed it as a performance team where it's player-centered—the players are at the center of the spoke—and the other shared services that all impact performance all work through one person … that [person] coordinated all the different support systems to make sure we individualize and customize a performance plan for each player."
Shapiro found the timing particularly right for hiring and empowering a Director of High Performance because Toronto's key decision makers are young and new to the organization—the slate was blank, so resistance to changing the status quo was low. Shapiro, 49, was hired last Aug. 31 from Cleveland. (He began his duties with Toronto on Oct. 31.) Shapiro hired Ross Atkins, 42, a former assistant with the Indians, as the Blue Jays' general manager and Gil Kim, 34, as the team's director of player development.
Shapiro consulted with Charles Maher, the Indians' long time sports psychologist, about recommendations for someone to head Toronto's sports performance department. Maher recommended Mugford, who over the previous 12 years served as the director of IMG Academy in Florida and as a leading consultant in mental performance and leadership skills for sports and military organizations, including New Zealand's All-Blacks rugby team, the Navy SEALs and the Green Berets. Shapiro's son Caden attends IMG.
"Ross and I have joked about it," Shapiro said. "This changes his job. Ross is coming in new, and it changes his job. It alleviates a lot of things that he has to spend a ton of time and energy on. I really look at Angus like an assistant GM."
Shapiro empowered Mugford to bring strength training and conditioning, mental skills and nutrition under one umbrella. The changes have been apparent quickly, even though, as Shapiro said, "We're not going to turn the faucet on full tilt. We're trying to adapt everything quickly. We're trying to build a department from the ground up. We've made an effort to do as much as fast as possible."
Breaking down Orioles' perfect start and Twins' winless skid
The Blue Jays instituted morning yoga classes, which quickly became popular. They changed much of their strength training program to incorporate more "pulling" motions than traditional "pushing" motions. They have on hand at virtually all times a nutritionist, a massage therapist, an acupuncturist, a chiropractor and a "cupping therapy" expert. The clubhouse now includes a juice bar. The team calls ahead to its charter airline service and visiting clubhouses to make sure the players get the same nutritious, fresh foods they get in the home clubhouse. (On the menu after their home-opening loss to the Red Sox last Friday: steak and lobster.) Toronto even plans to stock its minor league clubhouses—which around baseball are notorious for penny-pinching tactics of plying young athletes with fast food and peanut butter and jelly sandwiches—with healthier offerings, though Shapiro admits the selections may be "scaled down" versions of what is fed to the major leaguers.
One of Mugford's initial ideas never took flight: gathering the players each morning for a 9 a.m. team breakfast when they were on the road.
"That may have been talked about but I don't think it was ever that serious," said one Jay. "That's not happening—not with the baseball schedule the way it is. Guys are going to sleep."
Eventually Shapiro wants to build a state of the art performance training center at the team's Florida spring training base, where players can get year-round attention. Meanwhile, Mugford gives every player an individualized, data-based plan to help them train, eat, sleep and recover at optimum levels.
"I think it also demonstrates to the players that we care deeply about them and we're going to be focused on everything we can possible do to help them be the best they can be," Shapiro said. "We want them to make more money. We want us to win more games. We're partnering with the players and ultimately if you're a championship organization the players have to know you're here to partner with them, and this to me is one of those opportunities and efforts to do that."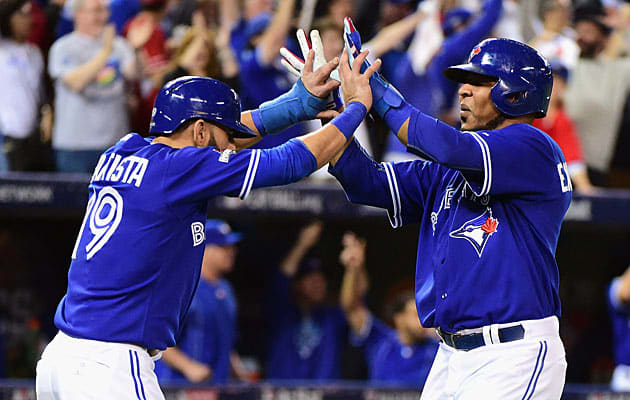 One of Mugford's key decisions was to reduce playing time in spring training for older veterans Jose Bautista, 35, and Edwin Encarnacion, 33—especially coming off a season in which the Blue Jays played two postseason series. Bautista's official spring training at-bats dropped from 47 to 29, and those for Encarnacion, who did appear in unofficial minor league games on back fields, dropped from 25 to zero.
If there is a frontline to this revolution of sports performance, it is in how players recover while facing a schedule of 162 games in 183 days.
Killing the comeback: Dominant bullpens making late rallies rare
"Recovery is probably where the biggest opportunity lies," Shapiro said. "We'll have to navigate through how do we get the information that provides us with the greatest opportunity to understand recovery. Some of it you have to always be purposefully vague about because that's where the greatest competitive advantages lies. That's probably the area that's most in its infancy. The rest of it is more just structural in nature. The rest of it really, to me, is that it's just a more efficient way of structuring."
The sports science revolution may already be making an impact, though few people noticed. Last year, 77 players appeared in 150 games or more, the third most since the advent of the 162-game season in 1961. The only seasons with more players who played that often were 1998 (90, nearing the crest of the Steroid Era) and '77 (80).
In 2014, only 56 players played 150 games, the fewest since 1992, when there were only 26 teams, and fewer than even in '62, when there were only 20 teams. The 37.5% increase in 150-game players last year was the largest in the history of the 162-game schedule, aside from strike and expansion years. Look at the sudden, trend-busting jump in durable players last year:
2010: 74
2011: 62
2012: 64
2013: 62
2014: 56
2015: 77
• Subscribe to get the best of Sports Illustrated delivered right to your inbox
The Pirates led all teams last year with five 150-game players. They were one of seven teams with four such players—four of which made the playoffs (the Cardinals, Cubs, Pirates and Yankees). Pittsburgh and Toronto are not alone in expanding holistic services for players. The Cubs have a mental skills department led by Joshua Lifrak, a colleague of Mugford's at IMG. St. Louis hired a clinical scientist and assistant professor at Duke with an expertise in biomechanics, Dr. Robert Butler, to head a newly formed Performance Department. (Two months ago the department posted openings for two minor league strength and conditioning coaches. Salary: $1,500 a month.) The Nationals hired a director of mental conditioning, Mark Campbell, and overhauled their medical department to a adopt an analytic-based "prehabilitation" format, in which the regular collection of data on players puts the focus more on preventing injuries than treating them. That's just a sample of the fast changes that are happening around baseball.
Suddenly, on-base percentage, propriety defensive metrics, bullpen leverage algorithms and the like seem almost as archaic as wins, RBIs and batting average. The new buzzwords are modalities, mental conditioning, neuro-scouting, recovery, informatics, sleep patterns, sports science and the like.
Five decades ago, summarizing the kind of support staff available to players, former Yankees pitcher Jim Bouton said, "The best qualifications a coach can have is being the manager's drinking buddy." Today, clubs are providing an exhaustive array of specialized mental and physical services to players. The demolition of the Wrigley Field home clubhouse and the opening Monday of its replacement—a veritable resort and spa bigger than any home facilities except those belonging to the Yankees—is but one more tangible piece of evidence for how performance science has become the next frontier. What's cutting edge is no longer about specialized relief pitchers. It's about signing and empowering free agents with titles such as Director of High Performance.