Braves gamble on Kemp's remaining value in salary dump trade with Padres
The Braves sent Hector Olivera to the Padres for Matt Kemp, taking on $30.5 million in salary and will need to trade Kemp to another team to make the deal pay off.
Proving that there is no such thing as an untradeable contract, two of the worst contracts in baseball were traded for each other Saturday evening as the Padres sent rightfielder Matt Kemp and a reported $10.5 million to the Braves in return for agreeing to eat the nearly $30 million remaining on Hector Olivera's contract. The deal finds the Braves taking on nearly $30.5 million in salary for the right to be rid of Olivera, who is eligible to return from his 82-game domestic violence suspension on Tuesday and will reportedly be designated for assignment by the Padres at that point. The Padres, meanwhile, save that same $30.5 million while clearing space on their roster and in their outfield for the emergence of top outfield prospects Hunter Renfroe and Manuel Margot, who are expected to make their major league debuts later this season.
Olivera, who turned 31 in April and is barely more than six months younger than Kemp, signed a six-year, $62.5 million contract with the Dodgers after defecting from Cuba in September 2014, but was shipped to the Braves in the three-team, 13-player trade that sent Alex Wood and others to the Dodgers exactly one year ago. Primarily a second baseman in Cuba, Olivera, still completely unproven as a major league hitter, was installed in leftfield by the Braves to start this season. However, after just six games, he was arrested for allegedly assaulting a woman at a hotel in Arlington, Va., during the Braves' first road trip of the season. Charged with misdemeanor assault and battery, Olivera was immediately placed on administrative leave by Major League Baseball and ultimately suspended for 82-games. Yahoo! Sports' Jeff Passan reported in late April that the Braves immediately began shopping Olivera after his arrest, and in the Padres they have finally found, not so much a taker, but an escape hatch.
• Nationals shore up bullpen with deal for All-Star closer Melancon
In taking on what remains of Kemp's contract, the Braves are exchanging the unknown and undesirable element that is Olivera for a very much known quantity in Kemp. After his MVP-worthy age-26 season prompted the Dodgers to sign him to the eight-year $160 million extension that has since been passed around the league like a hot potato, shoulder and leg injuries quickly eroded Kemp's ability, turning him from a capable centerfielder into one of the worst defensive outfielders in baseball. Since the start of the 2014 season, however, he has managed to stay healthy and remains a capable hitter. Kemp posted a 140 OPS+ in 2014, has batted .264/.301/.462 (109 OPS+) since the start of the 2015 season, and has hit a minimum of 23 home runs in each of the last three campaigns, having already reached that total this year. The trick is that Kemp's play in the field has been so poor that it has dragged his overall value down near replacement level.
For that reason, it seems likely that the Braves' ultimate plan here is to flip Kemp to an American League team that could install Kemp at designated hitter, thus greatly increasing his value by eliminating the part of his game that is undermining it. Without the need to play a position, Kemp's bat could still make him a two-to-three-win player and an asset to even a contending team in the Junior Circuit. Using the projected values of a marginal win (that is one win above replacement) from our offseason "What's He Really Worth" series, a player worth two wins above replacement in every season from 2017 to 2019 would be worth $45.7 million. If the Braves were to eat another $10 million or so of Kemp's contract in a deal with an American League team, it would bring the amount that team would owe Kemp over the next three seasons down below that $45.7 million, arguably making Kemp a cost-effective solution at designated hitter. Put him in a favorable hitter's park after a career spent in Dodger Stadium and Pecto Park and eliminate his need to bang up his body playing defense, and Kemp might even enjoy an early-thirties renaissance over the next three years.
Notable Trade Deadline Deals (2016)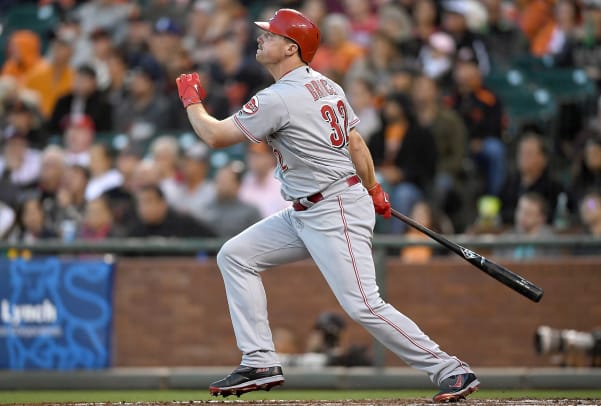 No such rejuvenation is likely in Atlanta, however. True, we don't yet know how the Braves' new stadium will play in its inaugural season next year, but as long as Kemp is required to play the field, his value will be marginal at best. Given their enthusiastic distributing of veterans around the league thus far this season—already the Braves have traded Jhoulys Chacin to the Angels, Jason Grilli to the Blue Jays, Kelly Johnson to the Mets, Bud Norris to the Dodgers, and Lucas Harrell to the Rangers—I wouldn't expect Kemp to remain in Atlanta for long.
• ​Desperate Marlins add uninspiring Cashner in trade
Exactly how much of a return the Braves could expect to receive in such a deal remains to be seen. Having escaped Olivera's contract and with few other financial commitments—not counting Kemp, the Braves have no more than $38.3 million committed for any season beyond the current one—Atlanta could boost its prospect return by eating an even larger portion of Kemp's contract. All of that could prove to be a massive miscalculation on the Braves part, but it wouldn't be a worse calculation than one that expects Kemp to be worth that additional $30.5 million in a Braves uniform. General manager John Coppolella clearly preferred to have something to show for last year's three-team trade, which he admitted to regretting on Twitter last month. For his sake, I just hope what he ultimately ends up with isn't three more years of Matt Kemp in the outfield.
As for Olivera, he might yet remain in the Padres system after clearing waivers and being outrighted to a minor league team, but it seems just as likely that he will be released. Either way, don't be surprised to see him resurface once his court case is settled. If the Dodgers thought his bat was worth $62.5 million last May, surely there is a team out there that thinks he'd be a big enough bargain at the league minimum that they're willing to turn a blind eye to his actions in Arlington in April.