MMA survives a turbulent 2012, but the future is bright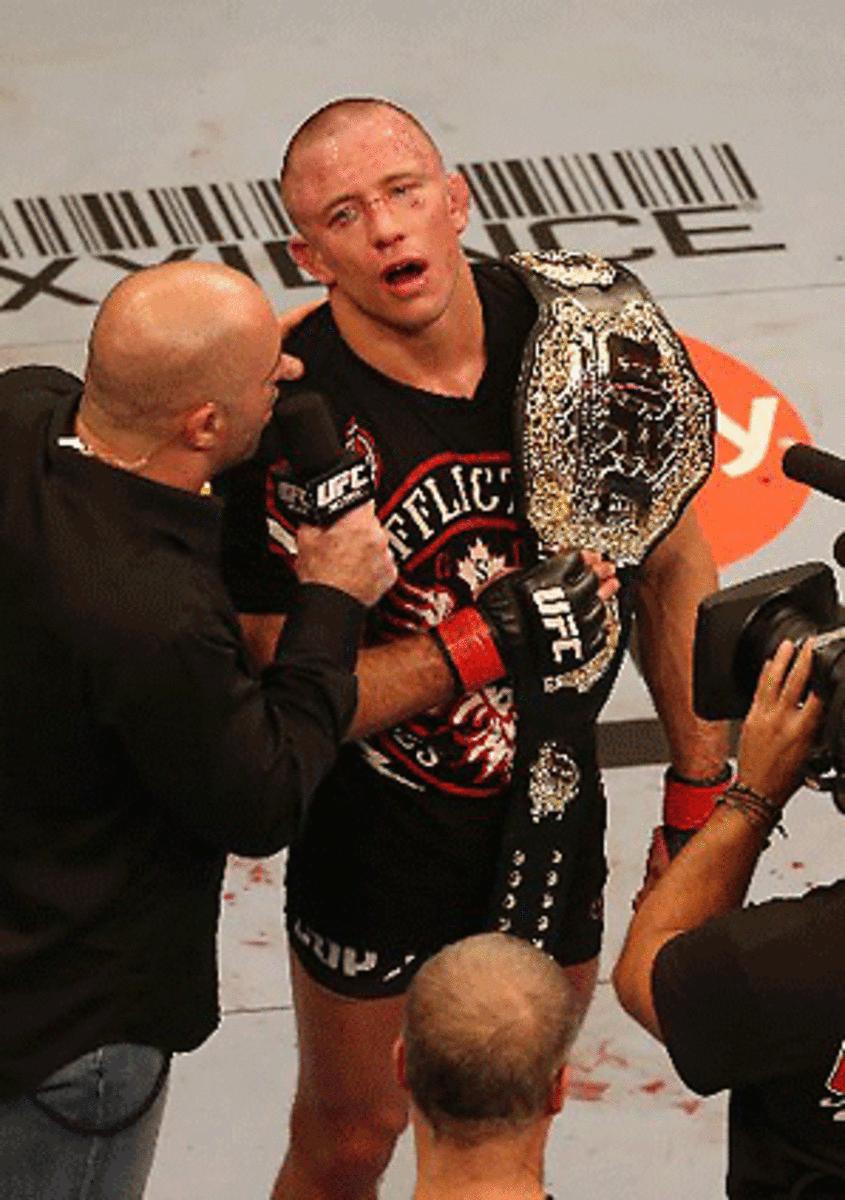 In 2003, a UFC event featuring future Hall of Famer Matt Hughes produced a mere 35,000 pay-per-view buys. Keep that in mind as the calendar turns to 2013.
Mixed martial arts' most devoted followers have an endless capacity for hand-wringing. It may be due to the residual effect from the sport's early days, when it was nearly legislated out of existence. But whatever the reason, hardcore fans always seem to be looking for proof MMA is about to go bust.
Television ratings are analyzed to the point of tedium. Gate receipts and pay-per-view numbers are tossed around without context. Fight announcements are scrutinized the way hipsters scrutinize band lineups.
The industry certainly went through a turbulent 2012. The absence of headliners due to injuries and suspensions combined with a feeling-out period as the UFC launched into the first full year of its deal with Fox led to a series of headaches. These issues stalled the momentum of the sport's biggest company (at least on these shores: The UFC is experiencing a boom in Brazil). Business outside the UFC undeniably contracted, as the No. 2 company, Bellator, bid its time before a 2013 launch on the UFC's old cable home, Spike TV.
But it's all a matter of perspective. The problems of 2012 were about how many millions of people watched live events on network television. If you traveled back in time to 2003 and told the Zuffa head honchos who couldn't get their product on basic cable, let alone network TV, of what lied ahead, they would have gladly traded that year's 35,000-buy PPVs for 2012's headaches.
Assuming the injury bug can be held in check (and that's a big if), MMA looks poised for a 2013 rebound. A jam-packed early calendar includes a notable fight between featherweight champ Jose Aldo Jr. and former lightweight champ Frankie Edgar. The first UFC women's title fight between bantamweight champ Ronda Rousey and Liz Carmouche is on deck, as is a grudge match between Georges St-Pierre and Nick Diaz. And between the presence of Jon Jones and Chael Sonnen on the upcoming season of "The Ultimate Fighter" on Tuesdays and Bellator's live Spike events on Thursdays, MMA weeknights are likely to pick up in a way they haven't in awhile.
So with that in mind, a look back at the best of 2012. Two disclaimers: 1. Obviously, there is still time for Saturday's UFC 155 event to steal several of these categories at the last minute, and 2. These awards reflect only my own personal opinion, and not those of my esteemed SI.com colleagues, Jeff Wagenheim and Loretta Hunt. On to the picks:
Fight of the Year: Chan Sung Jung def. Dustin Poirier, submission (D'Arce choke), May 15, Fairfax, Va.
This featherweight matchup was the sort of fight that turns first-time viewers into longtime MMA fans. Jung was already a popular fighter called "The Korean Zombie" for his exciting style. Poirier is a can't-miss prospect. Round two of this fight will undoubtedly go down as one of the decade's greatest, including a chain of four straight submission attempts by Jung. Poirier rallied and took round three. But just when it seemed the tide was turning, Jung found his second wind, as he used an uppercut and a knee to set up the finishing D'Arce choke. Jung has been out since, as he recovers from shoulder surgery, but he figures to be high in the 145-pound mix upon his return.
Runner-up: Joe Lauzon def. Jamie Varner, submission (triangle choke), Aug. 4, Los Angeles.
A frenetic, back-and-forth chess match ended in the third round after Varner took Lauzon down, but the latter stayed patient and finished Varner from the bottom with an expertly applied triangle choke.
Fighter of the Year: Benson Henderson
There was no obvious candidate this year in the same way Jon Jones rolled over the opposition in 2011. The honor goes to Henderson, the UFC lightweight champion, who was the only person who competed in three UFC title fights this year. Henderson went 3-0 this year. First he ended Frankie Edgar's two-year title reign with a unanimous decision win at UFC 143. Then Henderson took a split decision in their UFC 150 rematch, which admittedly more controversial than the first fight. Finally, Henderson closed the year with a masterful performance against Nate Diaz, shutting down one of the UFC's hottest fighters for five rounds. The decision in the second Edgar fight was debatable, but Henderson was the only MMA fighter to perform at such a high level against three championship-level opponents.
Runner-up: Ronda Rousey
The 2008 Olympic judo medalist arm-barred her way from obscurity straight into mainstream recognition. The fact she only fought twice was a factor in giving Henderson the FOTY nod.
Submission of the Year: Ronda Rousey's armbar vs. Miesha Tate, Columbus, March 3
Rousey's "star is born" moment occurred at Nationwide Arena. Defending Strikeforce bantamweight champion Miesha Tate put up a struggle, as she lasted nearly an entire round with Rousey, making her the only of Rousey's six pro opponent to last longer than a minute. But in the end, Tate was finished the same as the rest of her foes. Rousey dislocated Tate's elbow with an armbar, won the title, and set out on her path to stardom.
Runner-up: Nate Diaz's guillotine choke vs. Jim Miller, May 5, E. Rutherford, N.J.
In a black belt vs. black belt fight, Diaz picked Miller apart in the standup and used it to set up a nasty choke. It was the first time the veteran Miller lost via finish in his career.
Knockout of the Year: Cung Le def. Rich Franklin, Nov. 10, Macau.
Le only reluctantly accepted the main event bout in the UFC's debut card in the People's Republic of China. He's 40 years old. His kicks are his main weapon, and he entered the bout with an injured foot. He had just one victory via finish since 2008. Franklin, the former middleweight champion, was talking about making one last run at a title shot. So when Le knocked Franklin cold with a lead right hook, it provided one of the UFC's iconic moments of 2012. The surprise value of Le's knockout will likely make it one of the UFC's most remembered, like Gabriel Gonzaga's head kick finish of Mirko Filipovic in 2007 and Rashad Evans' one-shot drop of Chuck Liddell the following year.
Runner-up: Edson Barboza def. Terry Etim, Jan. 14, Rio de Janeiro.
Barboza leveled Etim with a spinning heel kick straight out of a Bruce Lee movie.
News story of the Year: Injuries and suspensions wreak havoc on the UFC's plans.
There were several major news stories in the MMA business this year, from Zuffa's first year on FOX to the first cancelation of a major UFC event to Strikeforce's slow, painful death. But the loss of headline fighters due to injuries and suspensions was the only news story that interconnected with all the rest. It was Dan Henderson's knee injury, and a dearth of suitable replacements to meet Jones in their main event, which led to the cancellation of UFC 151 in Las Vegas, scheduled for Sept. 1. That chain of events was the culmination of a wave of injuries and suspensions. Alistair Overeem failed a random drug test, which removed him from a planned title shot against heavyweight champion Junior dos Santos. Georges St-Pierre suffered a knee injury, which caused him to pull out of a welterweight title defense against Nick Diaz and kept him out of action until November. Then Diaz, after losing to GSP's replacement, Carlos Condit, tested positive for marijuana and was suspended for the year. In the meantime, UFC 158 in March, tentatively headlined with St-Pierre vs. Diaz, features a triple bill with arguably the world's six best welterweights, meaning a suitable replacement is likely if a main eventer has to fall out. Loading cards with the best in a single division is at least one step forward in adapting to the realities of today's sport.
Runner-up: The mainstreaming of women's MMA
Rousey's breakthrough year, coupled with the artistic (if not financial) success of the all women's Invicta Fighting Championship, showed women's fighting has come a long way. How much further will be seen in 2013, as the UFC gets into the game.
Event of the year: UFC 148, Las Vegas, July 7
Only once this year did the stars align and enable the UFC to put together the sort of mega-fight which was it's calling card during the 2008-09 MMA peak. Anderson Silva's 2010 win over Sonnen was one of the most memorable in UFC history, the first time a champion won in the fifth round after losing each of the first four. The smooth-talking Sonnen managed to work his way back to a rematch. By the time Silva and Sonnen got down to business, a crowd of 15,104 paid a gate of $6.9 million and a PPV audience just shy of a million buys tuned in. This time, Sonnen won round one before making a fatal mistake in round two, throwing a ridiculous looking spinning back fist which was a wild miss. Silva pounced and quickly finished his foe.
Runner-up: UFC on FOX 5, Seattle
Dec. 8: UFC 148 was the year's most memorable event, but UFC on FOX 5 was the UFC's best top-to-bottom card. Benson Henderson retained his lightweight title against Nate Diaz in the main event.