Quinn Mulhern and others are stuck in fighters' purgatory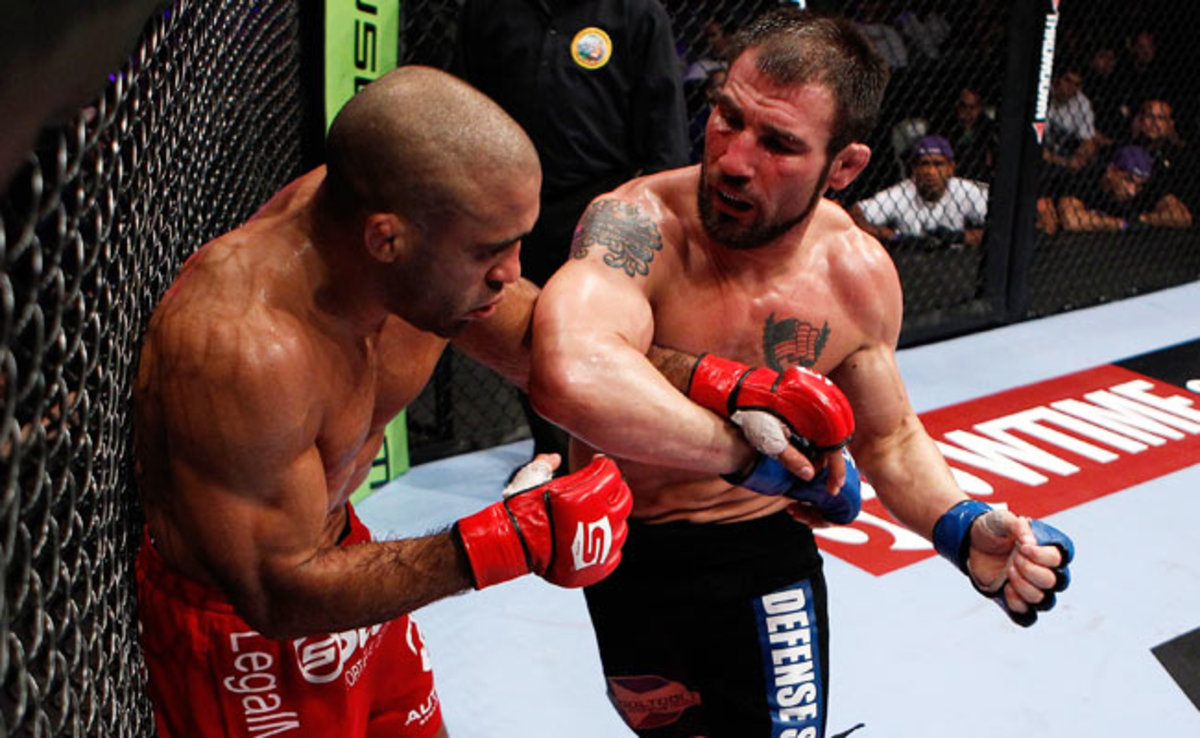 ALBUQUERQUE -- For the last several weeks, the conversations Strikeforce fighter Quinn Mulhern had with his roommate and fellow fighter, Isaac Vallie-Flagg, played out much the same way.
"What does your manager say," one fighter would ask the other.
"What fight do you think you could get?"
"Have you heard anything?"
Mulhern and Vallie-Flagg each answered phone calls over the last few months to hear that their scheduled Strikeforce bout was called off, each knowing that every cancellation was also a warning about the fragility of both the league and their future as a fighter. And then came the announcement that all but confirmed their Strikeforce contracts would be worth less than the paper they were written on.
"As soon as Ronda Rousey announced she was going to the UFC, everybody started talking," says Vallie-Flagg. "Ronda is a big name and it kind of signified that if they were going to let go of arguably the biggest name on the Strikeforce roster, then they probably wouldn't have a hard time letting go of the rest of us plebs."
Strikeforce -- the promotion bought by the UFC's parent company, Zuffa, in March 2011 -- officially announced last month that this Saturday's fight card would be its last. The last round of Saturday's headliner will signal the end of Strikeforce and, too, the employment -- and perhaps the careers -- of more than 100 fighters left on the failed promotion's roster.
"What's happened to those guys over in Strikeforce, it's terrible." UFC president Dana White told reporters two weeks ago. "It's really bad what happened to them over there and it makes me sick."
Mulhern knows the feeling, quite literally. He felt lethargic last Friday -- "like I'd been cutting weight for a day" -- after he'd sold some of his blood plasma for $50. Donating his plasma, driving drunk people home on New Year's Eve and working security at a gay bar in nearby Santa Fe are just a few of the odd jobs Mulhern picked up since learning Strikeforce wouldn't be around to pay him for the three remaining fights on his contract.
"I don't want to commit myself to a fulltime position and a part-time position is sometimes problematic with the hours I'm supposed to be training," he says. "I'm trying to work enough hours and leave myself open.
But what exactly is he training for?
Many Strikeforce fighters fell into one of two categories: those who didn't exhibit enough dominance to earn an invitation to the UFC and those who hadn't accumulated enough experience. Mulhern fell into the latter group. He has only four Strikeforce fights under his belt and trained out of a small, Santa Fe dojo. Because Strikeforce canceled several of its shows, Mulhern hasn't had a fight since last May. When the promotion abandoned its Sept. 29 event in which Mulhern was scheduled to fight Jorge Santiago, Strikeforce sent a check with his show money. Mulhern then packed his belongings and headed 60 miles south to Albuquerque's Jackson-Winkeljohn Mixed Martial Arts to train.
"I'm not sure it's super rational," he said of his move, "When it got canceled, I was like, if I want to keep doing this, I have to make a change in my life. I was at this point where everything was changing and I felt like my life had to match that."
In Albuquerque, he found a new group of teammates who've simultaneously supported and pushed him -- even if he still doesn't know when or where he'll showcase his newfound prowess. He found new coaches like Mike Winkeljohn who says they've seen Mulhern's striking game improve manifold to complement what he describes as Mulhern's world-class jujitsu. And he's found a roommate and an empathic ear in Vallie-Flagg.
"I moved in with Isaac and I think that's been the one thing that's been my saving grace, just being in a new place and having to figure that out. It's kept me on my toes a little bit," Mulhern says of the move.
The 28-year-old welterweight, who has a liberal arts degree from the prestigious St. John's College in Santa Fe, is neither angry nor bitter about Strikeforce's demise, but equal parts pragmatic and philosophical.
"From a business perspective, for how long does a bigger company own a smaller company that does the same thing without absorbing them" he says of the UFC-Strikeforce takeover. "It doesn't make any sense. . . It's almost a competitor that they own. That's weird. I had a sense that [Strikeforce] was something that was going to go away. And it did. And that's OK."
He's equally realistic about his future. "I'd like to be fighting for the UFC," he says. But he knows he can't wait for UFC's phone call forever. "There has to be a call within the next three months. . . If there's not, I have to start thinking about Plan B. I don't know what that is right now."
In the meantime, Mulhern continues training, sweat soaked and exhausted after a recent wrestling workout Wednesday with trainer Izzy Martinez at Jackson's. He heads back home with Vallie-Flagg, whose wait for his UFC invitation ended Jan. 7 when the promotion added him to its Feb. 2 card against Yves Edwards. Their conversations and speculations about when they will next fight have slowed -- and not just because Vallie-Flagg found his way out of fighters' purgatory. It's more because, as Mulhern says, "You can only guess so much."
There's only so much sweat, tears and blood plasma a fighter has to give.