Bellator making final preparations for its Spike debut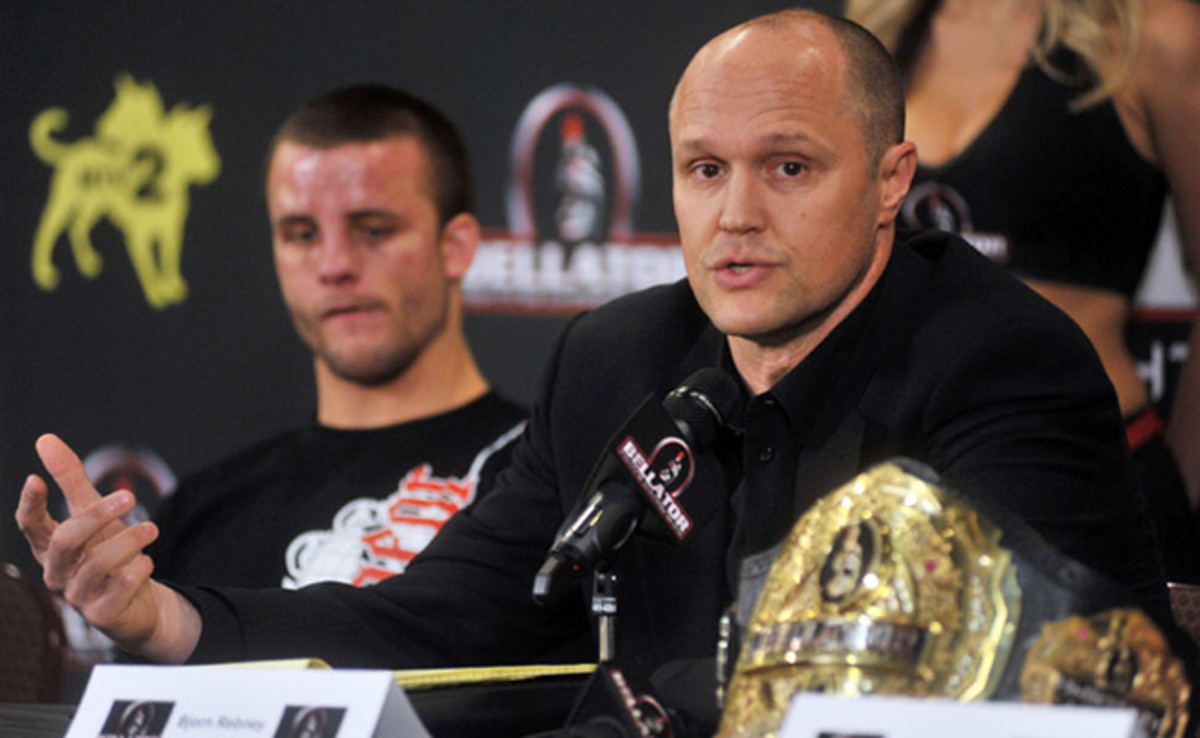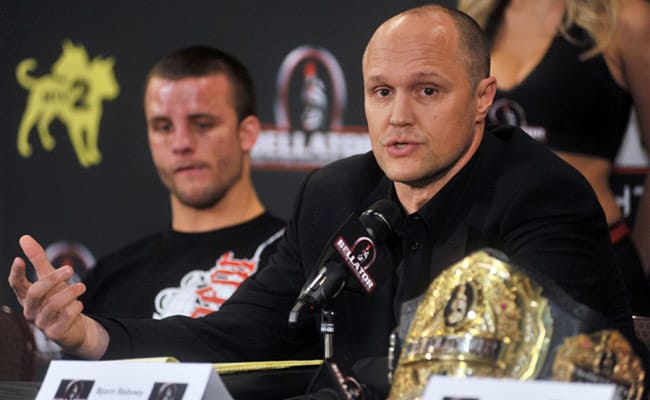 SANTA MONICA, Calif. -- It's December, one month out from Bellator MMA's live debut on Spike TV (10 p.m. ET), and the cable network's president, Kevin Kay, is confident. Actually, he's very confident, sitting back in a booth during the lunch hour, enjoying his burger and fries.
It's taken over a year for Kay -- the TV executive who dared to roll the dice with The Ultimate Fighter in 2005 -- to get live fights onto his channel again, but he knows it will be the worth the wait. TV is always an unpredictable medium, but Kay is certain of one thing: mixed martial arts and Spike TV go together like UFC President Dana White and the f-word. Why else would Viacom, one of the world's largest media conglomerates and Spike's parent company, have spent undisclosed millions to acquire a majority share of the fledgling promotion in 2011.
But we're getting a little ahead of ourselves. First, some background on how we got here. In August 2011, toward the tail-end of the seven-year broadcasting relationship between Spike and UFC owners Zuffa LLC, the fight promotion announced a new agreement with Fox Sports Media Group. Spike wasn't ready to get out of the fight business, though, so advanced negotiations led to the purchase of Bellator Fighting Championships that October.
While the last provision of the Spike-UFC deal only allowed the cable channel to air taped UFC content through the summer of 2012, Bellator languished on MTV2, another Viacom property, averaging fewer than 200,000 viewers per show. That's all about to change.
Spike and the tournament-driven Bellator have had more than a year to prepare for its live debut, and a lot has been accomplished in that time. Less than a month after the deal was announced, Bellator signed into an agreement with Fremantle Media to distribute the promotion's televised events in 107 countries. In late July, the 30-employee promotion moved its headquarters from Chicago to Southern California to be closer to Spike in Los Angeles. There's been a re-branding of both Bellator's logo and name (it dropped Fighting Championships and simply went to Bellator MMA last December) and there's been more exposure for Bellator fighters, who have popped up at celebrity events such as Spike's Video Games Awards. Spike has also hooked a big fish in reality TV master Bertrand Van Munster (The Amazing Race), who's producing a Bellator reality series to debut later this year.
And as Spike and Bellator have been off planning and refining its product, a decent section of UFC fans -- conditioned to watching all of their UFC content on Spike -- have hovered around the men's specialty network. UFC repeats, often strategically placed shows featuring a fighter competing that week in a UFC event, average around 600,000 viewers, according to data provided by the network. MMA Uncensored, a one-hour, news and magazine-style original series, averages about 500,000 viewers each week and peaked with 696,000 in September. And an unadvertised airing of the new Bellator 360 show two weeks ago averaged 487,000 viewers, more than double what live Bellator shows pulled in on MTV2. These aren't UFC numbers, which ranged from one to nearly five million viewers for live events on Spike, but it's certainly better than starting at ground zero. Kay has been on this merry-go-round before and Spike has already helped build one MMA promotion on television from virtually the ground up.
You can begin see why Kay isn't sweating Thursday's debut.
Bellator CEO Bjorn Rebney is another story. Rebney, a lawyer who partnered with "Sugar" Ray Leonard to promote boxing events on ESPN2 in a former life, sits to the left of Kay, closest to the waiters zipping past their booth. Rebney hasn't ordered anything to eat. He's focused solely on the reporter sitting across from him. Rebney is your consummate promoter -- always trying to close.
You can't tell Rebney that MMA tournaments are an antiquated format, a relic from the UFC's early days circa 1993 that was mostly abandoned stateside in 1998 (though the UFC ran its tournaments in one grueling night, as opposed to Bellator splitting theirs up over three nights.) And you certainly can't argue that MMA fans wholly prefer the traditional route, where contenders rise through the ranks in single bouts for a crack at the divisional champions. Rebney will have none of this talk, and you can't fault him for that. A good promoter has 100-percent confidence in his product and can to sell it 'til the cows come home. Rebney must be somewhat decent at it, as he's been able to do something in the last four years that many of his peers couldn't do: survive.
When Bellator ("warrior" in Latin) debuted nearly four years ago on ESPN Deportes with the lure of $100,000 tournament-win purses over 12-week seasons, the sport's landscape looked much different. The UFC was coming off its best pay-per-view year yet. No. 2 Strikeforce was gaining steam on Showtime, while Bellator was considered a distant No. 3. But as of March 2011, when the territorial Zuffa purchased Strikeforce in a surprising industry coup, Bellator emerged as the default top competitor to the UFC's foothold in the U.S. In short, Bellator was the last man standing.
Bellator has slowly grown over four years and the Viacom purchase gave it a level of business stability rare in the MMA industry, but it's still a work in progress. The UFC has the majority of top fighters signed, minus a few gems dispersed among Bellator's eight divisions (including a women's 115-pound weight class), which has made it difficult for the lesser-known promotion to escape its stigma of inferiority. The lightweights, led by champion Michael Chandler, might be its deepest weight class and recent hirings like the charismatic light heavyweight "King Mo" Lawal has offered promise. Still, Bellator's heavyweight division is nowhere near the UFC's and the big boys are what casual fans want to see.
Bellator's practice of 12-week seasons has also been an adjustment for MMA viewers used to their live events spaced out over weeks and even months. Rebney is attempting to apply the traditional sports calendar to MMA, which can make for some logistical nightmares. Jumping from venue to venue, week after week, hasn't made live-event attendance one of Bellator's strong suits.
And let's face it: when you're anything but the top dog, fans seem to see the "flaws" faster. There has been some huffiness about Spike's decision to air Bellator's live tournament events on Thursdays at 10 p.m., a time that some say is too late for the events to gain a strong audience. Kay says the late-night demos tell him otherwise.
"We talk about this all the time," said Kay. "As the night's progresses past 10 o'clock, 11, 12, you're losing viewers, but [with] fight fans, young guys, I don't really know if it's that much of a concern unless you have an early-morning job. All of our biggest shows have run at 10 p.m. [The viewers] are there."
However, timing won't be an issue if fans can't connect with Bellator fighters, and herein lies the promotion's greatest challenge. Elimination tournaments spaced out over non-consecutive shows can be difficult for fans to follow, especially when quarter- and semifinal brackets are split up between multiple shows or bouts are postponed or reshuffled to allow advancing fighters time to recover from injuries, even though alternates are standing by to take their place.
Bellator has been guilty of both in the past and has already seen how such practices can hurt the promotion's momentum considerably. The problem compounds itself when you're running more than one tournament at once in divisions with negligible weight differentials in 12-week blocks. In its upcoming eighth season, Bellator plans to promote five tournaments at once.
To help alleviate this issue, Spike and Bellator will introduce new graphics to burn the brackets into fan's heads -- literally. The show's new rebranding campaign features a "flaming bracket" visual, which Rebney says will pop up often during the live show to remind viewers where the narrative is going.
"There's a progression," said Rebney. "We've got a beginning, a middle and an end and it's all leading somewhere. It's all about graphically displaying it in a way we've never done before."
Other creative elements have been added, Rebney said, to create clarity and encourage traction.
"You're going to be able to watch it on a second screen experience in a way you've never been able to watch it," he said.
Rebney said storytelling will also be "fast and furious" in 60-second shots to get to the action quicker -- a complaint fans have had of UFC broadcasts on the Fox platforms.
Which brings us to one more advantage that Bellator might have over the industry leader -- programming simplicity. Live UFC content is spread over three Fox channels (Fuel, FX and Fox), and it isn't uncommon for viewers to have to switch channels on one night to take in an entire event. Not so with Bellator. If fans want to watch it, they'll always know exactly where to get it.
"Every week it's live fights -- same time, same channel," Rebney said.
One week out
Bjorn Rebney is leaning back on a small black couch in the editing bay at Bellator's new headquarters in Newport Beach, Calif. One week before Bellator's big debut, Rebney is much more relaxed than he was a month earlier, as he stares at the wall of video screens in front of him. Three eager employees dance around him, explaining the latest TV spot that will air locally in Rio Rancho, N. M., in a few weeks to drum up attendance on fight night. Rebney contemplates every frame of the 30-second spot, rewatching it a few times as he throws out notes.
"Trade out the submission sequence and put in that big knockout he had last season," says Rebney. "And I don't know if I like the expression he has at the end. It's a little... sullen -- not a great note to end on."
Rebney then crosses the hall to a smaller room where another employee is working on local radio spots and the process happens all over again. This is the first time Bellator has had all of its production, marketing and operations staffs under a single roof, one of the comforts that comes with being backed by a monster media conglomerate.
"It's a lot easier than it used to be," remarks Rebney. "We used to do this all by conference calls and computer downloads."
This is a different Rebney than the one who fielded reporter's phone calls the day before regarding a lawsuit Bellator recently filed against against Eddie Alvarez, the promotion's brightest star. The previous day's Rebney was upset, angry and frankly a bit emotional, feeling he'd been vilified in the press for his efforts to hold onto one of the promotion's greatest assets. But today's a new day and there's too much to be done before Thursday's coming-out party.
Down the hallway, young 20-somethings work away in their cubicles just outside a wall of executive offices. They wear T-shirts and flip-flops. The only employee who seems to be dressed in formal office attire is Tracey Lesetar, the promotion's in-house attorney, who'd already worked in the industry for a couple of years before her Bellator post.
Bellator is a young company in more ways than one. To illustrate this, you need not look any further than Bellator's 32-year-old president, Tim Danaher. While Danaher was a junior at Loyola University Maryland, he moonlighted as a Wall Street investor. Upon graduation, Danaher worked for a few financial companies and eventually settled with Plainfield Asset Management, a prominent hedge fund.
Danaher has been a devout MMA fan since 2005 and looked at organizations like the International Fight League and Pro Elite in which to invest on behalf of his very wealthy clients, but none seemed a decent gamble. In 2008, Danaher gave Rebney the seed money to launch Bellator. Danaher left Plainfield in 2010 to join Bellator as the company's president and Viacom bought out Plainfield's Bellator interest with the acquisition deal in 2011.
Youth can be a good thing in the MMA industry. It usually brings enthusiasm and energy. But there's also something to be said for experience. There are a few industry veterans under Bellator's employ. Christian Printup, the former events coordinator for Central California's Tachi Palace Casino, home to multiple MMA promotions over the years, has joined Bellator's fight operations staff. Zach Light, a one-time UFC fighter-turned-trainer, is a part of Bellator's scouting team, while head matchmaker Sam Caplan (formerly an MMA media member) works from his east-coast home.
Rebney says he and Light like to roll on the mats tucked away in a corner at the office's far end when they have the time to, but by the looks of the space, it doesn't appear that it happens often. Though the company moved into its new space in October, there are unpacked boxes scattered everywhere and framed posters leaning against walls, begging to be mounted.
Rebney's office looks more like a disheveled dorm room, save a side desk where pictures of his wife and two teenage children sit neatly situated. There hasn't been time to unpack yet, explains Rebney, since the company moved to Southern California.
It's this type of focus and dedication that makes or breaks promotions in the cutthroat fight business. There are a lot of sleepless nights on planes and endless drives in rental cars to the middle of nowhere. Yet three years of nonstop toil might have just paid off for Rebney and Bellator.
"With ESPN Deportes, it was like me setting up the cage myself," Rebney said. "With Spike and Viacom, this is [a] whole different beast. A lot of the concerns I had in the past relative to financial constraints have been alleviated. With a partner like Viacom, it gives you the flexibility to do some things from a TV perspective that you otherwise couldn't do."
On Thursday night, the packaging and presentation will undoubtedly be prettier. In the end, though, it all comes down to having good fights. If Bellator can deliver them on a consistent basis, the rest just might fall into place.